Michael Meisner
---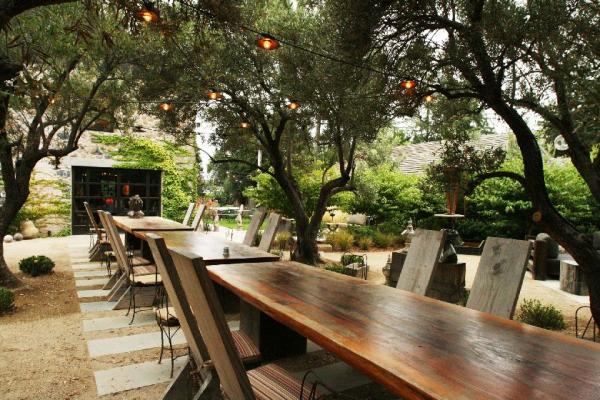 In the little town of Yountville, CA you will find some of the best restaurants in the country, along with some great little boutique wine tasting salons. Unlike the surrounding area, you won't see a lot of huge estates here in town. Rather, you'll find quaint tasting rooms that often feature a mix of different labels, made by very small production operations.
Ma(i)sonry is one of those tasting rooms where you get more than a simple wine tasting experience. They feature about 15 different labels, with some very famous ones like TOR, Lail, Blackbird, and Entre Nous to name just a few. Each one is spectacular in its own right. The list of winemakers behind most of these wines reads like a who's who of all-star winemakers. First, you have Aaron Pott, who just got winemaker of the year; he makes wine for Blackbird. You'll find Phillipe Melka's imprint on many of the selections as well as Tor Kenwood, who was the senior winemaker at Beringer for several decades.
The wine tasting here is a different experience than most others. You'll have a lot of options to choose from, and you can do a mix and match flight, or try several of their pre-arranged flights of wine to showcase particular brands and their unique properties. There's ample room outside, where you'll find cozy nooks to sit, soak up the sun, and enjoy your wines. In addition, they have a vast selection of art on display. If your pockets are deep enough, you can shell out up to $30k or more on some of the items on display! Luckily, the wines range in price from as low as $12 for a Recuerdo Torrontes and Malbec, to several hundred dollars for some of the more exclusive ones. A rare treat that's not to be missed is the RA Harrison late harvest style dessert wine, which is sooo delicious.
So if you're looking for a winery in Yountville that has a different angle, try Ma(i)sonry. The wines are terrific, and the selections will have you coming back again and again.
Ma(i)sonry Napa Valley
6711 Washington Street
Yountville, CA 94599
P - (707) 944-0889
F - (707) 944-0880
---