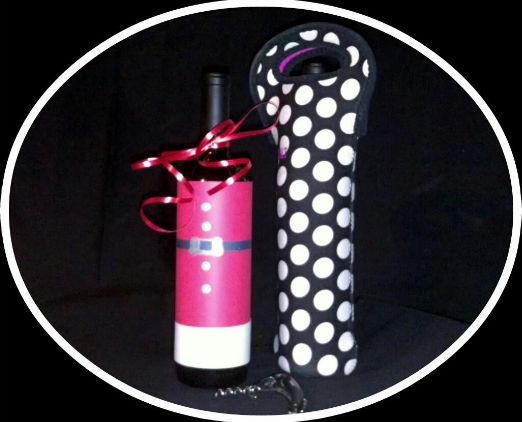 'Tis the season for sharing cheer and libations with family and friends! As I hurriedly plan for the parties to attend, dishes to create, white elephant gifts and bottles of wine to share, I'm amazingly relaxed. While some may be feeling the holiday stress as they wander the aisles amongst the vast wine selections, I am smiling on the inside knowing the wine reviews on WineTable can help with my choices. Of course, I'll have to abide by my personal list for choosing wines for housewarming gifts, too. I always look to five things when it comes to sharing wine as a gift. So, in the tradition of holiday sharing, here are my tips for picking a wine as a housewarming or holiday gift:
1) Wine character – I'm not talking wine here, I'm talking the people who'll be drinking the wine. This is crucial to choosing the right wine and the place where many people forget to start. Step into your friends' essence for a moment. Forget what you like or don't like. Is the person feisty and festive, serious and sophisticated, lovable and loud? Think about their personal style…how do they dress? How is there home decorated? What do you think that tells you about their wine personalities? Would you serve Scarlet O'Hara a Pinot Grigio or a Syrah? Myself, I'd pour her a syrah as she's a spitfire with a bit of spice. Now, my mother, she's a conservative lightweight, so I'd more likely send her a bottle of pinot grigio.
2) Food preference – Think about the dinners you've shared with the person or heard them talk about. Are they big on chicken dishes? How about steak or are they a vegetarian? While I believe one should drink what they like, there are certain wines that tend to go best with certain foods. If your friend is a big fish eater, than she may lean more towards white wines, but if she's an Italian lover, like me, she's probably more of a red gal! Keep an eye on what she orders next time you're together.
3) Never go with an unknown – This is not the time for trial and error. Just because someone said something was good, doesn't always mean it's good. There's nothing worse than gifting a bottle of wine that you've heard is awesome, to pop it open over a dinner and wish you could spit it out. You can pretty much guess if that's what you want to do, that the host is right beside you. He thought you were friends and now he's feeling a bit like the guinea pig. Really? You chose this time to try something new? Would you try out a new hair color the morning of your wedding? Go with a wine you know, from personal experience, is a crowd pleaser. Or, look for a bottle with good reviews then buy one for yourself and if you like it, give another one away…
4) What type of housewarming – Are you attending a house-warming party for many people, a private dinner, or just dropping off a gift? I take this into consideration for my wine purchase. My goal is to always take a fantastic wine, but I have three categories within my budgeting. If it's a party, I'll look to bring a nice bottle that can be enjoyed by everyone as it's most likely going to be one amongst many and the host might not even get a chance to sample it. If I've been invited to dinner with the host, then I will go up a level and bring a nice bottle that we can share together. If I'm dropping off a gift, then I like to go with a bottle and a couple of fun wine glasses. A new house always needs a new glass with a smashing bottle of wine to toast with!
5) Two is better than one – When all of the above fail in the quest for the perfect bottle, then you can never go wrong with one bottle of red and one bottle of white! You're bound to get one right!
The wine I choose is always about the person I'm choosing it for. I could drink red all the time, but I love knowing my friends enjoy seeing which wines I've chosen for them because they know I took the time to pick something special with them in mind. So, the next time you're picking out a bottle of wine as a housewarming gift, think about how that person makes you feel. People won't always remember what you do or say, but they'll remember how you made them feel. Wouldn't it be nice to make them feel the way you felt when you thought of them?
Salut!
---