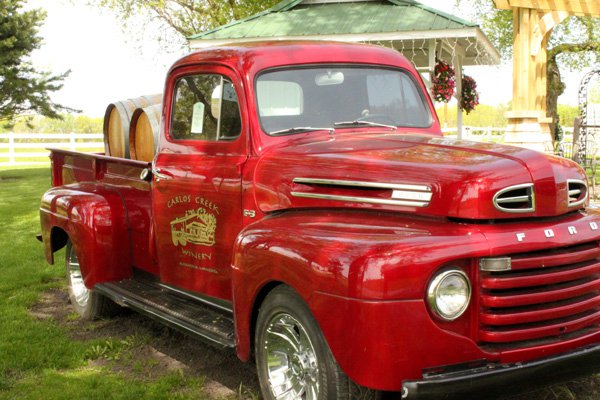 [Carlos Creek Winery / Carlos Creek]
For Minnesota wineries, the road to becoming a competitive force in the wine industry has been long, arduous and fraught with challenge. But in recent years the decades of hard work have finally begun to pay off—and in large part, it's because winemakers have been embracing wines of place. Two years ago, for the first time, a Minnesota wine made from Minnesota grapes (Carlos Creek Winery's 2009 Frontenac) won a double gold medal in the prestigious Indy International Wine Competition. Last year, three Minnesota wineries took home double golds.
One of those was the Muscat from Four Daughters Winery in Spring Valley. Justin Osborne is the winemaker at Four Daughters, which opened only 14 months ago. His wines are receiving top honors left and right. Even still, Osborne is humble.
"I am not the world's greatest winemaker," he said. He knows the path to success is steep and plateaus are no place to stop. And he knows there is much to learn from his fellow winemakers across the state and region, he said.
Truth is, up until a few years ago, Minnesota wines were largely unwelcome in the industry, passed over and less than desirable. The grapes weren't great and neither were the wines. But today, a growing force of wine pioneers in Minnesota and other upper Midwestern states—farmers, crop developers, enologists and winemakers—are launching the cold-climate wine industry onto the national, if not international stage.
It has taken time, dedication and determination for Minnesota grapes and wines to become—and be recognized as—award-worthy, but awards are starting to trickle in, and there's an air of optimism among industry folk.
Three Decades of Viticulture
Minnesota wine grape varieties have been more than 30 years in the making. The University of Minnesota cultivates 10 acres of research vineyards with approximately 10,000 experimental vines. Seedlings are produced each year using a diverse genetic base that includes classic Vitis vinifera cultivars, quality French hybrids, and cold-hardy, disease resistant selections based on V. riparia, a grape native to Minnesota. Over 1,000 seedlings are planted each year and subjected to high standards of evaluation.
With a state-of-the-art enology lab and research winery the University of Minnesota is recognized as having one of the top wine grape programs in the United States. The University of Minnesota has developed several outstanding grape varieties which make excellent wines including Frontenac, Frontenac Gris, La Crescent, and Marquette. The key: developing a set of hi-acid hybrids off a wild Minnesota native grape that's naturally suited to a colder climate and a shorter growing season.
The Winning Over of an Enologist
Winemaking, while truly an art, is also a very technical, scientific process of balancing sweetness and acidity, adding yeast at just the right time, and drawing out complex flavors from the grapes.
Katie Cook, enology project leader for the University of Minnesota's Department of Horticultural Science, wasn't always a fan of Minnesota wine. A native of the state, she had found tastes of Minnesota wine several years before coming back to work at the university disappointing. Years of study and work in California, Argentina, France and Australia had cultivated her palette and honed her winemaking skills. But when she finally decided to return to Minnesota, the improvement in local wines since that initial tasting surprised her.
"If a consumer hasn't tried the local wine scene in a while, it's worth trying again," she said, adding the wines improve with each year of practice.
Cook pointed out winemaking isn't like one of those trades where daily practice improves skill. The life cycle of wine is much longer than most. In wine, you get one shot a year.
"If a winemaker has been making wine for 20 years, it really only means that he or she has made wine 20 times," she said. "A winemaker with 20 years of experience might be considered an expert, but if they were a brain surgeon, you wouldn't want them performing surgery on you if they had only done it 20 times."
In this young industry, Cook said collegiality and sharing knowledge is the key to strengthening the whole.
A New Kind of Midwestern Pioneer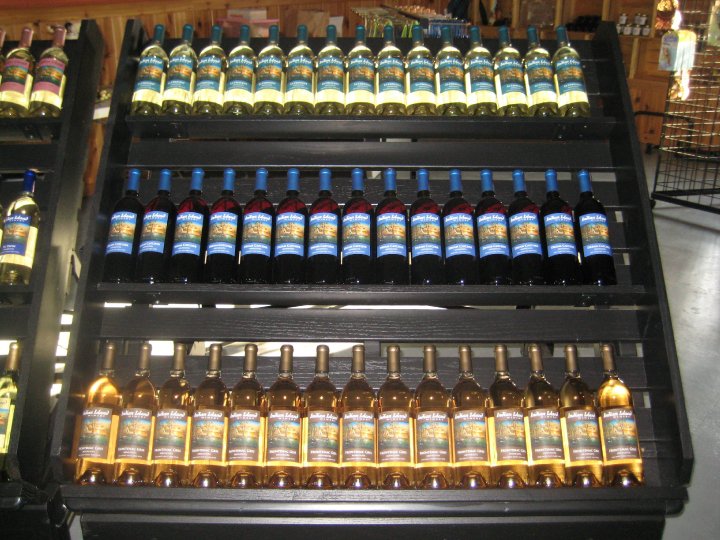 [Indian Island Wines / Indian Island]
In an area known for a century or more for crop farming and cold winters, grapes in Minnesota are starting to wend their ways. Not like in California, where the sun shines nearly all year. Not like in Italy, Germany or Argentina, but in their own Midwestern way.
When it comes to growing Midwestern hardy, yet wine-worthy grapes, some farmers start small; others jump in whole hog. The farmers who are dedicated to experimenting and producing good grapes are the ones tilling the proverbial soil for those who come behind.
Ray Winter is one of those dedicated types, a self-styled "grand-daddy" of Minnesota grape growers, with 12 years of cold-hardy grape varietal and vineyard experience under his belt.
In 2000, his beans and corn crops weren't doing so well, so he diversified into grapes. Winter started small, he said, with a single acre of vines, (able to produce, amazingly enough, about 2,800 bottles of wine). He never intended to open a winery. But when his daughter, Angie Netzke, became a winemaker and came back home to the farm, Indian Island Winery in Janesville, Minn., was born. Now the whole family helps run the farm, winery, and nursery. And that single acre has grown to more than 13.
When asked about the biggest challenge he has in the vineyard, is answer was swift: "Weather. It's always an issue," he said. Minnesota weather, in all its unpredictable glory, certainly does not make it easy for a farmer to raise grapes. Frosts are sure to come at the wrong time and vines will constantly be fighting against getting choked on fungi in the humid summer months, he said.
But when the battle is won when he harvests those beautiful, juicy clusters.
"It's fun to grow something, then take it and make it into something that's very desirable," Winter said.
The grapes made a way for Winter's kids to come back home. Without wine, the family farming would have soon died out, he said. He is grateful. The chance to work the land with his family, and then use the crops they've grown to create top-quality wine is one he sees as a gift.
Midwest Craftsmen: The Winemakers Who Make It Happen
Martin Polognioli, winemaker at Saint Croix Vineyards in Stillwater, came from sunny Argentina to snowy Minnesota to learn how to make wine at the University of Minnesota. Ten years later, it's become a love affair and he's still here, tackling the challenge of growing grapes in this climate and making wine from them.
Check out our interview with Martin >>
Late spring frost can damage growing buds, while an early autumn frost can compromise the crop and health of the vines, but that doesn't deter Polognioli from pressing on in his craft. He loves the variety of experiences his job allows him to have, from working in the vineyard to experimenting in the winery and interacting with customers experiencing wines from Saint Croix.
"You can go anywhere in the world and you won't find wines quite like these," he said. "The quality of the wines from cold climate grapes is growing exponentially."
It's not just the quality which is growing exponentially – its quantity is, too. In 2009, Minnesota wineries produced more than 93,000 gallons of wine. By 2014, they are projected to produce 150,000 gallons. Polognioli said the research and hard work by winery owners is helping the industry improve by leaps and bounds.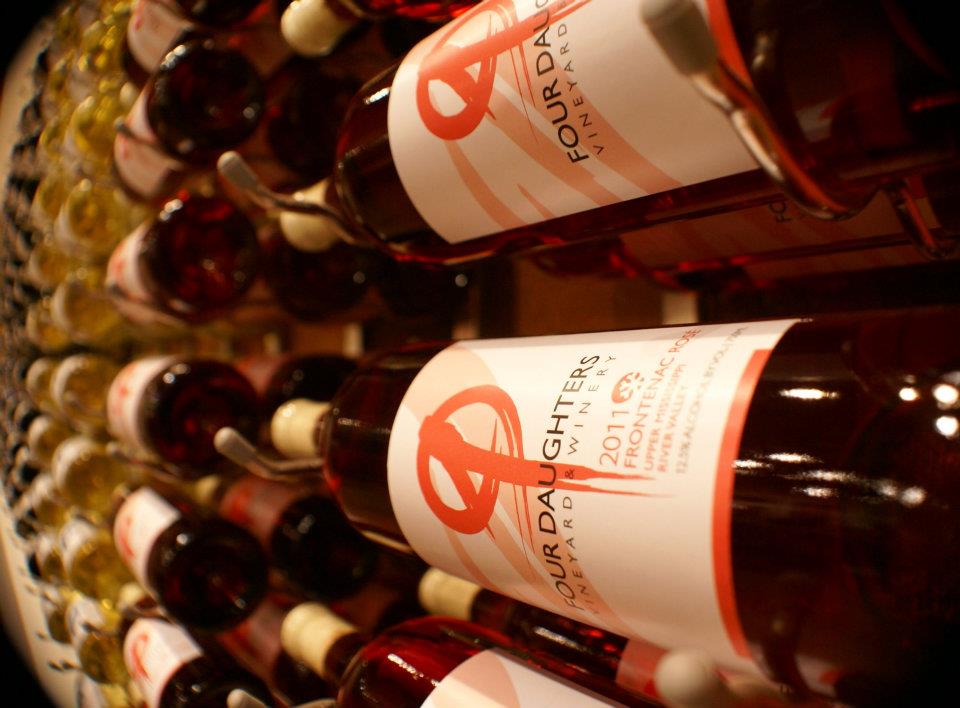 [Four Daughters Wine / Four Daughters]
A little further south in Spring Valley, you can find Osborne (Four Daughters winemaker) hard at work. The winery, not far from the Mayo Clinic in Rochester, Minn., has 6 acres of their own vines, and a tasting room that boasts a full-scale restaurant, which some have declared a "culinary enigma."
Osborne said he jumped feet first into the deep end of the craft when his mother-in-law announced she wanted to start a winery.
"I like it – some people have 'thankless' jobs, but I have a 'thankful' job," he said. People are certainly thanking him for what he's turning out, clear from the awards and accolades he's receiving in his first year of wine making.
What does Osborne love about Minnesota grapes? The "explosive, intense fruit flavors and aromas" he's able to highlight in the wines. He enjoys all the neat things he's able to do with a single varietal, but also likes blending grapes to create a fuller flavor profile, especially in reds.
"If you're coming from California wines, the flavors are unfamiliar," said Osborne. Not everyone will love Minnesota wine, but he wants people to know that Minnesota wines can compete (and win!) on an international scale.
Osborne is passionate about creating really good wine, which he believes starts in the vineyard by producing high quality grapes. The biggest challenge he faces is making every wine something he's absolutely proud to put out.
In February, he went from winning the Governor's Cup at the Cold Climate Conference on a Saturday, to dealing with two barrels of wine that weren't very good when he returned to the winery on Monday.
"I won't release bad wine," he said with emphasis. "Part of making the wine industry better means people have to be willing to not release bad wine."
So he soldiers on. He tries something new, plots a rescue mission for these wines, and hopes that the other twelve wines on which he's working will cooperate better.
He's and countless others are pioneering their industry, ensuring its success and making the rest of the wine world take notice.
Check out more WineTable coverage of Cold Climate wines >>
---