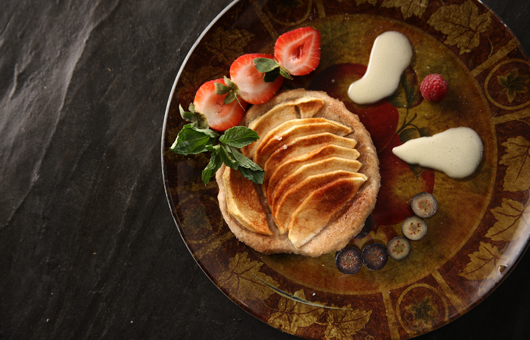 Harry's Wine Pairing Tips: Try a good Sauternes, which is oaked and adds a nutty-caramel panoply of flavors that complements the hazelnuts and cinnamon. Or try these: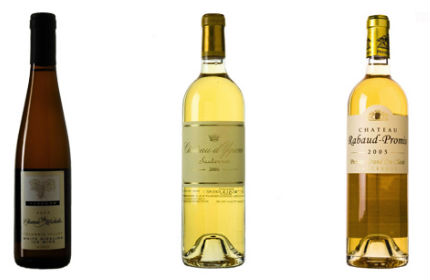 Chateau St. Michelle Reserve Riesling Ice Wine >>

Chateau Rabaud Promis Sauternes Grand Cru >>

Chateau d'Yquem Sauternes >>
Ingredients
4 2-oz. pieces of puff pastry or sugar cookie dough (use your favorite pie dough)
4 oz. skinned hazelnuts
8 oz. tart apples or nice pears, pared and thinly sliced (weigh after peeled)
Brown sugar
Cinnamon
Preparation of hazelnuts Note: Do not toast hazelnuts in a pan on the stove top. Nuts toast unevenly and can also scorch while being under-toasted at the same time.

1. Preheat the oven to 350°
2. Place hazelnuts on silicone baking sheet
3. Bake nuts in oven to a medium brown toasted color
4. Cool and grind hazelnuts to a powder
Prepare the tart

1. Shape dough into ovals, squares, oblongs, or other shapes
2. Brush slices with melted butter
3. Sprinkle with a little brown sugar, cinnamon and powdered hazelnuts
Tip: To keep the tarts flat, poke holes in the dough with a fork. Place on a silicone baking sheet pan and shape so all look alike.
Baking the tarts
1. Preheat the oven to 400°
2. Arrange fruit in fan pattern to match your chosen shape (slight overlap of slices)
3. Sprinkle lightly with brown sugar and cinnamon
4. Bake about 15 minutes
Tip: Fruit should be soft with a little "push back" when tested with a wooden skewer. Serve warn with top quality vanilla ice cream or softly whipped cream.
---