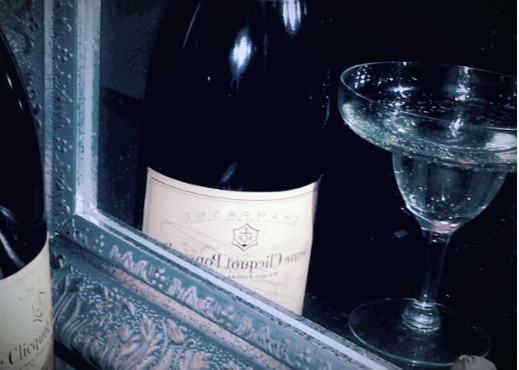 [Photo: A 1950s champagne glass and a bottle of Veuve Clicquot Ponsardin Brut ready in waiting for New Year's / Credit: David Salls]
There's nothing quite like the sound of a popping champagne bottle, especially at midnight on New Year's Eve. While some may have put off shopping for their bubbles to bring in the New Year due to the Aztec calendar, I was on a mission to taste as many as I could, just in case.
There are numerous Champagnes/Sparkling Wines on the market, in various price ranges, that make it nearly impossible to try them all, but I found a few worth mentioning for ringing in the New Year or frankly, anytime. Because, really, who says popping a cork should only be for special occasions?
$50+
Veuve Clicquot Ponsardin Brut, Champagne, France—This one is from the Champagne region of France. This is a crisp, light and bubbly choice. It wasn't as dry as I expected for a brut and is actually my favorite of all the ones I tried this week. A little fact on this gem: It's named for the matriarch of the brand. Madame Clicquot (1777-1866), was one of the first businesswomen of the modern era. When her husband passed away, she took over his Champagne house at the age of 27, making important innovations (including the invention of riddling), which helped lead the house to become world-renowned. It's said she is perhaps most famous for defying Napoleon's blockade by sending a secret shipment of Champagne to Russia in 1814. A mischievous champagne for mischievous gals, perhaps?
Moët & Chandon Rose Imperial, Champagne, France—Another from France, but with a pinker hue that caught my eye. Quite pleasing to the palate as the bubbles danced around tingling my throat. This house provided the champagne for the wedding of Prince Charles and Princess Diana back in the 80's, so as the saying goes, "If it's good enough for the Queen…"
$20+
Roederer Estate Sparkling Wine, Anderson Valley, California--This is California's first sparkling wine produced by Champagne Louis Roederer building on a 200-year tradition of family winemaking. This first debuted in October 1988 and has since been a huge favorite among Americans for both quality and price. I loved the pop of this cork and the scent of this one as it's poured just fills your senses.
Gloria Ferrer "Blanc de Noirs," Sonoma County, California--Another with a hint of pink due to being created from Pinot Noir grapes. I had to try this one after coming across their promotional Be Bubbly Sweepstakes. This was yummy from first sip to last and one I will buy again.
$10+
Segura Viudas Brut Reserva, Cava, Spain—If you like to keep several bottle around for those "special moments," this is a fantastic bottle for the price-to-quality ratio. I was introduced 15 years ago to this little gem by our sweet elderly friend who owned a local liquor store. It's quite pleasing with its dry, yet delicate palate. For those who hold onto their empty bottles, this is a pretty one...
La Marca Prosecco, Veneto, Italy—A good choice for those looking for a bit sweeter. It's juicy and refreshing and also makes a fabulous mimosa, if you start the day toasting! It presents itself with an air of chic, but this bottle is easy on the wallet.
Carbo Brut, Cava, Spain--This is an affordable sparkling wine that has great bubbles to it and a drier finish. This is a good place to start if you want the bubble experience on a limited budget.
A few quick, worthy notes:
Personally, I like to use my Grandmother's 1950's style champagne glasses (as you can see from the main photo), but when addressing the best stemware for champagne, the tall flute is the winner every time.
Champagne/sparkling wines, for the most part, are best used within 3 to 4 years of purchase.
Chill several hours before uncorking; you should store in a dry, dark cool place until closer to needing to chill. Hot and cold can turn a bottle bad, so please, don't move your sparkling wines from storage to fridge to storage. If you chilled it, drink it!
Bubbles don't stay for days like a fine wine, so remember, if you can't finish that bottle of bubbles once opened, it always makes for a fabulous cooking wine with a light chicken or fish dish.
Bubble, Bubbles, Bubbles - Good for any occasion!
Salut!
Related article: Bubbles v. Bubbles
---