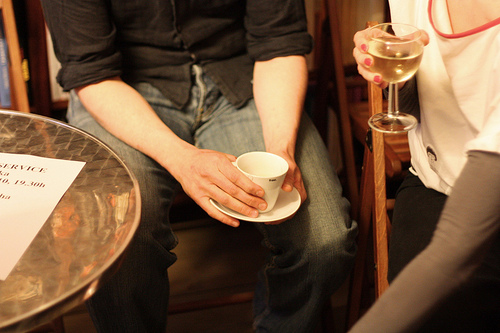 [CC: Ondrej Lipar]
Say hello to the new WineTable. Wine is delightfully complex and intensely social, so we've created a quick guide to suggest a new wine type for you to try at one of the top wine bars near you. A great reason to initiate a get-together, right?
If you've just come through our little questionnaire, you might be saying, coffee? Wine? Huh? Or, if you haven't seen it yet, click here to take the test.
To keep things lively, we'll be changing them up every now and again, but for now, we've started with coffee. If it doesn't make total sense right out of the gate, here's a bit of explanation to help connect the dots. Mostly, we hope this becomes a fun tool to help you explore wine and the local wine bars that are cropping up in greater and greater numbers everywhere.
Question #1: Do you like red, white or pink wine?
This set of three questions was developed by wine connoisseurs to help you find an excellent wine varietal match. Your answers might change each time you take the test (or if you want to kill the magic, you can just manipulate the end by changing your responses). For this first question, we're interested in your general wine type preference.
Question #2: If you were to have coffee or tea, how would you like it?
Taking what we know from the last question, we layer on considerations about your preferences for sharp or creamy flavors. Thinking about how you like your coffee or tea parallels some of what you taste in wine--and can indicate which wine you'll especially like.
Question #3: Which aroma and flavor are you in the mood for?
You might always take your coffee one way, but we're betting your mood for different flavors changes one minute to the next. Here, we've moved beyond the structural aspect of wine and now we want to know what specific flavor you crave.
You're in the mood for [X wine varietal].
These results might not be a perfect reading of your mood (we recommend a decoder ring for that), but through your answers, we paired up your preferences for color, structure and flavor. The science of taste and aroma is quite complex, but we think we've found an excellent wine just for you.
Select a recommended wine bar
Once you've discovered a new wine to try, what better way to do it than with friends at a cool wine bar you've never been to before! We use real-time social data from across the web and searched the wine bars in your area to find the most-liked destinations for you to try. Fancy, huh? Scroll through by clicking the arrows to the right and left. Make sure to remember our wine recommendation when you're there and sample a glass. Let us know how we did!
Final step to wine bliss
When you find a wine bar that looks interesting, let your friends know you're picking the next spot for going out. We've made it simple by integrating email or Facebook messaging right here on the website. Sharing good wine starts here.
Oh yeah, and we are keen on getting your feedback. Have a suggestion for how we can improve the site, a question we should use to discover your wine moods, or any other comments? Let us know right here in the comments section or drop us a line at feedback@winetable.com.
---