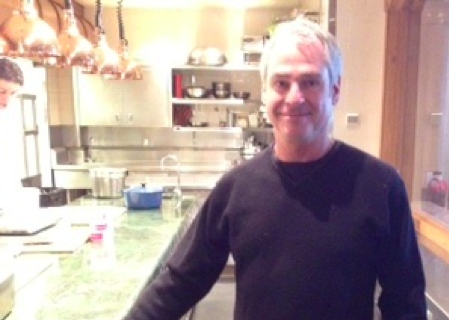 [David Walford / William & Natalie Myers]
Webster's definition of the word faithfulness is: "Adhering firmly and devotedly, as to a person, cause, or idea; loyal." Executive Chef and restaurant owner, David Walford is a seasoned craftsman who has spent the last 30 years immersed in the culture of the culinary world, the 20 of them in Beaver Creek, Colo. Now that's faithfulness. We recently chatted over coffee in his beautiful restaurant with splendid views, thus named, Splendido, at The Chateau, Beaver Creek.
Wearing a black, fitted sweater covering an athletic build, David was cool and relaxed like he had never spent any time in a bustling kitchen hurrying his assistants along. Enthusiastic about fine foods and modern culinary challenges, David is a serious, hands-on chef who brings a delicate sensibility to unique and hearty dishes. He encourages his chefs to coax rather than manipulate the best flavors out of quality ingredients and to complement them with delicate yet distinct flavors.
David developed this respect for classic food traditions and refined French technique while training with masters such as Masa Kobayashi at Auberge du Soleil in California's Napa Valley, with Udo Neschutneys at Miramonte in St. Helena, Calif., and with Roland Mazère at the Hotel Le Centenaire, and Bernard Loiseau at La Côte d'Or—both in France.
NM: So you're coming up on your 20th anniversary here at Splendido?
DW: You've been counting! I was getting used to saying 15 years and I realize that isn't accurate anymore.
NM: What have been the highs and lows of your career as a chef?
DW: 1994 was when I came here. Originally, I thought it would only be a couple of years. Beaver Creek was 20 years younger and I didn't think this resort would fly because we're not on the beaten track. I had cooked in Vail Village at Sweet Basil, which is in the thick of things, and I really wondered if people were going to come up here. So I guess the high is, we survived our first couple of years and I went from executive chef to general manager as well. The '90s were a high for the restaurant and resort industry because of the dot-commers who were here in full force. They loved to spend their money, which they had plenty of. After 2000, the economy started falling apart, which took a big chunk out of our business. But we regrouped and got more efficient. We were established and worked hard and we came back real quick. I negotiated with the owners of this space to buy the restaurant and lo and behold they sold it to me and built a brand new kitchen. We kept the wood stove we use for cooking great meats.
NM: The kitchen looks fantastic. The Chateau is remarkable.
DW: Frank Stronach, an industrialist, came over from Austria after World War II penniless and lived up in Toronto and ended up making a good living for himself. He started a company that makes auto parts and became a billionaire living big and large, and built a home in Beaver Creek. Then he built The Chateau and it was like the way they build buildings in Europe. There's no two-by-foursin here, it's all stone and timber and beautiful wood.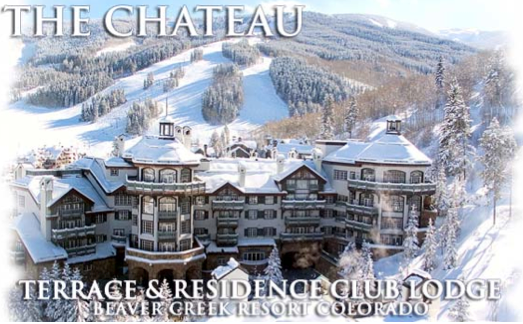 NM: Who has walked though the restaurant doors that you were really excited to serve?
DW: The French chef, Jacques Pepin. I was honored to serve him and did my job to the best of my ability. I have never professed to be the best or most creative chef around. Over the years what we have created here is a product of a certain level of fineness and consistency. That's one reason why I think people keep coming back to Splendido. Restaurants can be very fickle and you go back a month later and there is a new chef or new manager and all new waiters, and nobody knows you—and you thought it was your favorite restaurant. But here we have created a consistent product with long-term employees, so the guest comes back and we try very hard to remember who you are and what you like and where you like to sit and they love that. People love that they can come in and recognize somebody, recognize the menu, and see that Chef, David is still here. For me the joy about being here so long is watching green people grow in their skills. It's beautiful to watch.
NM: What are your specialties?
DW: We are in the Rocky Mountains where people are very athletic. They come in from the cold from skiing and working up a good appetite so we serve a heartier cuisine, bigger food, more robust flavors. The one thing I inherited in the kitchen when we opened was a wood oven and they were making pizzas in there and I thought this is not a pizza place. It's far too elegant; it's far too refined. So I looked at the wood oven and one of the first things I did was grab a strip loin, salt and pepper it throw it in and wow it is really, really good. The roasted rack of lamb is succulent cooked in this manner.
We were joined by Brian Rhodes, who runs the dining room and the wine program at Splendido. The following are their responses to our wine questions.
Favorite whites?
DW: Chablis, Chardonnay.
BR: Chablis or White Burgundy.
Favorite reds?
DW: California Meritage Blends, Bordeaux Blends.
BR: The blending grapes, Malbec, Grenache, Chile or Argentine wines.
Favorite pairing of late?
DW: Champagne and oysters.
BR: Lamb stew and Malbec.
Favorite wine moment?
DW: I can't tell you because it's too erotic. But a close second are special wine moments when I lived in France, 30 years ago and I would go to a little country restaurant that I had no idea about, just hoping for a good meal—Mom-and-Pop restaurants—and I would order the house wine which would come in a carafe, and the meal would be incredible. The wine might be a little rough around the edges, right out of the barrel, because they're not wealthy in the countrysides of France. Those are good memories for me.
BR: Working here in the restaurant I have tasted so many unique wines like old ports from the early '60s—a 1953 DRC.
Favorite wine personality?
DW & BR: Patrick Mildrum, our sommelier!
Favorite Vintner?
DW: Andy Schwagger. He is a character.
BR: James MacPhail from Napa. While recently in Napa he invited us into his home for lunch. He makes incredible wines specializing in Pinots.
We said goodbye to David and Brian, looking forward to our return to Splendido at The Chateau, Beaver Creek, where we hope to find the same menu, the same wait staff and the same, faithful Owner and Executive Chef, David Walford.
Enjoy preparing David's Wood-Roasted Artichoke Salad with Toasted Garlic-Red Wine Vinaigrette and Manchego Cheese to be featured on Splendido's Spring menu! It pairs nicely with Clos du Bois Chardonnay or Willamette Valley Riesling.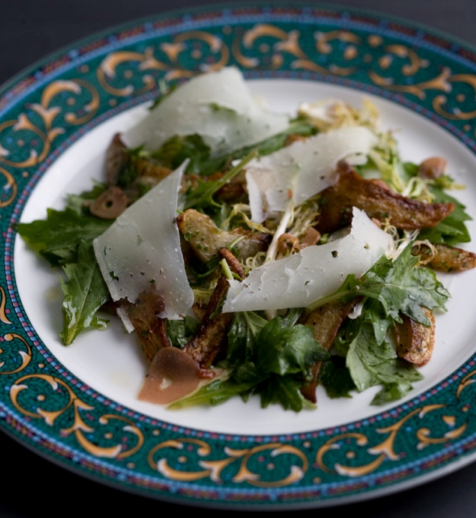 ---