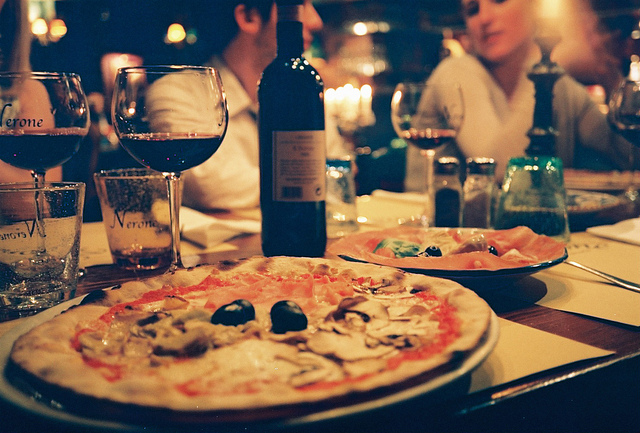 [Credit: Italian Pizza / moniko moniko]
We all have the same question when we're sitting down at an Italian restaurant for homemade tagliatelle and mozzarella di bufala: Will I get chased out the door by a mustachioed Sicilian wielding a hefty salami if I order anything but Chianti?
You will be happy to hear that the answer to this question is a resounding and enthusiastic no. (Please note: We can't vouch for all Italian restaurants and all Sicilians, with or without salamis.) Italian food isn't just red sauces and red wines. The seafood of Northern Italy is delicious with white wines. Prosecco is marvelous with hard cheese and figs. There's a plethora of varietals that pair beautifully with Italian game meats.
Apertif: Prosecco is the Italians' answer to champagne. It's not a strong cocktail culture, but the Bellini with its sparkling wine mixed with peaches and peach liqueur was originally devised in Venice.
Barolo: This full-bodied red complements the braised beef, lamb, and rabbit of Northern Italy.
Amarone: Big and hearty, this wine works well with winter foods like roasts and game meats or hard cheeses like asiago or parmesan.
Ribolla Gialla: A fruity white wine that blends perfectly with thin, salty prosciutto.
Scrutinize a Ribolla Gialla >>
Soave: Light and drinkable, Soave is delicious with seafood, fish, and other summer dishes.
Chianti: You don't have to drink Chianti, but you can drink Chianti. Delicious with bistecca alla fiorentina (the Italian version of a big slab of beef) and peppery Tuscan bread. Also great with classics like osso bucco and chicken cacciatore.
If You're Drinking Chianti, At Least Try a Top-Rated One >>
Digestif: The gently effervescent Moscato d'Asti was made for traditional Piedmont Christmas toasts and is arguably one of the most delicious dessert wines in the world. Limoncello, a lemon liqueur from Southern Italy, is strong and a sweet kick in the palate.
---