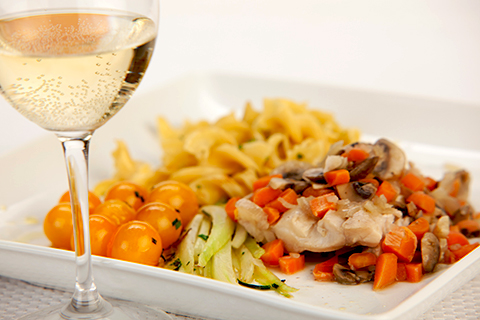 Editor's Note: Red snapper is a favorite among fish-eaters for its sweet, nutty flavor, and was, a number of years ago, overfished. The scarcity led some suppliers to mislabel other reddish fish as red snapper, but there's a sure way you'll always know you're fishing in the right pond: buy it with the skin on and always check the eyes. Red snappers have bright red irises.
Harry's Pairing Tip: This dish has lots of flavor so go for a full-bodied California Chardonnay or an Oregon Pinot Noir.
Serves 4
Ingredients:
8 oz. button mushrooms after stems are removed
4 cloves garlic, crushed
1 oz. olive oil
3 T. finely chopped onions
3 T. finely chopped carrots
½ C. dry white wine
1 small bay leaf
1 small anchovy fillet
4 6-ounce snapper fillets, skin on if available
To make the snapper:
1. Quarter the mushroom tops, reserving the stems.
2. Heat the oil in a large saucepan and add the garlic and mushrooms. Cook about 2 minutes, seasoning with sea salt and fresh black pepper. Tip: Do not let the oil get too hot. Olive oil has a low smoking point, which is when it starts to break down and become unhealthy.
3. Add the onions and carrots to the pan with the mushrooms and sauté about 2 minutes.
4. Add the white wine and bay leaf.
5. Crush the anchovy to a paste and add to pan.
6. Finally, place the fillets in the pan and cover, leaving a little slit for the steam to escape. Cook about 6 to 8 minutes depending upon the thickness of the fillets.
To serve:
When the fish is cooked, remove the fillets to heated serving plates and bring the pan liquid to a boil.
Remove bay leaf and stir in 1 to 2 T. chopped fresh parsley. Adjust seasoning then boil 1 or 2 minutes and spoon over the fish. Serve immediately.
---