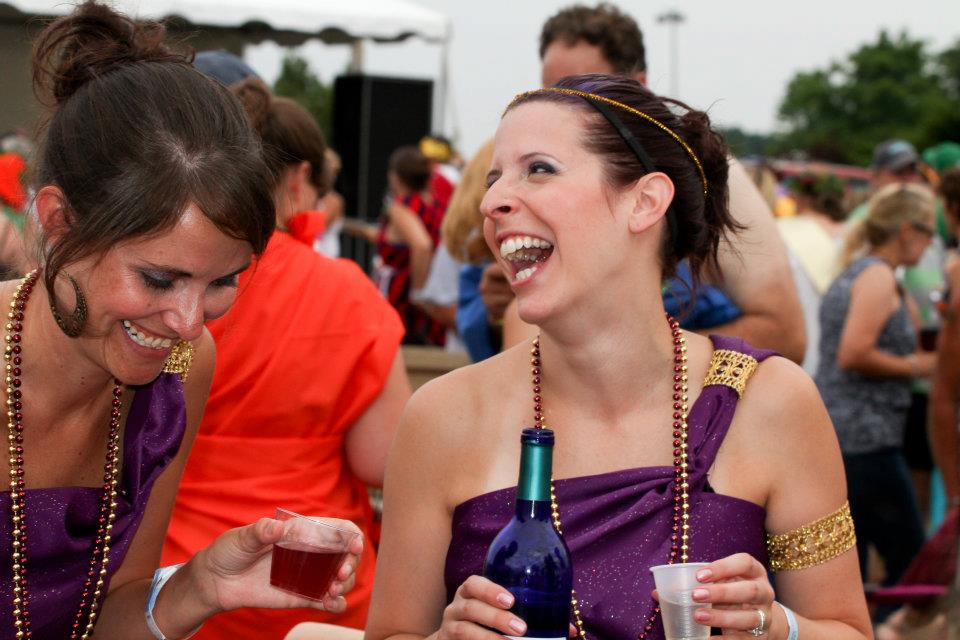 [Wine, togas, and a whole lot of fun at the 2012 / Finger Lakes Wine Festival]
In a few weeks, July 12-14, world-renowned racetrack Watkins Glen International in New York's Finger Lakes region will be turned into one of the largest wine tasting events on the East Coast to showcase New York state-produced wines. We were fortunate to get an insider's peak at the event from Elizabeth Mayer, Public Relations Manager for Watkins Glen International. It will be a one-stop sipping and shopping event featuring 81 wineries, gourmet food, arts-and-crafts vendors, live music and pace car rides around the historic racetrack.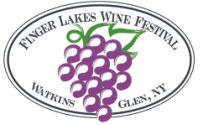 The weekend kicks off on Friday night during the Yancey's Fancy Cheese Launch of the Lakes toga party. Visitors will have the opportunity to enjoy a Great Western Chardonnay Champagne Brunch or the taster's banquet in the evening. Some of the region's finest chefs will offer classes, including cooking demonstrations and wine pairing, from the New York Wine & Culinary Center and wine seminars from the NY Wine & Grape Foundation. For people seeking an extra special opportunity, the VIP Riedel Experience will put you up close with 10 hand-selected winemakers of the region.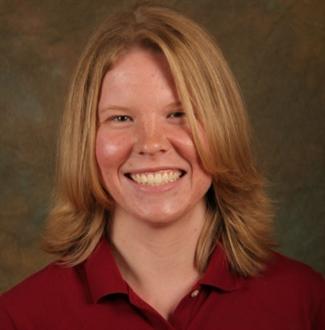 Meet Mayer as she shares what you can expect when you attend the 2013 Finger Lakes Wine Festival.
Robin: Who is sponsoring The Finger Lakes Wine Festival?
MAYER: Yancey's Fancy New York Artisan Cheese is our official sponsor of the Finger Lakes Wine Festival, but the event is put on by Watkins Glen International. This is a yearly event.
Robin: How long have you been putting on the Finger Lakes Wine Festival?
MAYER: Since 1997. Well, let me actually correct that. The Finger Lakes Wine Festival has been around since 1997, but we, Watkins Glen International, are in our 17th year of running it.
Robin: How did a raceway become home to a wine tasting event?
MAYER: It's my understanding from years prior to my joining the team here is that the festival changed locations and moved around. It had been in Geneva and at that point the wineries created a committee and ran it themselves. The Glen stepped forward and said we have this huge facility that you guys can use on an annual basis. Give us the pieces as we run events all the time and we'll do this for you. That's kind of how it all started. We were looking for different ways to use a facility like a road course that isn't just racing. So, we started hosting The Finger Lakes Festival and started growing it from what it initially began as to the event it is today.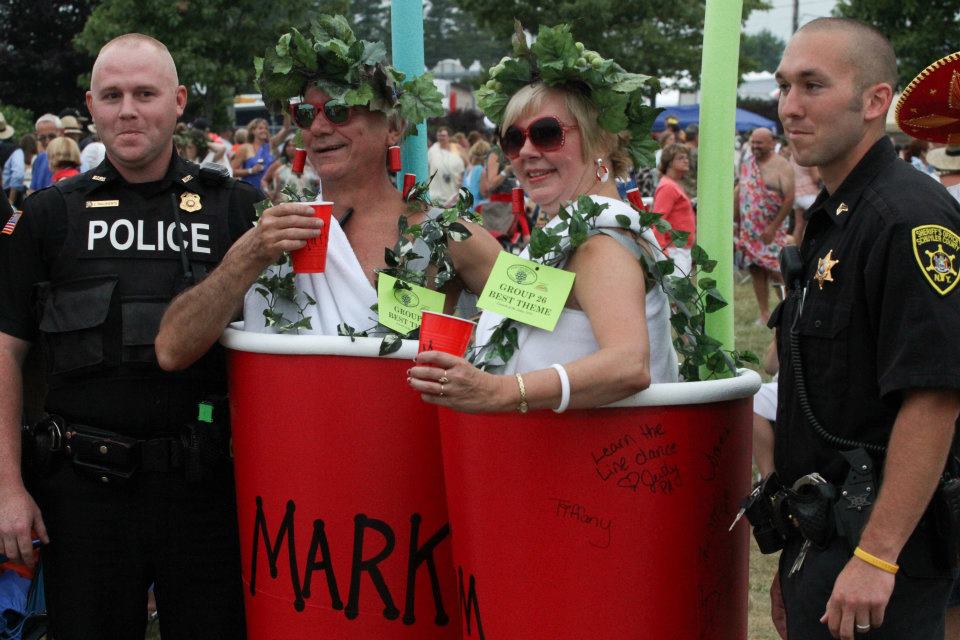 [Themed togas / Finger Lakes Wine Festival]
Robin: Can you share a little about the Friday Night Launch of the Lake party on July 12th?
MAYER: It's truly just a party. It's an event where we have between 10-20 of the wineries that participate in the festival for the entire weekend; they set up smaller shop tastings. Yancey Fancy also puts this event on; it's the Yancey Fancy Launching of the Lakes. We have food and wine and it's $20 to enter from 5-9pm and ends with fireworks. Plus, it's a toga party. So, you can come in your t-shirt and jeans and nobody will think anything of you or you can come in a bed sheet, a really well made toga, a theme toga…people come in groups; last year we had a group come in dressed as super heroes but in togas. A lot of people have fun with it and it's a good start to the weekend. It's also nice for those who can't make the weekend. The evening is topped off by fireworks and it's a riot to see what everyone comes up with and what they show up in.
Robin: Do you have to be 21 or over to get into the festival?
MAYER: We have wrist bands for those that are 21 and over that will be drinking and we have bands for those that are designated drivers. So, they are different colored bands for the designated driver and every winery is instructed with due diligence to make sure that an individual with those bands never have a glass of wine in their hands. So, yes it's open to under 21, but that band is primarily for the designated driver role. This festival isn't really met for young children.
Robin: Can you share about the camping available at the festival?
MAYER: We have an extensive camping area on the property. We have about 1600 acres total, so the festival takes place on the infield. The festival takes place in our large garage and numerous tents so, the place becomes a huge tasting room. Then all of our campgrounds are open for people to use for a fee of course, but this has increased in popularity since we started it. Were always set to go for camping with the race teams, so this is a big part of things. The Finger Lakes Wine festival is a huge undertaking and it keeps getting more and more popular as people want to come in on Friday night for the launch of the lakes party and stay for the weekend. The camping makes it easy so that no one has to draw the short straw and be the one who has to drive home.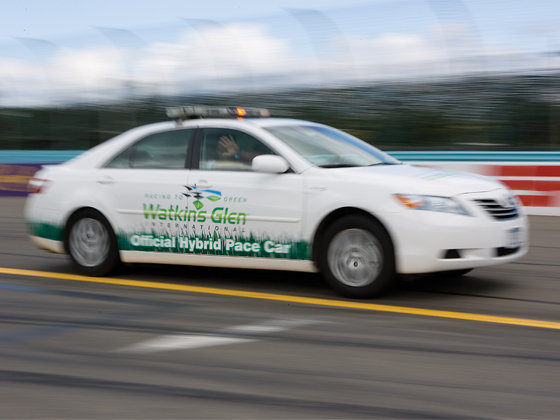 Robin: For the wine-speed junkies, can you share how the Pace Car rides work?
MAYER: We have a series of Pace Car race car drivers that work here with us at Watkins Glen International on a seasonal basis and for a small fee, visitors can get a ride in one of the pace vehicles. We've got several cars and they'll take you around the track. It's a pretty popular experience we offer during the weekend.
Robin: Can you share a bit about the VIP Riedel Experience on Saturday?
MAYER: The Riedel Experience is definitely the VIP event for the weekend. It's held in our media center, which is a multi-functional room as we call it; a multipurpose building that hosts receptions to proms to drivers meetings. A Riedel executive joins us for that sensory experience evaluation class and just kind of educates guests on what wines should be poured into what glass. Which, is the platform for Riedel. For the $199 cost they also get a glass set and their pass also grants them access to the wine festival for the weekend as well. For this experience we have Red Newt Winery leading the wine pairing with four wines from four of the wineries participating over the weekend. There are 10 wineries that are hand selected by Riedel to participate. All participants in the room will have the opportunity to wander around the room and meet with the different wine makers who will explain how the wines pair with the foods.
Robin: What is your specific role in the festival?
MAYER: Watkins Glen International is a relatively small staff, so we function with all of our events as an all hands on deck. My role here is Public Relations Manager, so my job is to talk with people like you and spread the word about what the wine festival is about and spread the word and make sure that there's a good representation about what the festival is. Plus, I make sure that the wineries that participate and Yancey Fancy get the exposure that they desire once they sign up for this. I work with our local media affiliates to share our messaging beyond just the fact that it's a unique opportunity to taste a high percentage in one area without having to drive around the Finger Lakes region. Also speaking about the camping that's available and more importantly speaking about there being a designated driver ticket available. We have a DUI checkpoint upon leaving; we have checkpoints throughout and although it is a tasting event from 10a-5p, we make sure to keep safety a priority. Also this year, I'm the point of contact for the Riedel Experience so, I've been working with their executive as well as with the Finger Lake Wine Tourism bureau here working together with each of these organizations to make sure that the experience is truly a VIP experience for our guests.
Robin: While you're part of the team putting this event on, do you also enjoy wine yourself?
Mayer: I do drink wine. I think you have to when you live in the Finger Lake Wine Region. I'm fairly certain it's a requirement….Which is one I'm totally fine with. But in terms of a favorite, I am definitely a dry Riesling fan.
Robin: What are the wines your area tends to be known for?
MAYER: The region is really good at producing Rieslings and that's what we're primarily known for, but because we're in the Northeast and everything freezes, the region's been able to produce several really solid ice wines and it's really truly dependent on the weather. And it's a very dessert, sweet wine, but that segment of the wine-producing region is starting to get a little more attention.
Robin: What makes The Finger Lakes Wine Festival a "can't-miss event?"
MAYER: I think it's a not-to-be missed event because there are plenty of people that are not only from farther away that want to visit the region but are closer neighbors that drive by the wineries all the time and don't get to them. This event literally puts the wineries all in one spot. So, you can drive your car and at Watkins Glen you can actually park for free, you have your ticket and for one day or two depending on what your fancy is you have all these wineries at your disposal to taste. I think for that element it's a not-to-be missed event. The other thing I like about it is that I just like outdoor festivals in general. In addition to the tasting element that is the underlying reason for coming, we have live music throughout the festival and approximately 130 non-wine vendors. There's truly something for everyone and it really is what you make of it. You can taste only the wines you want or you can just go down and see what happens.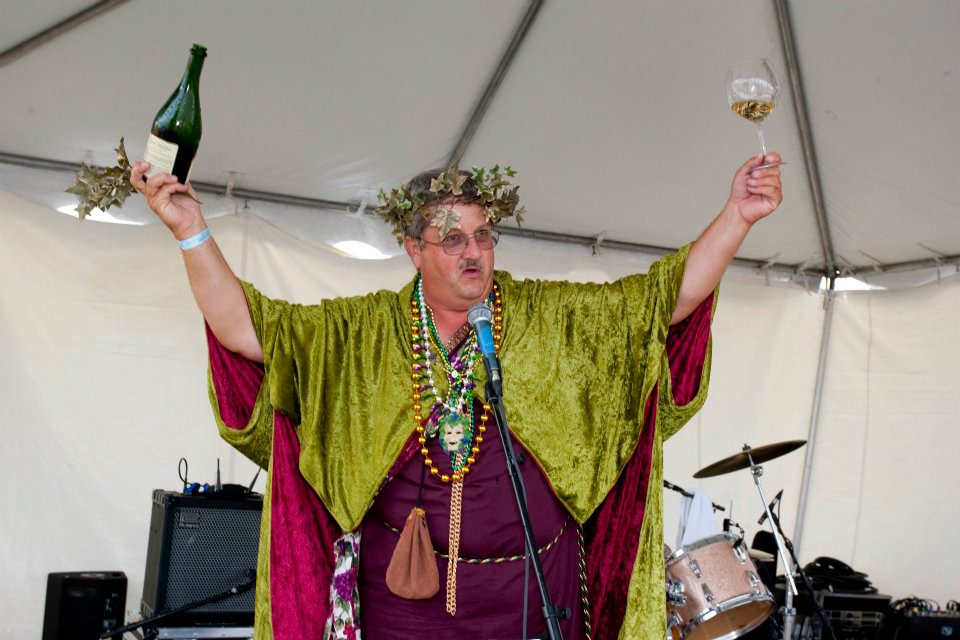 Robin: For visitors not as familiar with the region are there any can't-miss activities they should look into while there for the festival?
MAYER: I highly recommend hiking the Gorge in Watkins Glens State Park. It's right off Franklin Street which is the main road here in the village. That's not to be missed, it's a good sense of the region—quite a few waterfalls and very picturesque.
Robin: Do you have a favorite food and wine pairing?
MAYER: I guess I'm just classic with wine and cheese. I like cheese a lot. And one or the other is always an excuse to have the other.
To learn more about The Finger Lakes Wine Festival or to purchase tickets, visit their website or follow them on Facebook.
---