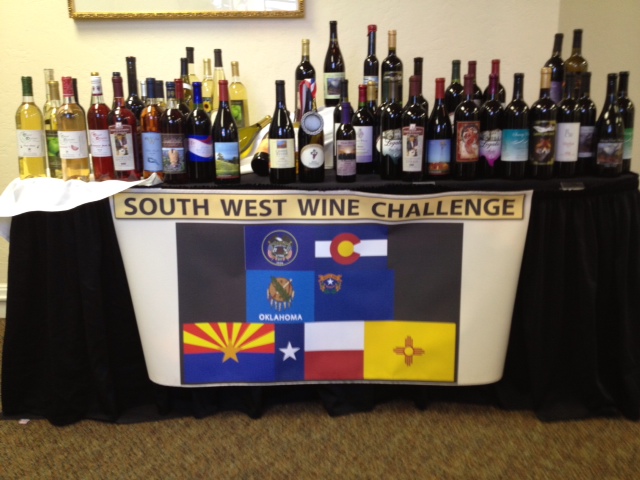 Organizers of the first Southwest Wine Competition have announced the winners, among them, Garrett Estate Cellars, based in Olathe, Colo., for "Best of Show."
"Overall, for myself and the other judges, the quality level of the wines submitted was extremely high and it was consistent all the way across the board," said competition organizer Harry Haff, a sommelier and teaching chef at Arizona's Le Cordon Bleu. "These wineries are out there doing everything they can to produce good wine and it's working."
Among the more than 75 wines submitted to the competition, syrah and petite syrah were prominent. There were late harvest wines and fruit wines (including an incredible watermelon wine). The largest selection of wine came from Colorado and Texas—the states of the southwest that have both the densest populations and oldest population of wineries.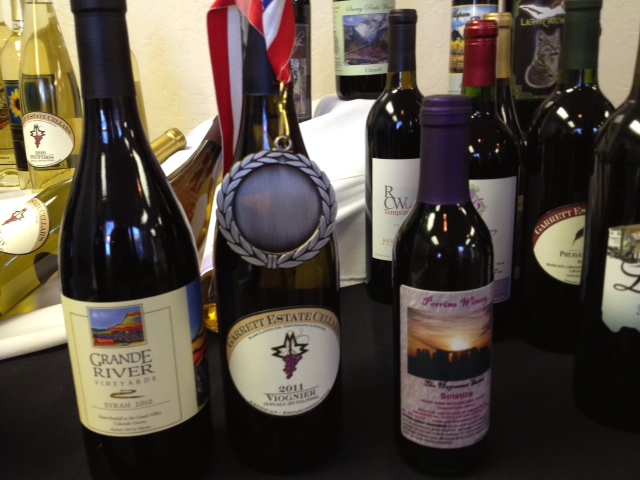 As for the Best of Show wine, "We couldn't get enough of it," Haff said.
Mitch Garrett, owner of Garrett Estate Cellars is modest about his success.
"I'm getting to a point where I look at these competitions to see how our wines matches up against everything that's in there," he said, adding he has recently been submitting his wine to a number of competitions in Colorado, California and even internationally. "We're working to make quality wines that are dry and affordable."
With 35 acres in current production and possibilities of expanding another 20, Garrett said he's pleased with the white wines being produced on his estate and his reds are in the process of maturing.
Another top scorer, Red Caboose Winery, has been garnering attention around the country. The winery, which produces about 5,000 cases per year with plans to increase production in coming seasons, was named one of the Top 10 Hottest Brands of 2012 by Wine Business Monthly.
The father-son team Gary and Evan McKibben taught themselves winemaking from old books and approach their craft with an old-world, natural focused mentality.
Check out the rest of the wines that won and ask for them next time you're at your local wine shop.
Haff said the response he received from wineries was very positive and he's expecting an even stronger turnout next year. In the meantime, he's organizing a competition for craft distillers in June.
| | | | |
| --- | --- | --- | --- |
| WINNING ENTRIES | | 2013 | SWWC |
| WINERY | CATEGORY | | MEDAL |
| Kiler Grove Trebbiano | W 01 | WHITE VARIETAL/BLEND | Bronze |
| Garrett Estate Cellars | W 02 | Chardonnay 2010 | Silver |
| Aspen Peak Cellars | W 02 | Chardonnay | Silver |
| Perrine Winery | W 03 | Sauvignon Blanc | Silver |
| Grande River Vineyards | W 03 | Sauvignon Blanc 2011 | Gold |
| Aspen Peak Cellars | W 04 | Riesling 2012 | Silver |
| Garrett Estate Cellars | W 04 | Riesling 2010 | Gold |
| Guadelupe Vineyards | W 05 | Gewürtztraminer 2011 | Silver |
| Garrett Estate Cellars | W 05 | Gewürtztraminer 2009Silver | |
| Garrett Estate Cellars | W 07 | Viognier 2011 | Gold |
| Texas Roads Winery | W 09 | Pinot Gris 2010 | Silver |
| Garrett Estate Cellars | W 09 | Pinot Gris 2010 | Silver |
| Fire Mountain Wines | W 11 | Viognier-Grenache 2010 | Silver |
| Spero Winery | W 12 | Malvasia Blanca 2008 | Bronze |
| Sugar Ridge Winery | W 13 | Green Apple | Silver |
| White Water Hill Vineyards | P 1 | Merlot Rose | Bronze |
| Keeling Schaefer Vineyards | P 1 | Grenache Rose 2012 | Silver |
| Kiler Grove Winegrowers | P 1 | Saignee Rose 2011 | Silver |
| Sweet Dreams Winery | P 2 | Outlaw Red 2011 | Bronze |
| Aspen Creek Cellars | R 1 | 285 Fusion | Bronze |
| Texas Legato | R 1 | Petite Sirah 2010 | Bronze |
| Red Caboose Winery | R 1 | 70/30 Blend | Silver |
| Snowy Peaks Winery | R 1 | Cinsault 2011 | Bronze |
| Kiler Grove Winegrowers | R 1 | Petite Sirah 2009 | Gold |
| Red Caboose Winery | R 1 | Lonoir Tempranillo 2010 | Gold |
| Snowy Peaks Winery | R 1 | Petite Sirah 2010 | Bronze |
| Garrett Estate Cellars | R 1 | Pheasant Run Red | Bronze |
| Red Caboose Winery | R1 | Red Cab 50/50 | Gold |
| Snowy Peks Winery | R 1 | Eleve | Bronze |
| Perrine Winery | R 2 | Pinot Noir | Silver |
| Snowy Peaks Winery | R 3 | Cabernet Sauvignon 2010 | Silver |
| Spero Winery | R 3 | Cabernet Sauvignon 2009 | Gold |
| Light Catcher Winery | R 4 | Merlot 2007 | Bronze |
| Snowy Peaks Winery | R 4 | Merlot 2010 | Silver |
| Perrine Winery | R 4 | Merlot | Silver |
| Whitewater Hill Vineyards | R 4 | Merlot 2009 | Silver |
| Red Caboose Winery | R 4 | Merlot 2010 | Silver |
| Texas Legato | R 4 | Merlot 2010 | Bronze |
| Light Catcher Winery | R 5 | Bobcat Syrah 2010 | Silver |
| Allis Ranch Winery | R 5 | Reserve Syrah 2005 | Bronze |
| Keeling Schaefer Vineyards | R 5 | 3 Sisters Syrah 2010 | Silver |
| Grande River Vineyards | R 5 | Syrah 2010 | Gold |
| Spero Winery | R 5 | Syrah 2008 | Silver |
| Garrett Estate Cellars | R 5 | Syrah 2009 | Bronze |
| Snowy Peaks Winery | R 5 | Syrah 2010 | Bronze |
| Whitewater Hill Vineyards | R 5 | Shiraz 2010 | Silver |
| Texas Legato | R 6 | Legato Malbec 2010 | Silver |
| Spero Winery | R 6 | Malbec 2008 | Silver |
| Grande River Vineyards | R 6 | Malbec 2010 | Silver |
| Snowy Peaks Winery | R 6 | Malbec 2010 | Silver |
| Sugar Ridge Winery | R 7 | Legends | Gold |
| Spero Winery | R 8 | Zinfandel 2007 | Gold |
| Snowy Peaks Winery | R 9 | Cabernet Franc | Silver |
| Garrett Estate Cellars | R 9 | Cabernet Franc 2009 | Bronze |
| Allis Ranch Winery | R 10 | Grenache 2009 | Gold |
| Fire Mountain Wines | R 11 | Fire 2010 | Gold |
| Red Caboose Wienry | R 13 | Some of that Red | Gold |
| Light Catcher Winery | R 13 | Laughing Goddess 2010 | Silver |
| Chapel Creek Winery | A 1 | Norton 2010 | Silver |
| White Water Hill Vineyards | D 1 | Zero Below 2012 | Gold |
| Sugar Ridge Winery | D 1 | Mora Negro | Silver |
| Perrine Winery | D 1 | The Huguenot Solstice | Gold |
| Aspen Peak Cellars | D 1 | Mocha Zinsation | Bronze |
| Sweet Dreams Winery | D 5 | Pear Wine | Silver |
| Sugar Ridge Winery | D 5 | Little Green Apple | Silver |
| Sweet Dreams Winery | D 5 | Watermelon Wine Summer T | Gold |
| Texas Legato | D 5 | Mirtillo | Bronze |
| BEST OF SHOW: GRAND RIVER VINEYARDS SYRAH | | RED | |
| BEST OF SHOW: GARRETT ESTATE CELLARS VIOGNIER | | WHITE | |
| GRAND CHAMPION: GARRETT ESTATE CELLARS VIOGNIER | | BEST OF SHOW | |
---