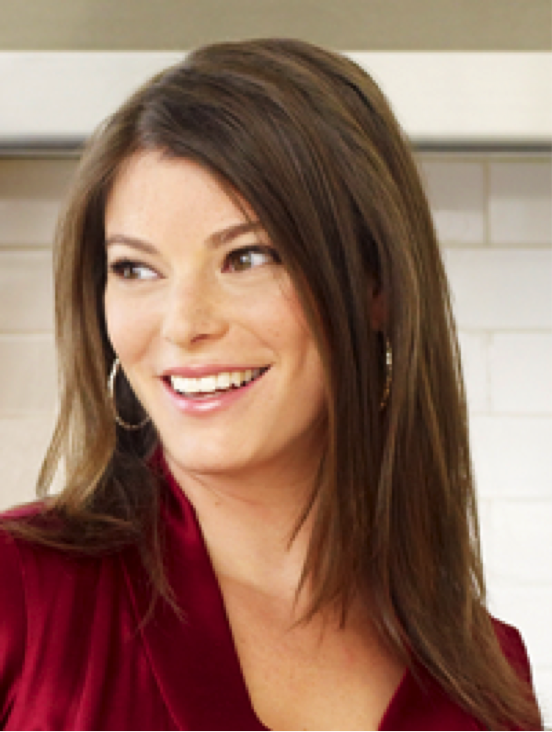 Gail Simmons is sweet; just the right amount of sweet. So it comes as no surprise that she is the host of Top Chef: Just Desserts, Bravo's pastry-focused spin-off of the Top Chef franchise, which aired its third season in the fall of 2012. As a trained culinary expert and food writer she has lent her extensive expertise as a permanent judge on BRAVO's Emmy-winning series Top Chef, where she is often seen with a glass of wine in her hand. Now in its tenth successful season, Top Chef is rated the No. 1 food show on cable television.
"In the ever-expanding food universe, I like to think of myself as a sort of cheerleader, or perhaps a translator," Gail explains in her recent book, "Talking with my Mouth Full," her chronicle of a childhood in Canada to celebrity chef status. "My job, as I see it, is to help everyone access, understand, and enjoy exciting food and adventurous cooking as much as I do and to spread the good word on how it can enrich all of our lives."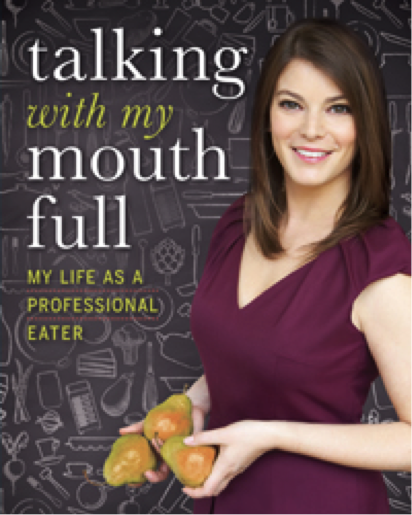 Born and raised in Toronto, her recipe for success began with her Jewish upbringing. Her strong mother believed in hard work and giving back to the community, without sacrificing the children's needs at home. Her father also worked hard but made sure to sprinkle in vacations and fun to build the family ties. And, of course, there was the preparation and eating of food, food and more food. All of the above were healthy ingredients in Gail's upbringing that helped give her the confidence of leaping at opportunities to grow in her profession in the culinary arts.
While attending McGill University, often called "the Harvard of Canada," Gail realized there was no food coverage in the school paper and thought it would be helpful if someone was seeking out good, cheap places to eat, so she convinced the editors of the McGill Tribune to let her write reviews. She soon found herself writing for Canada's National Post where she was advised by her food editor, "If you want to write about food, you need to learn about food. Forget about writing for a while. Go learn how to cook and how to eat."
In 1999, Gail enrolled at New York's Institute of Culinary Education. She then trained in the kitchens of the legendary Le Cirque 2000 and groundbreaking Vong restaurants, and worked for esteemed food critic Jeffrey Steingarten at Vogue. When she stepped into the role of special events manager for Chef Daniel Boulud's restaurant empire, she learned perhaps one of the most important skills of her career: the graceful dance. General Manager Michael Lawrence often told the staff, "People, remember: this is a ballet, not a rodeo." And, as Gina writes in her book, every night, it was. "It was a theater at its highest level. Watching the calculated choreography between the customer, the captain, and the sommelier was such a wondrous experience. I now use Michael's phrase all the time, whenever I feel myself becoming unmoored. It reminds me to stay focused. Be graceful. Know that this is not a brutish sport. This is a dance."
Gail joined FOOD & WINE magazine in 2004 and directs special projects acting as liaison between the marketing and editorial teams on events and chef-related initiatives, working closely with the country's top culinary talent. During her tenure, she has been responsible for overseeing the annual FOOD & WINE Classic in Aspen, America's premier culinary event.
We observed Gail's graceful way of being at the Beaver Creek FOOD & WINE Weekend, where she prepared Venetian Fish Soup with Host Chef Christian Apetz. The soup was paired with Hess Collection Napa Chardonnay.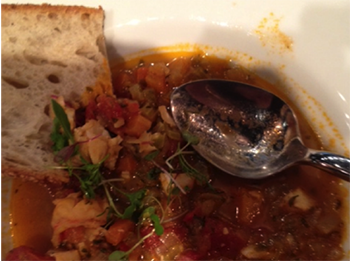 Get the recipe for Gail's Venetian Fish Soup >>
"I'm surrounded by some of the best chefs in the country," Gail said in our recent interview. "I'm inspired by their work and how innovative they are and how they push themselves and are always discovering new things. The great thing about my job is I'm always learning. Every day is new. Every bite is different so I feel like I'm really lucky. They've taught me so much about food and about life."
After reading Gail's book and experiencing firsthand the whole encouraging feel of the chef community and camaraderie, we too admire these brilliant culinary artists. And Gail, we are inspired by you.
Here's what Gail had to say when we caught up with her at Beaver Creek.
Related article: Second Beaver Creek Food and Wine Weekend Delights
---