Life isn't always a bowl of cherries. Motherhood, full-time jobs, marriages and life in general can wear a girl out! I love scheduling regular girls' nights with my favorite girlfriends; sometimes we go out and sometimes we stay in, but either way, we have a blast.
I've found there are some essential ingredients to a fabulous night, whether you stay at home or meet up on the town.
Girls Night In: Essentials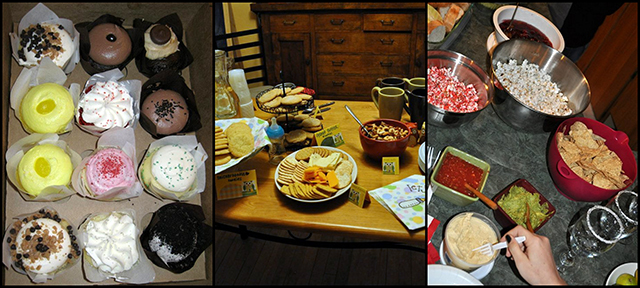 FOOD!
When I host a girls' night at my place, we all pitch in and bring something savory and something sweet to share. It's often a chance for us to try new recipes, girly food (you know, not slabs of meat) or something gourmet that our husbands and kids wouldn't touch with a 10-foot pole. Like olive tapenade or some such delicacy. Gourmet cupcakes make an appearance frequently.
Tip: Whether you bring something homemade, pick up tasty treats from your local grocery store or grab appetizers from a favorite restaurant, make it something new and fun that you might not otherwise try.
FUN DRINKS!
I typically offer an alcoholic option and one without, since at least one of us is pregnant (usually). The girls typically bring a bottle of wine or two and some girly drinks like hard lemonade or wine coolers. At different times we've tried sangria, loaded cherry limeade, mojitos, margaritas and daiquiris. Sometimes we break out the shot glasses if we have some special liquor just for that purpose. There's always the non-alcoholic option for whoever is driving home or the pregnant chicas: cherry limeade, lemonade and sparkling water, punch or virgin cocktails.
Tip: Look for articles on wine pairings or sangria recipes, read up on cocktail crafting or just grab your go-to favorite from your community liquor store.
ACTIVITIES!
Several of my close friends are makeup mavens. They love to practice on faces and those of us lacking their mad skills love to learn new techniques and get makeovers! So sometimes we'll have a makeup party and get all spiffy. Photographic evidence of the before and after is always fun. On other occasions, we'll break out the nail polish, manicure sets and pedicure spas for the evening. We have a hot tub, which is most definitely put to use for these fun nights in. And of course, there is always LOTS of time for talking about anything and everything. Sometimes everything else is foregone in favor of chatting and catching up.
Tip: Have some options for fun things to do, but skip the chick flicks. Do something side by side that you can all enjoy together, rather than something like a movie that divides your attention.
Girls Night Out: Essentials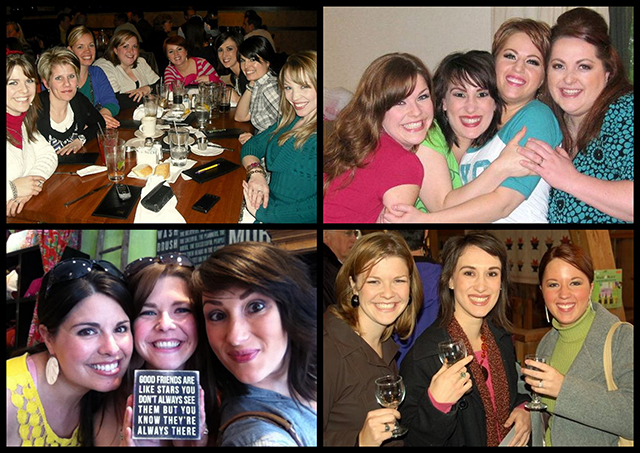 The Perfect Restaurant
My local girlfriends are spread far and wide over a 45-mile radius of the Twin Cities, so when we plan a night out, we try to make it relatively central for everyone. Fortunately, the bustling hubs of Minneapolis and St. Paul are literally bursting at the seams with awesome places to eat and hang out. We love to try new places, but have a couple standbys to fall back on if we're looking for comfort food and a familiar setting.
Sometimes we choose a place based on a deal we can all use (using a site like Groupon or Yelp), happy hour or ladies night specials, or because one of us has tried a place and thought the others would share our love for it. Our criteria is that it must have terrific food, a nice wine and beer list—all at a moderate price point—and quiet enough ambience that we can carry on conversations. Bonus features are hip locales with good shopping options nearby, unique menu options and local brews.
Tip: Check Yelp, Chow Hound or apps like OpenTable to find new places with good reviews (of course, make sure to add your own reviews to help keep those types of communities strong and healthy). Also, develop some tried and true favorite places to meet up.
Shopping
What girls' night or meet-up is complete without some shopping? We love finding locally owned, non-chain shops to explore and support. My girlfriends and I often hit up our favorite thrift stores and consignment shops before we grab dinner or lunch. It helps so much to have a trusted friend's opinion when you're trying on jeans. "Do these make my butt look good?"
Tip: Make good use of the time out of the house! Choose a location to meet up that has lots of options for shopping and places to eat.
Live In the Moment
Seasonal activities and themes are a fun way to live it up for a girls' night or event. Minnesota wineries are growing in quantity and quality - we've enjoyed driving to various wineries near each other for tastings, followed by dinner out. In the cold of our endless winters, we'll meet up at the Mall of America for some indoor fun. At the height of summer, my friends and I have met up at a lakeside restaurant and sat on the patio sipping our drinks and talking for hours. There's always something to enjoy wherever you are!
Tip: New adventures are probably not far away! Look around for some new experiences and places you think you'd all enjoy.
It's easy to have a great time out with friends. Just mix in the essential ingredients, shake and pour out the fun with your best girls.
---