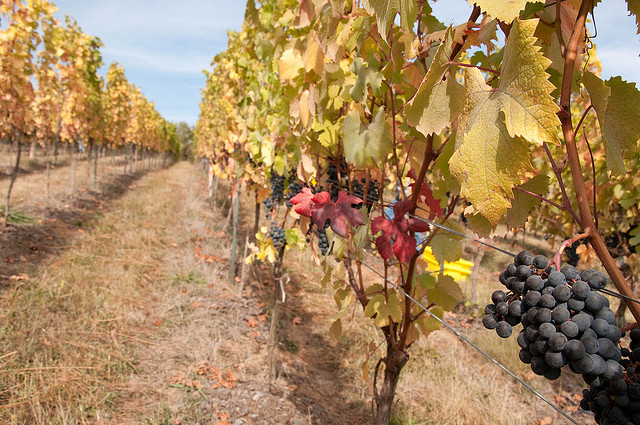 [Credit: Dolcetto by pythomit]
Dolcetto is first mentioned in 1593 in an ordinance from Dogliani, Piedmont forbidding harvest before St. Matthew's Day, September 21st. This may have been one of the first attempts to manage an early to market grape and its impact on more expensive varietals. Dolcetto is an early ripening grape, up to four weeks earlier than other reds, which allows it to grow well in the cooler regions of Piedmont in north-western Italy. Low acidity, high tannins and very color rich skins have often aimed winemakers towards shorter fermentation and maceration times, which also give the grape an advantage in reaching the market more quickly.
Dolcetto translates as "little sweet", referring to the low acidity of the grape. Though the name implies otherwise, wines made from this varietal are almost always dry and frequently offer even a hint of bitterness due to its high tannic content. In fact one of the most recognized characteristics of a traditional Dolcetto wine is an almond bitterness in the finish.
As an early ripening and quickly processed varietal, most Dolcetto wines are drunk within the first couple of years of harvest. The very best and most complex wines, especially from the Alba DOC (Denominazione di origine controllata) and the Barolo DOCG (Denominazione di Origine Controllata e Garantita) can age for five to eight years. Dolcetto can be blended with other varieties in certain DOCs throughout Italy, adding color and fragrance to heavier red varietals.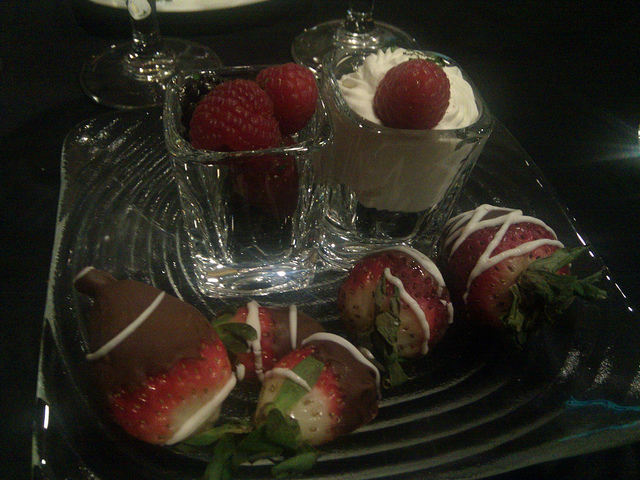 [Credit: Typical Dolcetto accompanied dessert by pandemia]
A very approachable and easy drinking wine, typical Dolcetto are very intensely red with a spicy and faintly nutty nose. Most commonly featuring flavors of plum, cherry and licorice with a traditional almond or walnut finish this is a wine meant to be enjoyed with food. It is a perfect accompaniment for spaghetti and meatballs, pizza or a spicy arrabiata sauce. It will also stretch to cover southwest and other spicy tomato sauced dishes. It pairs well with chocolate, blue cheese and mild fruit as well.
Name: Dolcetto
Species: vitis vinifera
Origin: Italy
Color: Red wine (black grape)
Other names: Acqui, Barbirono, Bathiolin, Batialin, Beina, Bignola, Bignona, Bignonia, Bignonina, Bourdon noir, Cassolo, Charbonneau, Charbono, Chasselas noir, Cote rouge Merille, Crete de Coq, Debili Rifosk, Dolcedo Rotstieliger, Dolceto, Dolcetta nera, Dolcetto a Raspe Verde, Dolcetto a Raspo Rosso, Dolcetto nero, Dolcetto Piemontese, Dolchetto, Dolcino nero, Dolciut, Dolsin, Dolsin Raro, Dolzin, Dolzino, Dosset, Gros noir de Montelimar, Gros Plant, Maennlicher Refosco, Mauvais noir, Montelimar, Monteuse, Montmelian, Mosciolino, Nera Dolce, Nibio, Noirin d' Espagne, Nord du Lot et Garonne, Ocanette, Orincasca, Ormeasca, Ormeasco, Pico rouge, Pico rouge, Plant de Calarin, Plant de Chapareillan, Plant de Moirans, Plant de Montmelian, Plant de Provence, Plant de Savoie, Plant de Turin, Plant du Roi, Premasto, Primaticcio, Primativo, Primitivo Nero, Promotico, Provencal, Ravanellino, Refork, Refork Debeli, Refork Male, Refosk Debeli, Rotstieliger Dolcedo, Savoyard, Turin, Turino, Uva d' Acqui, Uva d' Acquia, Uva del Monferrato, Uva di Ovada, Uva di Roccagrimalda
Notable Regions: Italy, United States, Australia
Common Food Pairings: Though rich in flavor and complexity, Dolcetto is traditionally a light enjoyable red suitable to pair with pizza and tomato based pasta dishes. It also works well with mild and spicy tomato dishes from around the world. It can pair with game meats, salami and does well with chocolate, blue cheese and mild fruits as well.
---