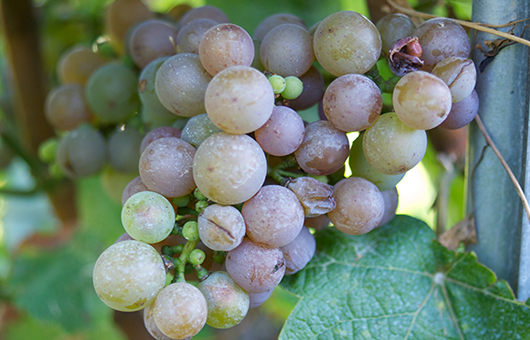 [A late harvest Gewürtztraminer / Chandres]
Gewürztraminer is one of the most famous clonal mutations of one of the oldest known grapes, Sauvignon. Sauvignon, which means "wild," is an ancient French varietal whose origin is a mystery. It may have actually been one of the first wild grapes ever cultivated. Siblings to Gewürztraminer are Sauvignon Blanc and Sauvignon Rosé. A clonal mutation is an offshoot that has spontaneously and naturally changed from its parent vine and developed consistent and ongoing characteristics that carry through future generations.
The Gewürztraminer grape is an offshoot of the Traminer family, which may have originated in the South Tyrol, a German-language province in northern Italy. The grape spread along the Rhine, mutating from a green-skinned grape to a pink-colored grape with brownish spots and picking up the additional "Gewurz" label, which means "spice Traminer." This slightly more disease-resistant and much more aromatic grape reached its finest historical expression in Alsace on the French-German border, with famous styles ranging from dry to decadently sweet.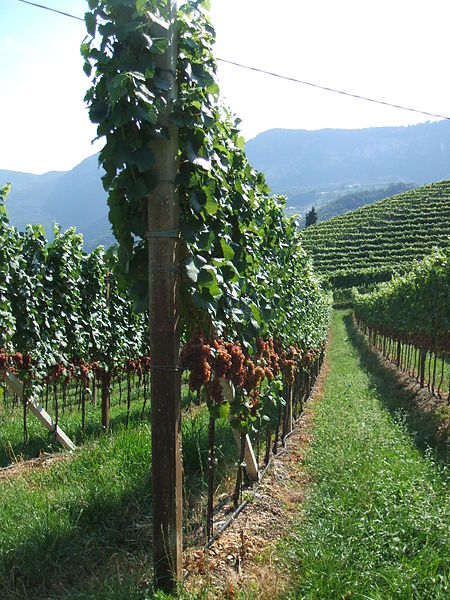 [Gewürztraminer on the vine / Constantinus]
Gewürztraminer is a fussy grape, particularly in regards to soil and climate. It buds early and as such, is very susceptible to frost; but a cool climate is necessary to balance the low acid and native sweetness of the grape. Its rich aromas and tendency towards sweetness has put off some wine drinkers, though a well-balanced Gewürztraminer with developed acidity can match those rich aromas with decadent and exotic flavors that can stand up to spicy and sharp foods that overpower other wines.
Thanks to natural sugar levels Gewürztraminer tends towards higher alcohol than most other white wines. When harvested in a timely manner and managed by an experienced vintner, it can produce full bodied wines with amazing rose and lychee aromas and flavors that call peaches, pear and honey to mind. These flavors can be accentuated towards sweetness if produced as a dessert or late harvest wine and tend towards the dryer and more food friendly side if harvested early.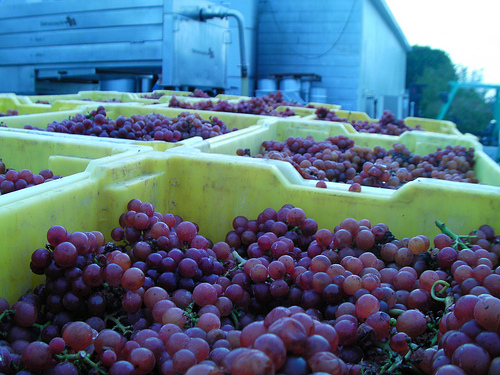 [Gewürztraminer waiting for the crush / JacobMar1ey]
The Gewürztraminer grape has spread throughout the world, tending towards cool coastal climates outside of Europe, and has become known primarily as a dry white wine with a strong fruity floral nose that tend to include peach, rose, citrus and spice. New World wines tend to be a little less rich than Old World, but with a touch of sweetness on the finish with just the hint of spiciness.
What to Pair with Gewürztraminer
The sweetness inherent in Gewürztraminer wine makes it a perfect foil for spicy foods, while the relatively low levels of acids make for a wine that does pair well with super fatty foods. Stick to light and zesty, like Chinese or Thai flavors and other dishes where full flavored, though not hot spices, such as cinnamon, cardamom, allspice and ginger, predominate. Dry Gewürztraminer wines pair well with rich fowl dishes as well, while sweeter styles can suit a pear or apple tart or a nice peach pie. As always, you can reliably pair the wine with traditional foods from the region it was grown. Dry German and Alsatian Gewürztraminer wines are excellent with pork chops, ham, veal, sauerkraut and other traditional German fare.
Name: Gewürztraminer
Species: vitis vinifera
Origin: Italy/France
Color: White wine (pink to green grape)
Other names: Auvernas rouge, Blanc Brun, Blanc Court, Bon blanc, Christkindeltraube, Clevner, Crovena Ruzica, Dreimaenner, Dreimannen, Dreipfennigholz, Drumin, Duret rouge, Edeltraube, Fermentin rouge, Fleischweiner, Fourmenteau rouge, Frencher, Fromente, Fromenteau, Fuszeres, Gentil Rose Aromatique, Gentil-Duret rouge, Gentile blanc, Gewuerztraminer, Gringet, Gris Rouge, Haiden, Haiden, Heida, Kirmizi Traminer, Klaevner, Kleinbraun, Kleinwiener, Laebeinger, Livora Cervena, Liwora, Mala Dinka, Marzimmer, Mirisavi Traminac, Nature, Nature Rose, Noble Rose, Nuernberger Rot, Pinat Cervena, Pinot vert doré, Piros Tramini, Plant Paien, Princ Cerveny, Princt Cervena, Ranfoliza, Red Traminer, Rosso, Rotclevner, Rotedel, Roter Nuernberger, Roter Traminer, Rotfranken, Rothklauser, Rothweiner, Rothwiener, Rotklaevler, Rotklaevner, Rotklevner, Rousselet, Rusa, Ruska, Ryvola, Salvagnin, Sauvagnin, Savagnin Jaune, Savagnin Rosa Aromatique, Savagnin Rose, St. Klauser, Termeno Aromatico, Tramin Cerveny, Tramin Korenny, Traminac, Traminac Crveni, Traminac Diseci, Traminac Mirisavi, Traminer, Traminer Aromatico, Traminer Aromatique, Traminer Musque, Traminer Parfume, Traminer Rose, Traminer Rozovyi, Tramini, Tramini Piros, Trammener, Traminer Rot
Notable Regions: France, Germany, Italy, Austria, Spain, Slovenia, Bulgaria, Croatia, Hungary, Czech Republic, Australia, Chile, United States, Canada, almost everywhere that has a cool coastal region
Common Food Pairings: Great with spicy foods, such asAsian flavors and BBQ, full flavored roasted poultry and dry, aged cheeses such as Gruyere, and Muenster
---