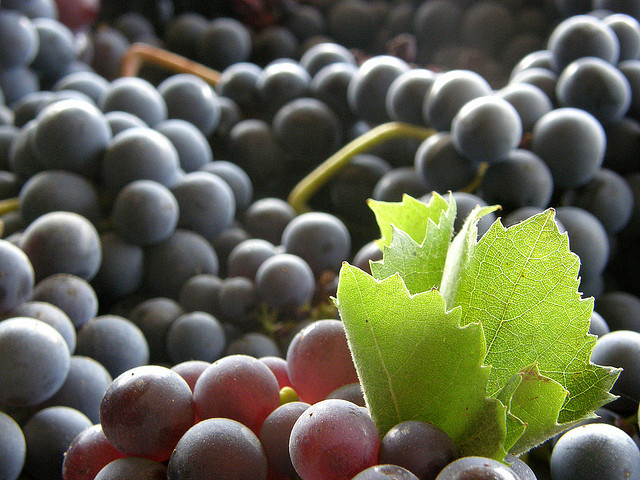 [Tempranillo / VinoFamily]
Tempranillo, "the noble grape of Spain," is the dominant grape of Rioja wines. It produces a wine with characteristic flavors of strawberry, plum and cherry, with a touch of tobacco and spice as well as earthiness in the finish. A medium to full-bodied red wine with higher tannins, less acid and more fruitiness than many other reds, Tempranillo is used as a varietal and as an often-informing blending grape balanced with more acidic and sugary reds. Its most common blending partners are Garnacha or Grenache, Monastrell (which is known elsewhere as Mouvedre), and Cariñena (known in other countries as Carignan). (As you can see, Spanish grapes tend to carry differing names for the same grapes found in other countries.)
The name of the grape finds its roots in the Spanish "temprano," meaning early. Tempranillo is an early budding as well as an early-ripening grape that tolerates both cool and warm climates. It responds best to high altitudes that offer both climates, such as the Ribera del Duero, where temperatures can range over 30 degrees in a single day. The vines produces bunches of thick-skinned small black grapes that need to be closely watched to manage yields and susceptibility to diseases and pests.
Legend says that Cistercian monks brought Pinot vines along on pilgrimage and that Tempranillo arose from a lucky cross. However recent DNA tests have confirmed that Tempranillo is a grape of Spanish origin, related to the indigenous Albillo Mayor grape. It has been mentioned in the written record of Spain, possibly as early as 1513, and definitively in 1807.
Tempranillo is the most widely planted red wine grape in all of Spain, with plantings in excess of 500,000 acres. It is produced as a Spanish varietal, but most commonly as the informing grape in red blends throughout the country. The grapes' low alcohol and sugar content make it an ideal match for acids of Carignan and the structure of Monastrell and the fleshy sweetness of Garnacha. Tempranillo is the base for most of these blends, informing the flavor and style of the wines, which can range from a young fruit forward wine to a complex bottle meant to stand the test of time.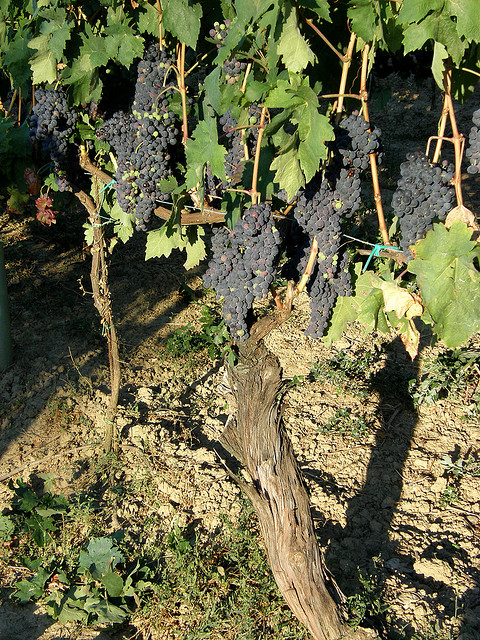 #2 by [VinoFamily]
Tempranillo, with its high tannin levels, both as a blend and a varietal are often well-oaked and exhibit the characteristic flavors of leather, spice and tobacco that can be associated with oaky wines. This can be especially important when pairing with food and cheese as these flavors tend to linger towards the finish and can stay in your mouth. Sheep's milk, washed rind and salty cheeses tend to pair best with Tempranillo, and it makes an excellent match for sausages, grilled vegetables and meats. Of course, Tempranillo goes very well with traditional Spanish fair such as Paella and tapas.
Tempranillo is a versatile wine with a fairly consistent flavor profile both as a blend and a single varietal. A young wine may be astringent with a fruit forward flavor, while an older wine will balance that fruit and astringency with more complex spice and earthy flavors. Some of the very best Tempranillo wines come from the Spanish region of Ribera del Duero, but it is a variety that has seen a resurgence throughout the world in recent times and many regions are finding their own way with this grape and are worth exploring.
Name: Tempranillo
Species: vitis vinifera
Origin: Spain
Color: Red wine (black grape)
Other names: Albillo Negro, Aldepenas, Aragon, Aragones, Aragonez, Aragonez 51, Aragonez da Ferra, Aragonez de Elvas, Arganda, Arinto Tinto, Cencibel, Cencibera, Chinchillana, Chinchillano, Chinchilyano, Cupani, De Por Aca, Escobera, Garnacho Fono, Grenache de Logrono, Jacibera, Jacibiera, Jacivera, Juan Garcia, Negra de Mesa, Negretto, Ojo de Liebre, Olho de Lebre, Pinuela, Sensibel, Tempranilla, Tempranillo de la Rioja, Tempranillo de Perralta, Tempranillo de Rioja, Tempranillo de Rioza, Tempranillo Rioja, Tinta Aragones, Tinta Corriente, Tinta de Madrid, Tinta de Santiago, Tinta de Toro, Tinta do Inacio, Tinta do Pais, Tinta Fina, Tinta Madrid, Tinta Monteira, Tinta Monteiro, Tinta Roris, Tinta Roriz, Tinta Santiago, Tinto Aragon, Tinto Aragonez, Tinto de la Ribera, Tinto de Madrid, Tinto de Rioja, Tinto de Toro, Tinto del Pais, Tinto del Toro, Tinto Fino, Tinto Madrid, Tinto Pais, Tinto Ribiera, Tinto Riojano, Ull de Liebre, Ull de Llebre, Valdepenas, Verdiell, Vid de Aranda.
Notable Regions: Spain, Italy, Portugal, France, United States, Canada, Mexico, Argentina, Australia and New Zealand
Common Food Pairings: Tempranillo is great with grilled and roasted vegetables and meats. It can hold up to somewhat spicy foods and is balanced enough to pair well with country style vegetable dishes, it goes very well with salty and sheep's milk cheeses as well as sausages and traditional Spanish foods.
---