Here is a little language lesson. The Italian verb, volere, means to wish, expect, need and require. That definition should be in Webster's under "purse"! A woman's purse is wished for, expected, needed and required. What better gift to give the lovely lady in one's life. Buying a purse is like getting a new lease on life. Something about it feels fresh and anticipating like sitting at the airport waiting to head to a new destination!
I went a little giddy at Applejack Wine & Spirits in Denver recently, when three beautiful purses were displayed among bottles and boxes of wine. And yes, Mr. Poet bought me one even though it was his birthday, a gentleman, indeed. Now I have finally found the perfect gift to buy all my girlfriends for Christmas!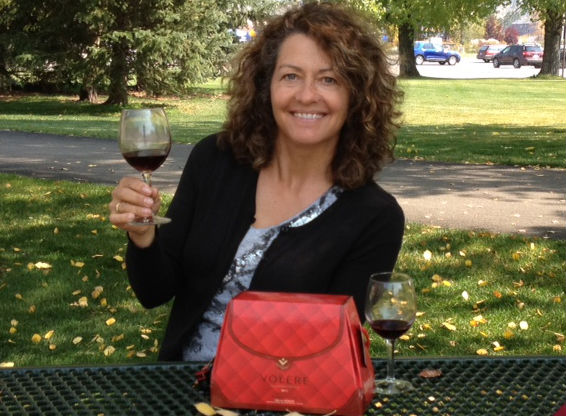 [Photo: Mrs. Poet sampling the contents of her new purse / Credit: Natalie Myers]
The Volére wine purse is produced by Cantina Di Soave, one of Italy's most respected and progressive wine producers. Of course! Italian shoes, Italian purses, Italian men, all made of exceptional quality, this makes sense. Each purse holds 1.5 liters of wine. Lavender for rosé, Red for Merlot/Pinot Noir, and white for the Pinot Grigio.
This is the best packaging idea ever. Not only is it a fashion statement, but it is eco-friendly. But the real question is, how's the wine inside? We tried the Merlot-Pinot Noir which carried scents of cherry and vanilla, at room temperature. The aroma was promising and this blend delivered a smooth taste paired with cheese and crackers. At first, we weren't too impressed, but chilled a few days later and served with pasta, the pairing redeemed its value and the contents were emptied. No buyer's remorse here.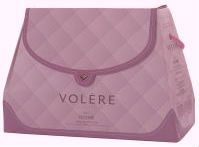 The Pinot Grigio boasts "a charming, white with a bouquet of white flowers, green apples and peach and delightfully crisp flavors of apple and white pear that lead to a long, elegant finish" And the rosé produced from select grape varieties indigenous to the spectacular Veneto Hills, "an intense bouquet of wild strawberry, raspberry and rose petals mingle with complex flavors of freshly picked red berries on the palate."
"Hey, Mr. Poet, do you know what I need, wish for, expect and require for Christmas?" Ask your local wine shop or check Amazon for various sellers. And when you do try it, make sure to review it here on WineTable.
Like this article? There's a whole lot more on WineTable.
Plus, track all the wines you drink when you review the wines you drink.
Check out the rest of WineTable >>
---