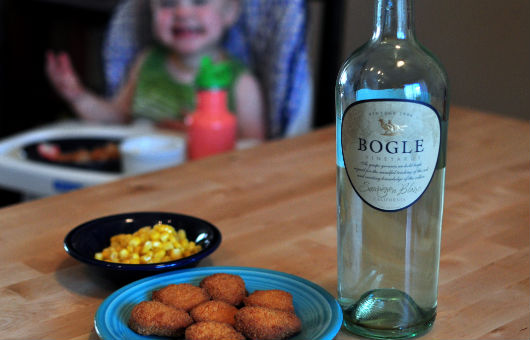 [Johanna Puelston]
As much as I'd love my kids to eat kale and quinoa with free-range roasted chicken for lunch, (of course prepared by someone else who has time for that), and as much as I'd like to pretend they aren't very picky…my two toddlers like and eat classic kid fare. Of course, in the spirit of mom-guilt, I try to healthify their lunches and include AT LEAST a vegetable or a fruit or both and source their food well. But let's face it, moms and dads: sometimes chicken nuggets are the only thing they are going to eat.
I figure if they are going to be picky, I might as well tip back a glass of a perfectly paired wine while I nom on my kids' leftovers. (And I'll freely admit; I also love perfectly al dente Annie's Mac and Cheese with some extra sharp cheddar grated on top and a solid sprinkling of freshly cracked pepper once in a while. Kid fare isn't always just for them!) So here are a few very grown-up beverage accompaniments to my kid lunch faves.
Chicken Nuggets + Sauvignon Blanc
Whether grabbed in the drive-thru, or baked in your own oven, what IS it that irresistibly draws kids to chicken nuggets? The handy size? How perfect they are for dipping in all manner of tasty sauces? Regardless, they provide me with the opportunity to get protein into my kids, and that is a win.
The salty, slightly greasy crunch of chicken nuggets requires a wine that can cut through the noise and richness of deep-frying. Sauvignon Blanc is a great choice.
The first bottle of Sauvignon Blanc I purchased was from Bogle Vineyards—I know this because I've kept the beautiful bottle all these years. It's a lovely wine, with bright flavors of citrus and lemongrass at the outset, softer fruit flavors in the middle and a refreshing, crisp finish - a perfect way to cut through the heaviness of the delicious bits of breaded chicken.
Upgrade: Dip those bites o' fried goodness in a grown-up sauce like sweet chili or chipotle mayo.
Grilled Cheese Sandwiches + Riesling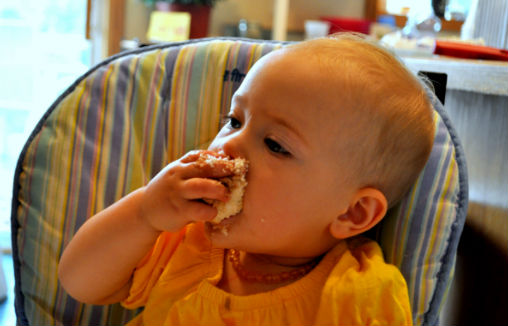 [Johanna Puelston]
My kids love to eat their grilled cheese cut into triangles (all sandwiches taste better in triangles, I'm pretty sure) with slices of fresh apple on the side. Riesling, running the gamut from sweet to dry, is a perfect pairing for the bite of sharp cheddar (or even American), the crisp buttered bread and a side of orchard fruit.
Riesling often carries notes of apple and rich fullness, which match well with grilled cheese. Hogue Cellars' Riesling is a personal favorite of mine. Made in the Columbia Valley of eastern Washington State, it's a solid, fruity wine, and an affordable bottle.
Upgrade: Amp up your sandwich with a dollop of whole-grain Dijon mustard or a spread of pesto while the kids enjoy their cheesy goodness plain.
Peanut Butter and Jelly + Cabernet Sauvignon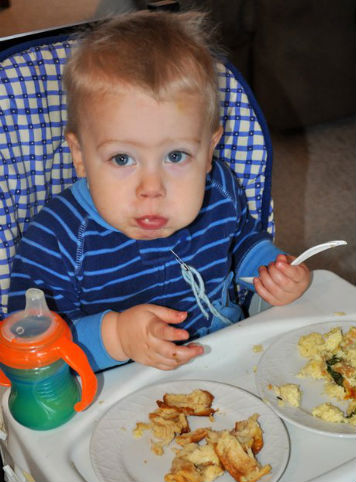 Cabernet Sauvignon is known for its many-flavored fruity qualities, with hints of cherry, blackberry, blueberry and black currant in young vintages. I think it is a great pairing for the classic PB&J. The bold profile and higher tanning structure cuts through the sweetness of the jelly, whether your jam of choice is grape, strawberry or some other delicious fruity option, and the similar flavors complement at the same time.
Velvet Moon Cabernet Sauvignon can be picked up at Trader Joe's while you're also picking up the staples for lunches. It's downright cheap, just like PB&J. This one is a little on the sweeter side for a cabernet sauvignon, but if you don't mind that and enjoy the price, this is a good fit for our humble sandwich.
Upgrade: Experiment with various peanut butters or other nut butters (almond, cashew or sunbutter) and various jellies or jams to switch it up. You could even roast your own peanuts and spin them in the food processor for freshly ground peanut butter.
Hot Dogs + Merlot
Salty and hot, the perennial kid favorite of hot dogs and ketchup needs a bold wine with lots of body. Merlot fits the bill. Around here, we love Trader Joe's all beef uncured franks and serve them with a side of carrot sticks and ranch dressing. Simple, but fabulous, just like merlot.
Try the popular Apothic Red (not a Merlot, but a fine, blended red wine with similar flavors), or Francis Coppola's Diamond Collection Blue Label Merlot. Both are known for their intense fruit aromas, depth that comes from hints of mocha and chocolate and a velvety finish. They are both full-bodied wines that stand up well to red meat and salty hot dogs alike.
Upgrade: Add some hot mustard and grilled onions to add some spice and zip to your dog.
Macaroni and Cheese + Chardonnay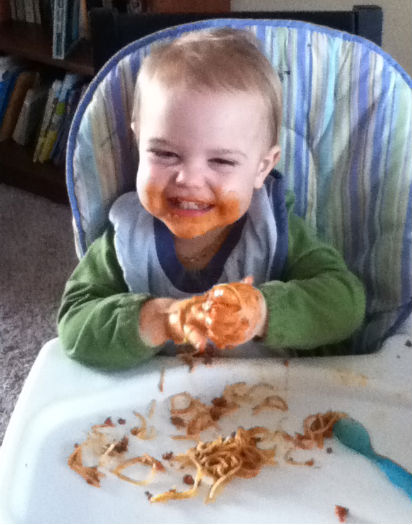 Whether the classic "blue box" of Kraft or a slightly more "natural" box of Annie's is your favorite, I've hardly met a kid who doesn't love noodles coated in cheesy sauce. My two peanuts can almost eat a whole box between them, with only a bite left for me. Time to make two boxes at a time, I guess.
Cupcake's Chardonnay is a favorite around here. It's pretty inexpensive, but so is a box of mac and cheese. J (Low price doesn't necessarily mean low quality.) This one hails from California's Central Coast region, and is full of creamy, buttery flavor, with a bright pop of citrus and hints of vanilla.
Upgrade: Grate some extra sharp cheddar, gruyere or another favorite cheese on top of your pile of mac and finish with a solid sprinkle of fresh, cracked pepper.
Like this article? There's a whole lot more on WineTable.
Plus, track all the wines you drink when you review the wines you drink.
Check out the rest of WineTable >>
---