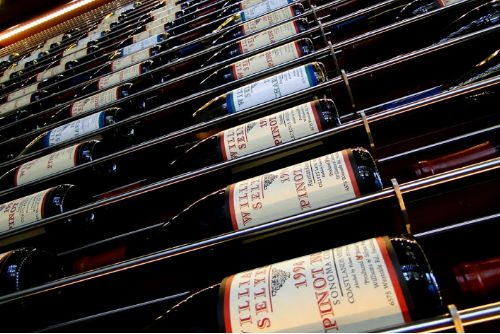 [The Williams Selyem lineup / Keith Hoffman]
Williams. Selyem. Two words, that when put together make wine purists, pinot noir nuts, and chardonnay lovers (that appreciate the proper use of oak) swoon. Swoon, and wait.
The wait is the dreaded (if you are not on it) "list." Yes, WS has what every winery owner dreams about – a list. If you are lucky enough to be on this list, enumerated within is the amount of bottles of each wine that have been allotted to you for purchase. A pamphlet that states, in stark numbers, exactly what your WS vinous potential is (and/or "worth" if prone to depressive thoughts). Yes, again, the stuff of dreams for winery head honchos and frijole counters alike.
A feature of this list that I really like is the, well once you are on it, equality of price. Purchase one of their higher end pinots near the $80 mark and then find it on a flash site, or offered by a discount retailer, for $50? No, not with WS. Their prices are the same for all – from individuals buying one bottle to their restaurant clients buying dozens of cases. In short, they don't "do" wholesale.
The list is sent out twice a year, in Spring and Fall. In the beginning you won't have an overwhelming amount of bottles in your allocation, but their loyalty program consist of giving you a bigger, and broader, rations according to your purchase histories. The more you buy, the more you unlock to buy.
Fear not if you are not on the list, you can see if you like their wine as much as everyone else seems to by clicking on the Find Our Wines link on their website. It details a long list of restaurants that carry their offerings.
To visit the visually stunning winery itself, you need to at least be on the waiting list for the list. Yes, there is indeed a list for the list. Nine to twelve month wait at the moment.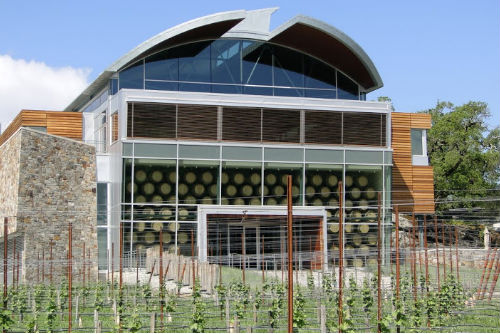 [View from the front: Williams Selyem Winery / Keith Hoffman]
I recently had a grand tour that is hopefully captured in the photos included here. Bob Cabral, WS's director of winemaking has too many accolades to list (including the Wine Enthusiast's Winemaker of the Year award). I can now attest that I've added myself to another list, those of us under the spell of his winecrafting. My visit to WS, however, was not just about trying some great wines – the facility itself is among the most impressive wineries I've ever visited. It stuns. It makes you wish you worked there. It makes you wish the wine gods looked as graciously upon you as they have upon this beautiful place. I did not have my Feng Shui detector on, but I'm pretty sure even that would have sensed excellence.
I hope you enjoy the pictures and I do suggest you sign up for their list (links, below).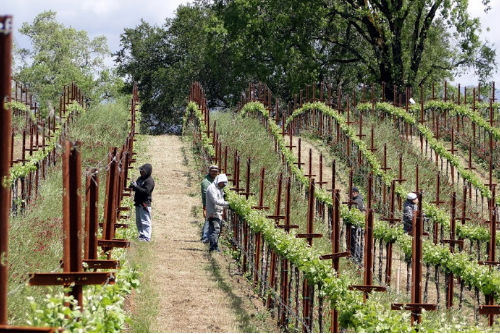 [Tending the vines at the exclusive Williams Selyem / Keith Hoffman]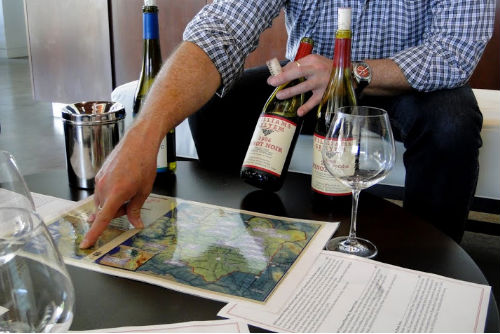 [Pointing out where the delicious Williams Selyem grapes originally grew / Keith Hoffman]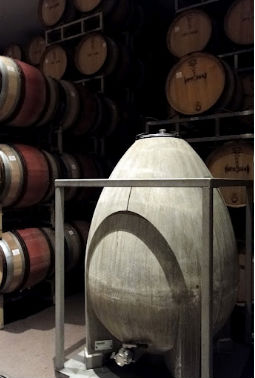 [The egg-shaped fermentation tank / Keith Hoffman]
[A vinous altar of sorts / Keith Hoffman]
Check out the rest of the photos from Keith's trip >>
Williams Seylem makes 20,000 cases of artisanal wine a year, which are all eagerly snapped up by their 20,000 list members.
Here are my notes on a few of the WS wines I had…
Chenin blanc (2010)
Nose/ Lovely, light oyster shell wafts and marine notes. Toast points. Hint of pear.
Taste/ Fluer del sel over limes and grapefruits. Elegant and light, but also with a substantial mouthfeel. Long finish for this grape variety. Absolutely lovely. Class in a glass. The perfect first sip to start an evening. Light appetizers, fish, or melon would pair with perfection here.
Rating = A / A+
Pinot noir – Hirsch Sonoma Coast (2006)
Nose/ Amazingly floral aromatics. Sandalwoods and assorted incense play. Clean cherry, and light strawberry taffy. Clean canvas.
Taste/ Light mouthfeel. Strawberry, cherry, and clean, very ripe cranberry notes (non-puckering). Silky close. A delight. A tutorial in California pinot noir.
Rating = A
Pinot noir – Russian River Valley (2008)
Nose/ Perfumed again. More cherry and plum notes than Hirsch. Spring water. Cigar box. Light cherry taffy. Delightful oak wafts.
Taste/ Clean, luscious red ripe berries and blackcherry. Acids perfectly balanced with her fruits. Light black tea notes. Extended finish of berries and earth.
Rating = A-/A
Links:
---