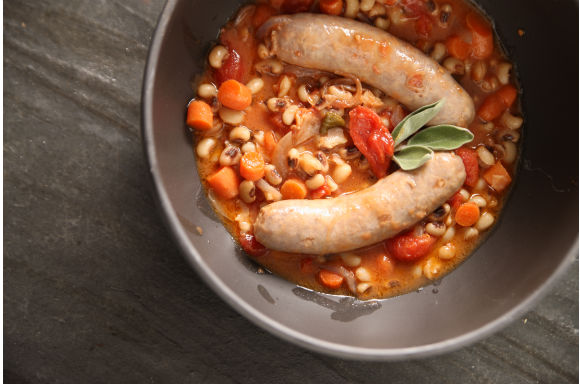 Harry's Pairing Note: This is a great "make ahead" dish, and can be held for several days in the fridge. Serve with crusty bread and salad. With the tomatoes and peas try a Valpolicella Classico or Dolcetto. Good fruit and medium body on each goes well with this dish. Both also have good acid to balance the richness of the sausage.
Serves 4
Ingredients:
Dried black eyed peas
4 T. olive oil
3 T. onion, chopped fine
½ t. crushed garlic
¼ C. carrots, finely chopped
¼ C. celery, finely chopped
8 oz. very ripe, dark red fresh tomatoes, peeled and diced, or 1 cup Italian plum tomatoes, chopped with their juice.
1 pound sweet Italian sausage or mild bratwurst
Make the soup:
1. Add the olive oil to a heavy non-reactive pot and heat.
2. Add the onion and sauté until light gold in color.
3. Reduce heat and add the garlic to the onion. Cook until golden in color but do not burn.
4. Add the carrots and celery to onion/garlic duo
5. Add the tomatoes to the pot and cook about 20 minutes. The oil will start to rise to the surface of the other ingredients.
6. Pierce each sausage with a fork a few times and add to pot. Lower heat and gently simmer about 15 minutes.
7. Drain and add soaked black eyed peas. Simmer for about 60-90 minutes at a very low temperature. Bubbles should just barely be breaking the surface on the side of the pot.
8. Check the liquid and add water if needed. If the beans are done and the liquid is too thin, crank up the heat and reduce to desired consistency.
Salt and fresh pepper to taste.
---