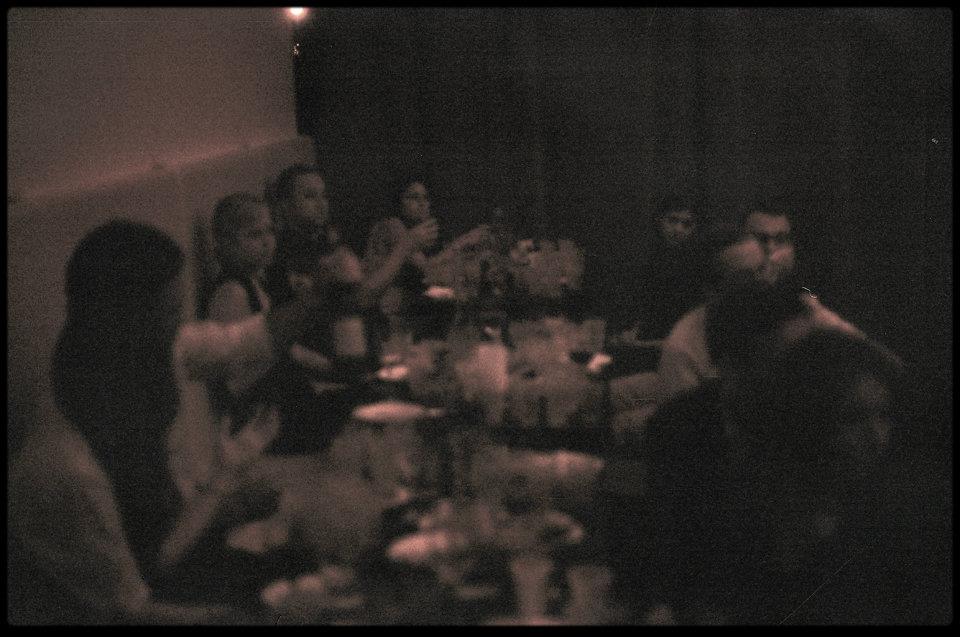 The world of wine is morphing into a new scene as the younger generation hops on the social bandwagon. New wines, new concepts, new perceptions and approaches are emerging, and with them, the revolutionaries. Splitting away from the masses is an innovative wine company, Public House (Social by Design). The company is boldly going where many dare not venture: the world of boxed wine and they're bringing all their friends with them ("friends don't let friends drink alone").
Steffan Bankier, 24, a Manhattanite born to French parents and Public House CEO, is banking on a notion about his generation: wine isn't just a snobbish pastime based on price and rarity; on the contrary, it's a reason for social gathering, bringing together new people and experiences. These days, Bankier loves a good steak with Malbec, some Korean street food drowning in Sriracha with a glass of Riesling, or fois gras and Sauterne (as any true New Yorker must, right?). But growing up, Bankier experienced wine European-style, through the casual everyday approach to wine by his family. Then in college, he met his future: a box of wine.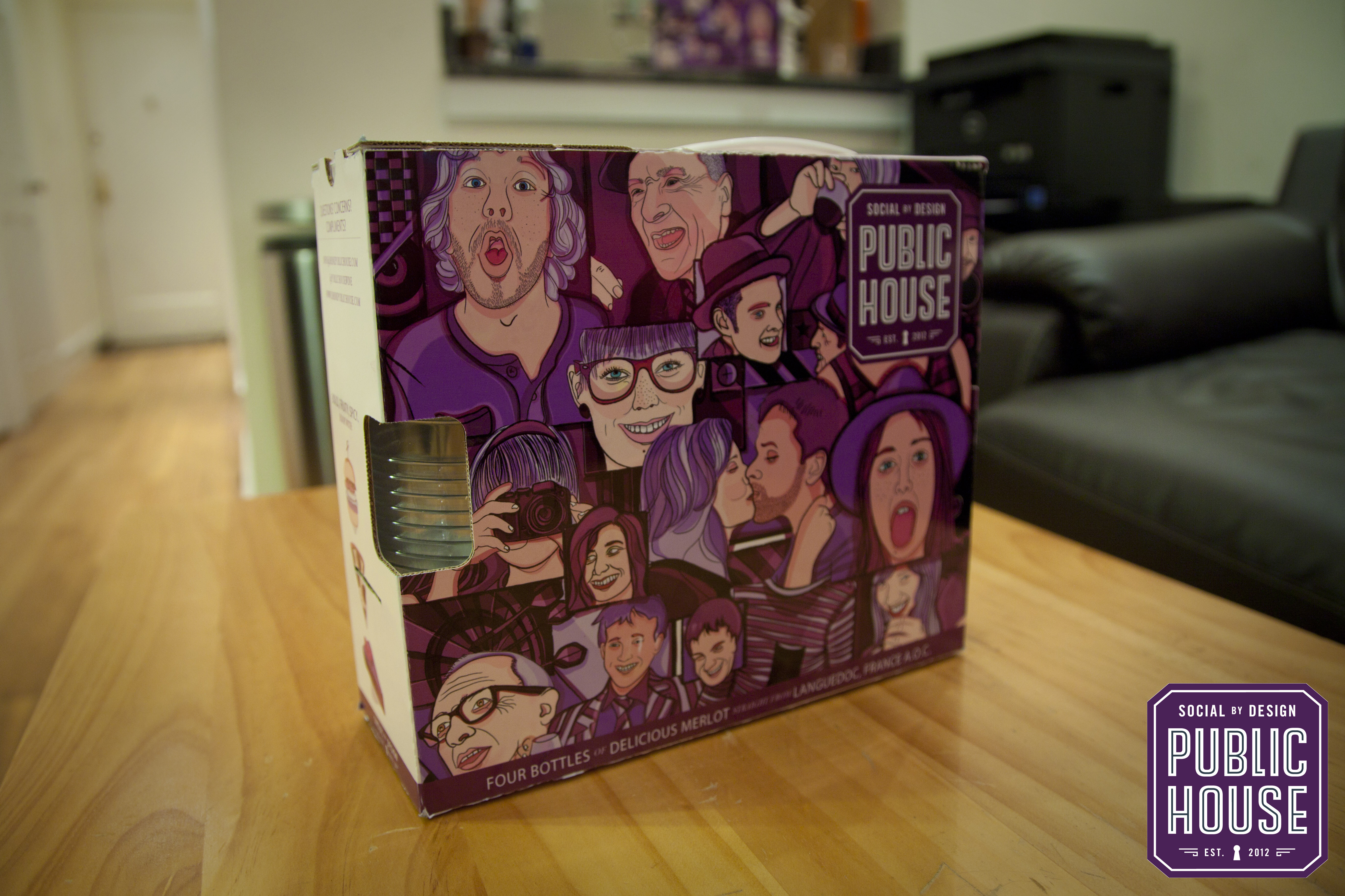 He's launching Public House around a boxed wine concept: 3 liters of wine, 10 disposable, stemless wine glasses (to share with your pals), and a convenient carrying handle "so the party moves with you." It's a fantastic wine-and-social extravaganza all wrapped into some creative street-art packaging. But this isn't just a box of 3-buck chuck for a night of bonging. "I think it's important to make a firm differentiation between the Franzias and what's considered the 'premium boxed wine' category," Bankier said. When the company launches, the boxes will be available via monthly subscription for $30.
Like a growing number of others, his idea has caught my attention, so I took a moment to catch up with him and his boxed masterpiece.
Braylon: Ok Steffan, You guys are just emerging onto the wine scene, what was your biggest inspiration?
Steffan: I worked at Young and Rubicam on Johnnie Walker, and then at Saatchi & Saatchi on Miller Coors. As a Frenchman, wine has always had a special place in my heart but it wasn't until I realized that it was a $40 billion industry that I decided it was worth getting into. I'm in the process of getting my WSET sommelier certificate, and my goal is to dispel the belief that all wine people are pretentious snobs.
Braylon: The question everyone is probably asking…Why boxed wine?
Steffan: It's very attractive from a market opportunity. As the fastest growing segment of the wine industry, it's only 3% of sales, so it has a long way to go (especially when compared to France's 18% and Australia's 50%). The product is also better: each 3L box holds four bottles of wine, and keeps them fresh for 6 weeks. So really, it's all about overcoming a stigma, which is what I really enjoy doing.
Braylon: Can you still be a wino and drink boxed wine, or would you consider this an "entry" wine?
Steffan: That depends what you consider "entry" wine. Our wine is delicious and high quality but affordable. We're aiming for the $10 to $15/bottle range—which, as any real wino can attest, is the ideal price point for a good price-to-quality ratio. Most winos actually are already drinking boxed wine because they understand its benefits. The people who turn their noses are those who are too insecure to try something new.
Braylon: Who's going to drink Public House?
Steffan: We're pretty focused on the mid-20-year-old, living in a big-city crowd. We feel like these are the people who are already into wine, but need to learn how to drink it with confidence. They typically drink in groups, and are more open-minded and brand-savvy than adults who are set in their ways.
Braylon: Do you source grapes directly or work with wine producers? Where are your wines from?
Steffan: We're working with wine producers to source wines from all over. Right now, we're trying to decide between a Merlot from Languedoc or a Chilean Cab-Merlot blend, and a Chilean Sauvignon Blanc or a Pinot Grigio from Italy.
Braylon: How many will you be offering out of the gate? Plans to expand selection?
Steffan: We want to keep it simple to start, but we plan to expand quickly and aggressively into more esoteric and underrated wines. We're thinking a red, a white and a rosé for our summer launch, and then maybe a cider for the winter. But down the line, we plan to have several tiered labels with different calibers of wines.
Braylon: Would you consider yourselves to be revolutionaries in the world of boxed wine? How and why?
Steffan: I would indeed. Without divulging too much, we're really starting from scratch: re-thinking everything from the way wine is sold to the way it's packaged. We're also very focused on building a brand with a purpose, rather than focus on product benefits. That purpose will ensure that when consumers buy Public House, they're getting more than just delicious wine in an awesome box.
Braylon: If you could sum your wine up in one word, what would it be?
Steffan: Juicy.
Braylon: How important is it to Public House to bring a social aspect to wine along with good taste?
Steffan: It's priority #1.
Braylon: If someone wanted to get their hands on your wine, where could they find it?
Steffan: Initially on our website, but we're getting ready to talk to distributors so that we can get our wines on the shelf in time for the summer. Mostly downtown NYC and Brooklyn.
Braylon: What are the biggest challenges being a wine company in the Big Apple?
Steffan: Competing with the West Coast maybe? But the same would be true in tech too…Maybe it's trying to convince investors and potential hires that it's cool to get behind a consumer good in the wine space. It's not going to be the next Facebook, but it could very well be the next Skinny Girl.
Braylon: Tell us about your fundraising efforts. What's your goal and how close are you? Once you hit the goal, then what?
Steffan: We're wrapping up our crowdfunding campaign on Lucky Ant, where we've raised over $10,000. Our initial goal was $5,000 but we blew past that in the first 48 hours. With the money from Lucky Ant plus what we've pulled together, we should be in a good place to start selling in May. We've been offered some serious money from a few large investors, but we want to keep it tight until this summer when we raise money to pay for our big marketing push.
Braylon: When someone signs up for the monthly club, will they get a different wine each month? Do they get to choose which wines they want sent to them?
Steffan: Ultimately, yes. But for now, they would get to choose between white, red and rose in the summer, cider or heavier wine in the winter.
Braylon: Where do you see your company in the next 10 years?
Steffan: Developing entirely new types of alcoholic (and non-alcoholic) beverages in our state-of-the-art facility.
Braylon: If you were trapped on an island with one bottle or box of wine what would it be?
Steffan: Is that a joke? www.drinkpublichouse.com (How else would I share with the natives?)
Braylon: Lastly… How many golf balls can fit in a school bus?
Steffan: I have an unfair advantage: a lot of my friends from college work in finance and consulting so I already know the answer: 100,007.
Check them out on Facebook and make sure to sign up for their launch party. One more thing: Public House is hiring—a Head of Sales and Head of PR in short order. Interested? Email Steffan.
---