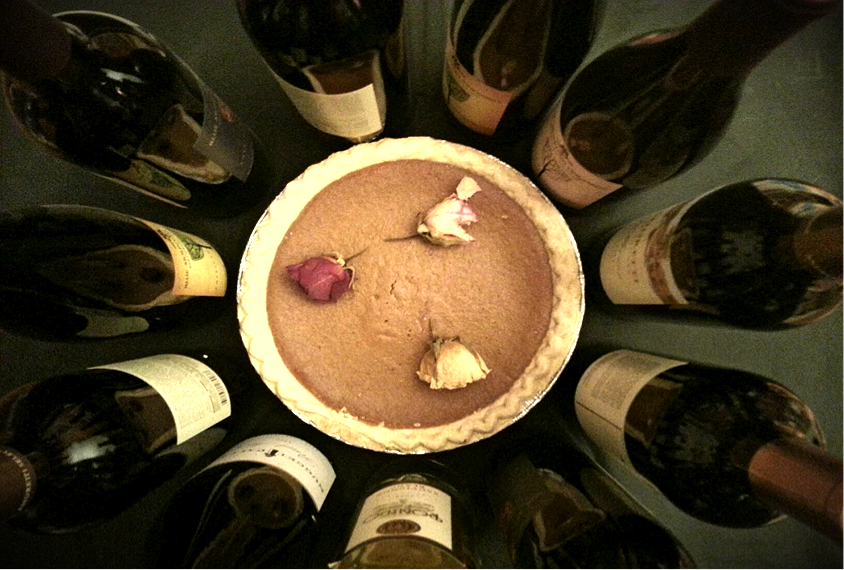 [Photo: Trying wine with pumpkin pie /Credit: Robin Salls]
What would a Thanksgiving dinner be without a piece of pumpkin pie to finish off the meal? Pumpkin pie and Thanksgiving Day go hand in hand, but pairing a wine to go with that piece of pie can be challenging. A traditional pumpkin pie is a dense dessert with large notes of nutmeg, cloves, cinnamon and ginger. Then add in wine options swirling around with all their various notes of spices and fruits and you just may feel like you're spinning out of control and forget what the day is about. So, in true taking-one-for-the-team style, I chose to sample a few different wines with a few pieces of pumpkin pie. Let's help you keep the "thanks" in your Thanksgiving Day Celebration by offering a few suggestions for your wine and pie!
Rieslings are a fabulous choice as they are typically a crisp, yet dry wine with hints of citrus, stone fruits and minerals that pair nice with the dense flavors of the pumpkin spices. Rather, their undertones lean toward peach, pear or apple they add a slight sweetness to the tart of the pie for an excellent finish. I chose to go with a Riesling from Germany, a Dr. Heidemanns-Bergweiler 2010 Dry Riesling. This is a full-bodied, dry Riesling, typical of the German market. I find it interesting that very few dry Rieslings are imported into the United States, but Dr. Heidemanns-Bergweiller dry Rieslings are one of the best-selling ones imported to this country.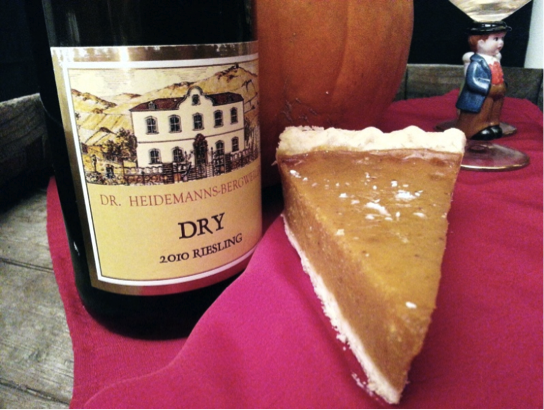 [Photo: A slice is so nice—with a Dr. Heidemanns-Berweiler Riesling /Credit: Robin Salls]
From my reading of Dr. Heidemanns-Bergweiler's website, I was expecting hints of violet to fill the aroma when I exposed the wine to the air and poured it into our glasses. Instead, my nose seemed to pick up more pears, lemons and minerals. The first sip was dry, yet sweet with a very smooth finish. The next sip was taken after a sinfully good-sized bite of my pumpkin pie. I thought, "Wow, what was that?" I had another piece of pie and another sip of my Riesling. Yes, this wine was bringing out the nutmeg and cinnamon while adding sweetness to the pie finish that hadn't been there prior to the wine! It seemed to make the pumpkin pie come alive with its spices and sweetness swirling around my senses!
I must divulge here that while I enjoyed the Riesling, I am still a red wine lover at heart. Therefore, I felt the weight on my shoulders to find an option for the other red wine lovers out there. A conversation at the local wine store gave the top options as Pinot Noir or Cabernet Sauvignon. I wasn't quite sold, so I picked up my monthly wine (yes, I belong to the stores wine club) and headed out. I love my local wine club as they provide us with a side note about the wines each month. I was pleasantly surprised that the red wine I had been looking for was right there with me!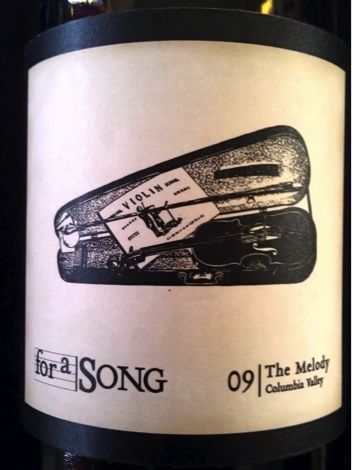 [Photo: "The Melody" is sweet yet spicy /Credit: Robin Salls]
2009 For a Song "The Melody" is a red blend out of Columbia Valley, Washington. For a Song wines are a collaboration of four grape growers and their wine maker, Kyle Johnson, who along with a passion for wine are also accomplished musicians. "The Melody" blend is like a well-played violin with its more opulent notes of raspberry and bing cherry layered with the softer notes of sweet vanilla, clove, black pepper and herbs. This wine has a generous body with a slightly spicy finish. It has a toasty fall spirit that warrants adding this wine to your list of "must have" for the holidays. The clove and spice from the wine blended nicely with the pie spices, not overpowering, but enhancing the pies natural notes. Yet, the raspberry, bing cherry and vanilla notes added a slight sweetness that danced with the deepness of the pumpkin combining for a melt in your mouth moment. If you love red wine and pumpkin pie, then this might be the pair for you.
Remember, Thanksgiving Day is a holiday. A day of thanks! So, pull up a chair to the table, open up a bottle or two, enjoy your meal with family and friends and don't forget to give thanks to the wine makers! After all, if it weren't for their libations, we might be pulling our hair out by the end of the day rather than giving thanks!
Salute!
---