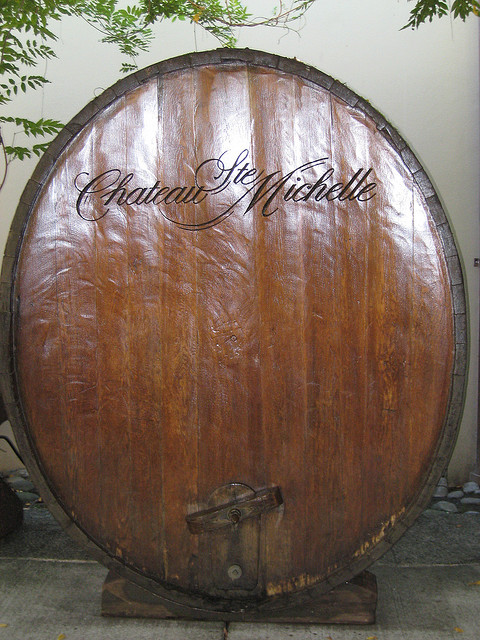 [Photo: The Chateau Ste. Michelle barrel which stands at the chateau's entrance]
Mention Chateau Ste. Michelle to someone and count the seconds until "great Riesling" is the noted response. Chateau Ste.Michelle has long been recognized as a leading North American Riesling producer. With a focus on producing wine from quality Washington State fruit and combining old-world traditions of winemaking with new-world innovations, Chateau Ste. Michelle is responsible for putting Washington wine on the wine world's map. And accolades pour in every year. The winery won two golds and a silver for its dry, semi-dry and sweet Rieslings at the 2012 US National Wine Competition. Its 2010 Eroica took double gold and the 2011 Dry Riesling Estate won gold in this year's Settle Wine Awards. Total wine shipments at the winery jumped 16.4% in the third quarter of this year. And that's just some of its most recent successes.
The winery first captured the international spotlight when its 1972 Johannisberg Riesling won the noted Riesling blind tasting sponsored by the Los Angeles Times in 1974—beating out German, Australian and California Rieslings. Its variety of Rieslings showcases the versatility and regional styles within Washington's Columbia Valley, which produces more Riesling than any other American wine region. Offerings include the Columbia Valley Riesling and ultra-premium Eroica Riesling, which is made in partnership with Ernst Loosen, owner of the Riesling-producing Dr. Loosen Estate, in Germany's Mosel region. The New York Times' Eric Asimov said of the 2007 Eroica: "the wine is superb, graceful and tangy, full of mineral, peach and ginger flavors. It is not quite dry, meaning the wine has a bit of residual sugar in it, yet it was so balanced it didn't taste sweet." The winery also offers a range of other wines, including reds produced at its sister winery, Canoe Ridge Estate Winery and Vineyard.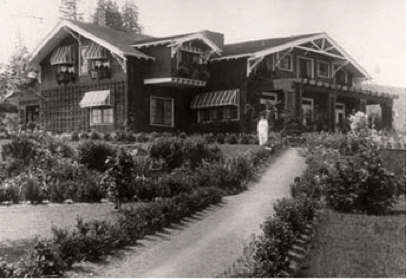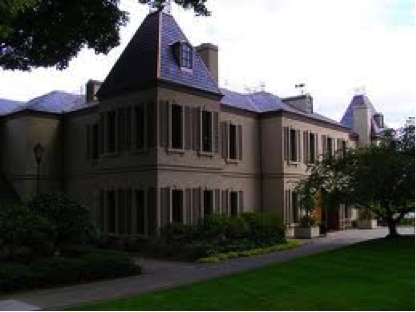 [Photos: From old to new, the chateau]
Chateau Ste. Michelle was Washington's founding winery, with some of the oldest and most-acclaimed vineyards throughout the Columbia Valley. Built on the 1912 estate owned by Seattle lumber baron Frederick Stimson, the winery's roots date back to the Repeal of Prohibition. Situated on 105 wooded acres, just 15 miles Northeast of Seattle, this winery is a major attraction for locals and tourists. The grounds include beautiful gardens and ponds and even a peacock strolling around. Touring and picnicking are some of visitors' favorite activities in addition to the summer concert series, wine tours, chef dinner events, wine and food classes and private events.
Beyond the wine itself, the winery has made itself an important part of the community, perhaps another reason for its stellar success. They believe it's important to give back to the community and do so through their Ste. Michelle Charitable Contributions Program which provides philanthropic support. One of the programs they established is the Chateau Ste. Michelle Scholarship Fund. The program has awarded more than 100 scholarships since 2002 to support high-achieving, underrepresented minority undergraduates at any college or university in Washington State. And the students are graduating with an 85-90 percent success rate.
The winery is also dedicated to practices of sustainability and conservation. In the fall of 2009, both Ste. Michelle's Cold Creek and Canoe Ridge Estate vineyards earned third-party sustainable certification for LIVE and Salmon Safe. They are proud of these certifications and have added them to the wine labels for both vineyards.
From a marketing standpoint, Chateau Ste. Michelle has shown adeptness at building rapport particularly among women, with interactive campaigns such as the current "What's your Chateau?" Facebook app. The campaign plays to the lifestyle aspects of wine—escape, relaxation, leisure and taking a moment to enjoy life. I hope you'll enjoy my chateau!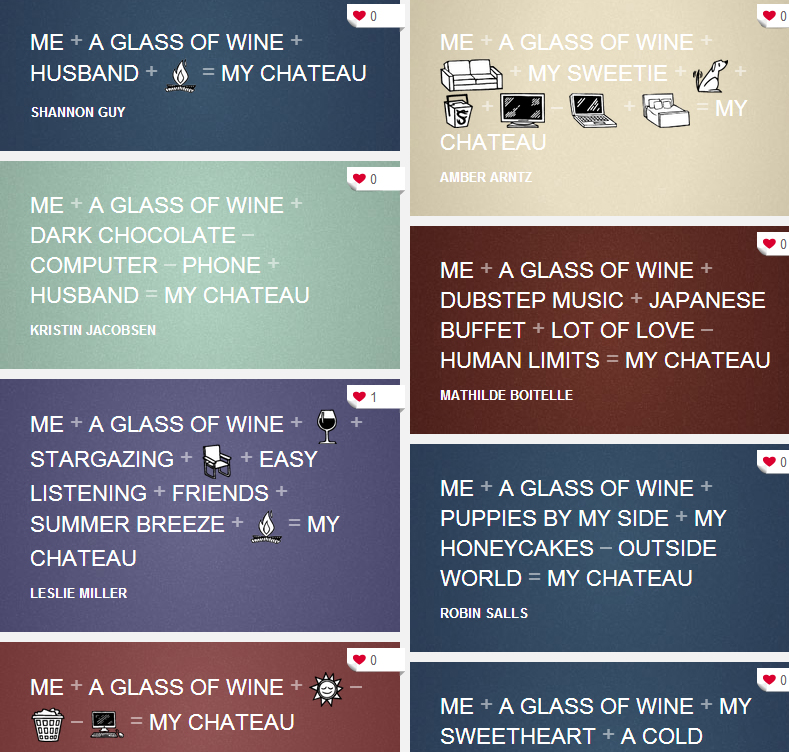 Chateau Ste. Michelle + Wine + Community & Sustainability + Fun Campaigns - Bad Practices = A Success story for the first winery in Washington.
Ready to try some? Search Chateau Ste. Michelle Riesling here.
Barrel photo used through a Creative Commons license by Bitman.
---