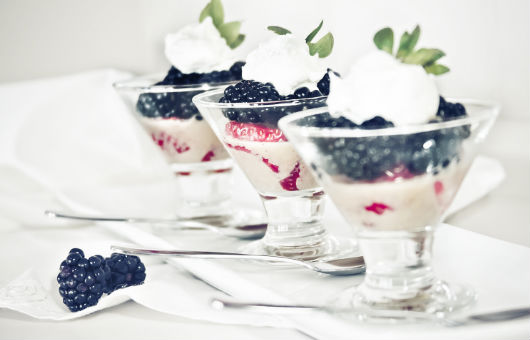 Harry's Pairing Note: Try a late bottle vintage port. The berries and cherries will be complemented by the ripe fruit of the wine, the tannins will balance the cream and sabayon and the acid in the wine will spark the taste of the fruit.
Serves 4
4 T. sliced almonds
2 t. powdered sugar
3 large egg yolks
3 oz. sugar
3 oz. fruity wine
4 oz. heavy cream
An assortment of berries: raspberries, blackberries, blueberries and maybe dark sweet cherries. Figure 3 ounces of berries and cherries combined per person.
To make the almond crisps:
1. Pre-heat your broiler.
2. Mix almonds and powdered sugar together well, spoon on to a silicon baking sheet on a pan and caramelize until medium brown under the broiler, typically 2-3 minutes depending on the heat of the broiler. Be careful not to burn the crisps. Cool and reserve.
To make the sabayon:
1. Place 3 large egg yolks, 3 ounces of sugar and 3 ounces of a fruity white wine in a stainless steel bowl.

2. Set the bowl on top of a pot with simmering water and beat constantly with a whisk. The sabayon will increase in volume and get very foamy; use your thermometer and heat to a temperature of 180°F. Remove from heat and allow to cool.
3. Once it's cool, whip the cream to medium peaks and fold into the sabayon.
Assembling the dessert:
1. Sprinkle the fruits with a good ruby port and let stand about 10 minutes. Place in your favorite glasses.
2. Spoon the sabayon over the berries in the glasses so it cascades down over the fruit.
3. Top with one crisp per glass and a berry or two and serve immediately.
---