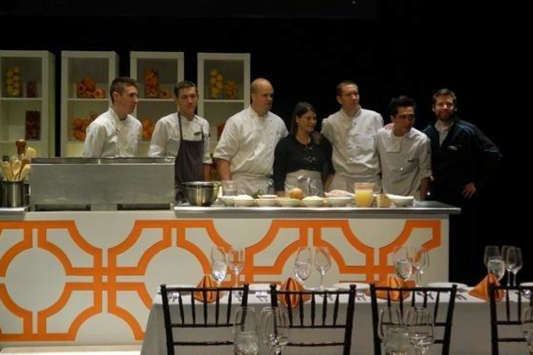 "I will be seen! I must be heard" cries out Beauty.
Beauty seeks our attention with gentle melodic harmony, and at first, we just glance. We turn back around to look again and again. We are mesmerized and captivated. This is Beauty and its effect.
Everything about our experience at the Second Annual Beaver Creek FOOD & WINE Weekend was beautiful. There were trees with fresh-laden snow, ice sculptures, well-behaved children and well-mannered people like the joyful and very tall Tim Baker, who cheerfully manages the town itself. He refers to himself as the mayor and town manager because he handles "everything outside of the walls" in the unincorporated Village of Beaver Creek, Colo.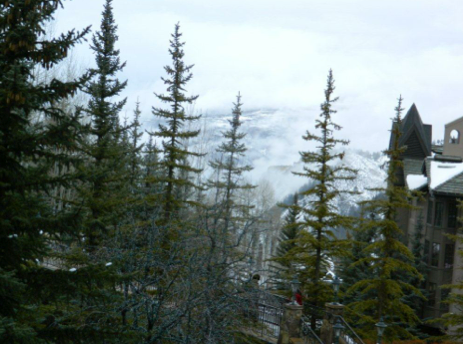 [Photo: The scenery at Beaver Creek, Colo. / Credit: William & Natalie Myers]
Each event was well orchestrated, beginning with the casual cocktail reception where we mingled with celebrity chefs and local talent. It was here we were introduced to the lovely, Christina Grdovic, vice president and publisher of FOOD & WINE Magazine. She has been overseeing sales and marketing for over 15 years! Christina is deeply respected and honored by her well-organized, professional team. Our conversations with her provided insight, experience and knowledge into the industry.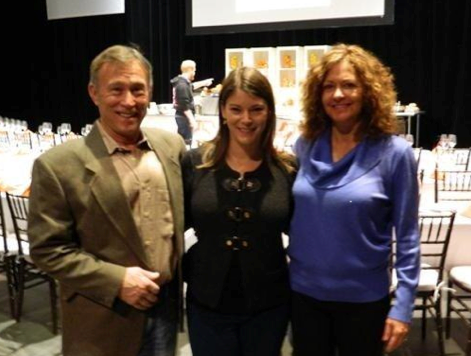 Gail Simmons from Top Chef is a delightful bundle of enthusiasm, skill and charisma. This girl shines and has discovered how to live life full out. Her cooking demonstrations in the kitchen of theSplendido at The Chateau Beaver Creekand on stage at the Vilar Performing Arts Center were beauty in motion. Make plans to attend a FOOD & WINE festival if for no other reason than to experience Gail Simmons in person.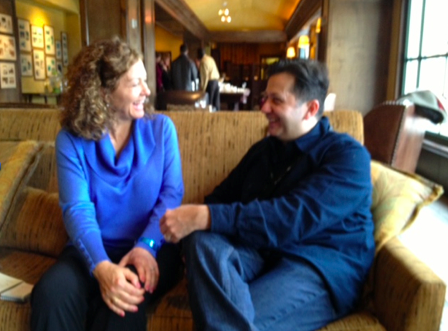 [Photo: Natalie Myers and Anthony Giglio share a chuckle. / Credit: William & Natalie Myers]
Wine expert Anthony Giglio was warm and personable while his profiling of the wines was brilliant. He categorized 21 wines into eight categories, each corresponding to a specific Beaver Creek ski run or trail, beginning with light white wines and into the reds in ascending order of power and complexity. Anthony is a highly esteemed and beloved authority on wine and spirits and his prolific writing is not only educational but humorous as well. He was joined by his pretty wife, Antonia, for many of the events. She is the senior integrated marketing manager of FOOD & WINE.
John Besh? Wow, what a personality, energetic, fun-loving and busy man. John warmly bubbled over with enthusiasm as we chatted about his nine restaurants and expansive list of awards. His flagship restaurant, August, in New Orleans, is on the list of Wine Enthusiast Top 100 Restaurants. He hosts two national public television cooking shows based on his books, "Chef John Besh's New Orleans" and "Chef John Besh's Family Table," which debuts in April 2013. His passion to encourage families to cook and eat together is endearing.
William's favorite meal was the exquisite meal prepared by Chef Besh and host Chef Kirk Weems, the Executive Chef of Allies Cabin in Beaver Creek. It featured Seared Scallop with Heirloom Spinach paired with Cardinale 2011 Intrado Sauvignon Blanc and Chappapella Farms Duckling Cassoulet paired with La Jota 2008 WS Keyes Vineyard Merlot. This 100-case lot of supple Merlot, paired with the tender and locally grown duck, provided a special and memorable experience for the guests.
Sam Talbot from AOL's Trade Secrets wowed Splendido guests Friday evening while providing a delectable multi-course meal paired with perfect wines. This handsome Southern gentleman was fun to watch and appeared to be as at home riding the mountain on his board as he is in his kitchen. Sam wears many hats as chef, restaurateur, author and TV personality.
Texas was represented at the event by Tim Love, popular restaurateur and chef of Austin City Limits. He delighted our taste buds with his Smoked Lamb Posole Stew. This fine winter stew was served to us by none other than Tim's white-apron-clad and grinning 11-year-old son. With charming accent and manners, he made a great teammate for his dad.
Spike Mendelsohn, who has been on Top Chef, Top Chef All-Stars, Next Iron Chef and Super Chefs shared the grill with Tim, serving up burgers and beers to satisfied customers. His restaurants, Good Stuff Eatery and We, The Pizza, stand side by side in Washington, D.C.
Colorado's own Alex Seidel, chef/owner of Denver's Fruition Restaurant cooked a delicious, lunch of locally grown foods paired with wine for a hungry and grateful group of guests returning from a morning of snowshoeing in the splendor of the mountains. His Braised Shortribs, prepared for the Grand Tasting, were tender and succulent.
The Chateau Beaver Creek is home both to Splendido and veteran Executive Chef/Owner David Walford. Having cooked at this fine establishment for nearly 20 years, his light humor, sensitive manner and charisma is respected by all who know this host chef. The crowning beauty of the weekend was relaxing with Chef Walford in theChateau Lounge on our last evening. As we listened to his stories of the past, the pianist played songs to those still nursing their wine while the snow fell gently and the fire roared.
All of the host chefs were genuine and at the same time professional and approachable. Our time spent with Christian Apetz, executive chef at The Park Hyatt Beaver Creek, was delightful. His gentle humor, easy smile and kind demeanor makes us eager to have him share more of his family history, his philosophy in the kitchen and his pairing of wine. Daniel Joly, executive chef/owner of Mirabelle, Jay McCarthy of GROUP970 Restaurantsand literally all of the fine chefs were true to form. They brought honor to their noble and creative profession giving us every reason to attend next year's Beaver Creek FOOD & WINE Weekend.
This year's event was superbly engineered, harmoniously represented, and simply beautiful.
Watch for our upcoming interviews with some of the experts and chefs from the festival on WineTable.com and check out our video of the event:
---