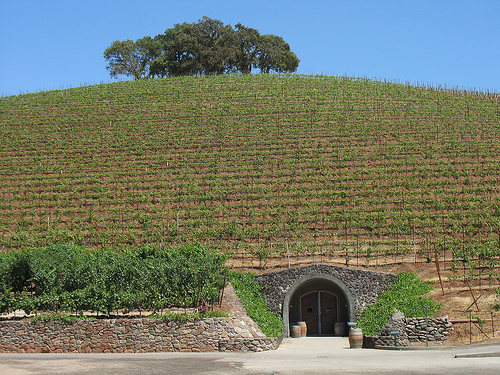 [Photo: Entrance to a wine cave / Credit: Eric Chan]
Maybe we are all cavemen and cavewomen at heart, because just the mention of a wine cave during a tour is enough to make me change the itinerary so my clients can taste wine underground, surrounded by barrels. What is it about caves? In the past, maybe it was the sexy fur outfits or the ability to impress a girl with grunts. Well, we're far past those primordial fascinations, but caves still play an important role in wine country.
Most wine caves are dug into hillsides, or under the winery. Because of the demands of fork trucks and stainless steel tanks they are not generally natural caves. In the old days, traditional winemakers used clay vessels dug into the cool ground to age the wine instead of caves. It was in the 1700s when barrels and bottles became popular that the coolness of caves became critical. Chinese laborers dug Napa and Sonoma's first caves in the 1800s, at the same time gold and silver was being mined in nearby regions.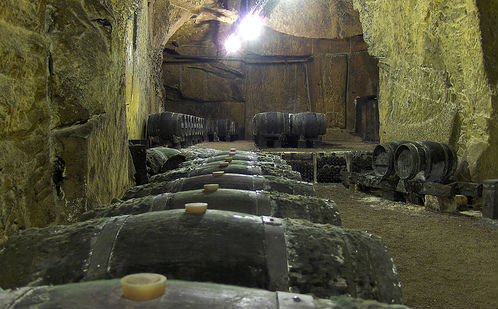 [Credit: Joe Shlabotnik]
Sonoma's Buena Vista was California's first winery, and their caves housed as much brandy as they did wine. Napa's Schramsberg winery is home to the county's oldest hillside caves and they are still in use today. Beringer, Inglenook and Greystone all sport Chinese-dug caves, but these relics have been eclipsed by today's technological wonders. While those original caves mostly aged wine, today's caves often house the entire winemaking facility.
Thanks to electricity and excavating equipment these caves operate like modern buildings, admittedly without windows but with curved walls. Many are multiple stories high, housing tanks and catwalks. They don't require heating or air conditioning, effortlessly maintaining the mid-50 degree temperatures that aging wines adore. Financially there are benefits to a cave. Per foot they are less expensive to build and maintain than an exterior structure. Also, underground structures have certain tax advantages which are not lost on businesses that run on a tight margin. The Coombsville section of east Napa has so many production caves that I think that if the Hobbits made wine they would live there.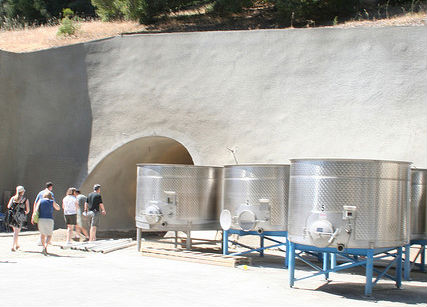 [A crowd of wine tasters enter a modern wine cave / Credit: Ewen Roberts]
Modern caves sometimes lose one of the traditional benefits, the high humidity that minimizes evaporation through the porous walls of oak barrels. In the older caves humidity levels can reach 90% from water seepage. Modern caves often incorporate vapor barriers that make them more sanitary and pleasant to work in, but reduces humidity in the process. In multiple gallery caves winemakers often raise humidity or temperature for special fermentations by hanging plastic sheets for walls and running heaters and humidifiers. Of course a prettier way to raise humidity is with a decorative fountain, or a stream routed through the cavern. We've seen both on tours! What else do you find in caves? Elaborate tasting and banquet rooms! Because when a winery has great caves they love to show them off.
Ralph & Lahni de Amicis are tour guides, authors and television hosts in Napa, California http://www.amicistours.com
---