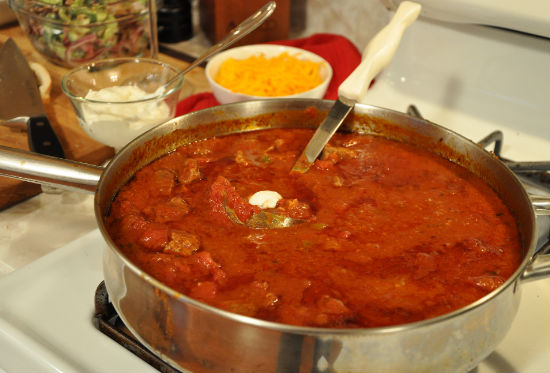 Broaden your Super Bowl menu with this spicy southwestern stew. This twist on the more traditional ground beef chili with the introduction of beef brisket or bottom round will keep your crew well-fed and cheering throughout the day. Try this recipe from WineTable Executive Chef Harry Haff and pair it with a cool-climate syrah or shiraz from Australia or Washington State, a full-bodied, cool-climate zinfandel or an oak-aged Lemberger from Washington State, Germany or Austria.
Marilyn's Chili Colorado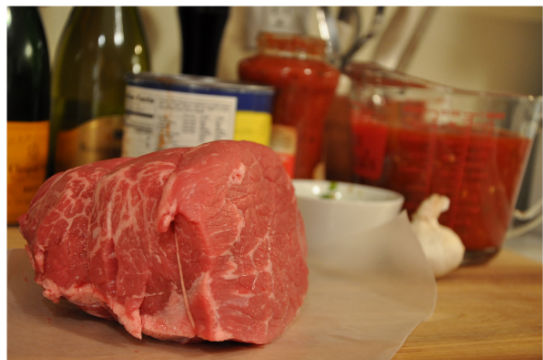 Start with several pounds of beef, salsa, whole peeled tomatoes, lots of garlic, green chilies and spices.
Cut the beef into 1-inch cubes.
In a heavy stew pot, add about 6 tablespoons of oil and brown the beef chunks thoroughly.
Add the drained canned chilies, salsa, tomatoes with juice, garlic cloves and spices of your choice. Stir well to blend, bring to a simmer on the stove and cook slowly about 3 hours, at least part of the time uncovered. As the tomatoes cook down, gently break them up with the back of a spoon. Cool and store in refrigerator for two days. Reheat slowly, adjust seasoning, S&P and spiciness as desired. Feel free to stir in a few tablespoons of sour cream when reheating—just make sure not to boil the mixture.
Serve with warm flour tortillas, sour cream, shredded cheddar cheese, guacamole, shredded lettuce and diced fresh jalapenos, seeded.
Ingredients
Serves about 6
3 lb. bottom round or beef brisket stew meat, cut into 1-inch chunks
3 small cans green chilies
3 24-oz jars of medium salsa
1 can crushed or peeled whole tomatoes, drained
4 cloves garlic, peeled, whole
1 T. chili powder & cumin (more or less to taste, depending on your preference)
Cayenne or other hot pepper to taste.
Get More Super Bowl Recipes:
---