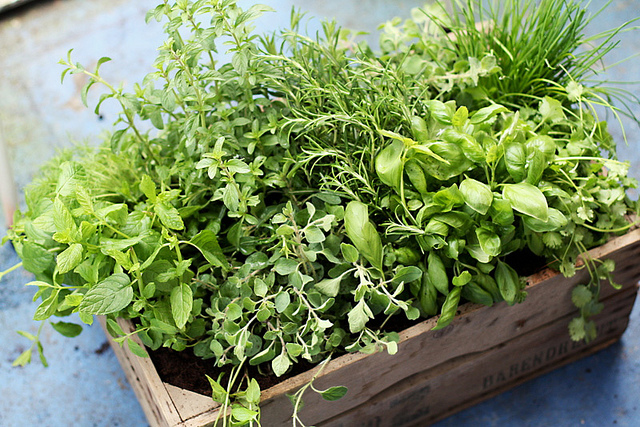 [Photo: An overflowing window box of garden fresh herbs - perfect for the turkey / Credit: suzettesuzette]
It's Thanksgiving, you have your turkey, and now you need a wine, but which one? Well, think about the flavors you want to go with it. With turkey being a light-tasting fowl, the flavors are often influenced by ingredients and cooking methods more than just the bird itself, so head to the spice rack and take a look around. Herbs and spices are an important part of pairing as herbs used in a dish can change the flavor profile, thus changing which wine you want to pick. For many bird lovers, herbs can be seen as the more the merrier, while others are looking for that little wow factor to enhance the lighter taste. Whether you want a little or a lot, we can help you with the wine to accompany your dinner.
Brine It On!
If you are looking to brine the turkey, the number of herbs and spices multiply significantly and give you a great tasting bird. Not only will you see salt, pepper, parsley and garlic but you will see strong flavors of onion, sage, rosemary and Thyme along with hints of citrus and sugar. Pairing a wine to this many flavors may seem difficult or a bit intimidating, but a light to medium body wine will not overpower the turkey and will bring out key flavors of the herbs and spices while still allowing the wine to show its fruit.
Pairing: California Pinot Noir, the flavors in a brine turkey have the strength and intensity that go well with a light-medium style wine that has nice acidity, some tannins, and rich fruit. Here are a couple of suggestions:
Spice is Nice, but Bacon is Better
Want to spice up your dish with a hint of smokiness and salty flavor? Do as most sandwich shops around the United States do to their turkey sandwiches: add a little bacon. You can start with your standard herbs, rub the bird in olive oil, salt and pepper, garlic, and parsley. Then dice up a few strips of bacon and put it in the bird as it cooks, for more intense flavor, add it just under the skin on top of the breast or to give it just a hint add it in the cavity with either the stuffing or by itself. It has a nice flavor that enhances the bird's juices. It won't overpower your bird and it will make your drippings a lot more flavorful.
Pairing: Oregon Pinot Blanc, it has the body of a red wine with the acidity of a white, the wine compliments the fuller flavors of the bacon as well as the herbs. The wine will also compliment the herbs and spices in your stuffing. Try these this holiday:
Whatever you choose, remember that there is no one right answer to the blend of flavors. If you still are having questions don't be afraid to ask your local wine shop about their recommendations. Just remember to buy enough wine for everyone to taste it, roughly 5 glasses per bottle, and don't overspend: the wine should compliment the food, not be the star. Now relax and enjoy your holiday, I am sure you deserve it.
---