There is a move among the up-and-coming, conscientious chefs among us; an undertaking toward more responsible stewardship of resources in food preparation and service. Chef David Gutowski is in this league. From Peekskill, New York, David is a graduate of the Culinary Institute of America in Hyde Park.
"I never thought of cooking professionally until my junior year in high school and with college looming over my head I knew I had to figure out what to do with my life," Gutowski said. "Cooking was the only thing I liked to do. At the restaurant I was working at, all the cooks recommended I go into the C.I.A. but I chose to attend culinary school and it was the best thing I ever did."
After an externship in Telluride, Colo., he spent three years as the sous chef of the popular and upscale Beanos Cabin on Beaver Creek Mountain. He was part of the opening staff of The Ritz Carlton Bachelor Gulch in Avon, Colo., worked in pastry at the St. Thomas Ritz Carlton in the Virgin Islands, The Ritz Carlton New Orleans, Atlanta's Ritz Carlton Buckhead and Key Biscayne's Ritz Carlton in Miami. David is currently executive chef for the privately owned Grouse Mountain Grill, Beaver Creek.
"As much as I loved working for the Ritz, there is so much more to the job than cooking in a big hotel," he said. "There were days where I would go from meeting to meeting and never actually cook. When I was in St. Thomas the standard for a banquet was to have all of the food on the buffet 15 minutes before it started. When we would have a banquet outside all the chocolate desserts would melt before the event even started, but that was the standard. I loved the idea that the guest's happiness was the biggest priority. We could never say no to a request and that taught you how to really push yourself. At Grouse, we have the same standards but without the red tape. It's all about the quality of the guest's experience. Nancy and David Dowell have owned Grouse for 19 years. I think that says a lot about them. I have the freedom to do whatever I want here and know I always have their support. I mean, we have a goat and a garden! The con side is it's a small operation. When a plate breaks, or a steak gets overcooked, or the economy is in a recession, it has more serious ramifications here than at a large hotel. "
Looking into David's eyes, we did see a bit of James Bond peeking through. He continued, "At the Ritz, there were certain approved vendors we could buy from. We used our buying power on a national and global scale more than a local one, though this may have changed by now. A huge company like that has the ability to really dictate where and how their food is grown and maybe back then we didn't use it to our advantage as well as we could have by purchasing from local farmers and ranchers. In our Grouse Mountain garden, we have had great success with arugula, spinach, red oak, swiss chard, radishes, beets and yellow wax beans. Our broccoli, fingerlings and cucumbers were a failure but I think that is due more to a lack of a green thumb then to climate. This year we will plant more leafy greens and have a spot on the menu for what we happen to be harvesting that week."
When we first met David, he appeared a little shy, but when asked about his experience cooking at the James Beard House in New York, his demeanor changed to one of outgoing elation. The grass-roots movement of farm to table was promoted by Beard, the culinary arts master.
"The Beard House was incredible," he said. "I started stressing over it about eight months before the dinner. Our theme was obviously Colorado. Everything we served that night was grown or raised in Colorado. Getting it to New York was a nightmare. I called the airline to confirm they could handle the four 90-pound coolers we were traveling with. I called the hotel to make sure we could throw them in their walk-in cooler the night we got there. The Beard House said they would plan on us being there Wednesday.
"We get to the airport Tuesday morning, and the airline says there is no way they are taking the coolers. Nancy's charm eventually gets them on the plane. Finding a cab at LGA for the coolers took forever. No one wanted them in their cab. We get to the hotel and the bellman informs me that the gentleman I spoke with didn't know what he was talking about. The hotel only had a reach-in cooler. Called the Beard House, no one is there and they are not planning on us being there until Thursday. Bring coolers to our room, turn the air-conditioning all the way down. Open coolers to but ice inside of them and find out TSA has busted open a bunch of our product.
"During dinner that night at Gramercy Tavern, Victoria from the Beard House calls and says the house will be open tomorrow for us. From there everything fell into place. Just being there is awesome, not only because of whose house it is but thinking of all the great chefs that went before me is humbling. The kitchen is very small but the staff is incredible, though they could use a proper ice-cream maker. Our pastry chef took a cab ride to a culinary school to spin our ice-cream. If you ask me how the dinner itself went, I can only think of the things we could have done better but when it's all over you can say, 'I've cooked at the Beard House,' and you are now part of a select fraternity of people who can say that."
David enjoys life in the Vail Valley with his wife, Jaimie and one-year-old son, David. Last year for their wedding anniversary, they celebrated by biking from winery to winery in Palisade, Colorado. "That was a great wine moment for me. Another great wine memory was the bottle of 1996 Louis Latour Corton Charlemagne I drank when turning 21. David hopes to give his son a similar special wine memory when he is that age. He bought a case of wine for him to be opened on his 21st birthday. What a great idea.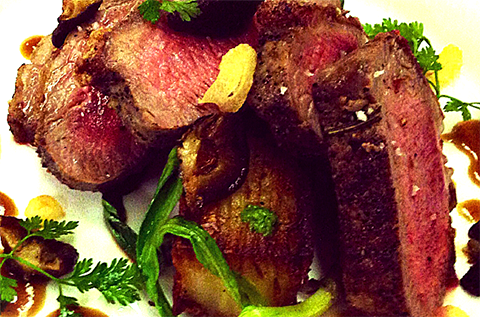 Lamb Loin with Ramp Pesto & Manchego Potato Cake
Try David's Lamb Loin with Ramp Pesto & Manchego Potato Cake recipe and honor his philosophy by using as many local products as possible when you do.
---