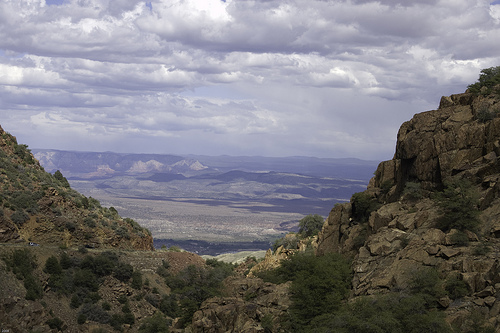 [The spreading valley below, Verde Valley, Arizona / jason schultz]
One of the best-kept secrets in wine these days is the award-winning wines a handful of Arizona wineries are making. About 100 miles north of Phoenix, Arizona's Verde Valley comprises several small communities: Camp Verde, Clarkdale, Cornville and Cottonwood as well as Jerome, Page Springs and Oak Creek. With cool evenings and warm, sunny days along with mineral-rich and well-drained volcanic soil, the climate is perfect for growing French and Italian-style grape varietals. Nearby Sedona is home to the beautiful red rocks where one can find tasting rooms showcasing many selections from Arizona wineries.
A visitor can easily spend a day or more exploring the variety of wineries and tasting rooms this region has to offer. If you have just a day to spend, here are three wineries on Page Springs Road worth visiting.
A Town Named Cornville…Wineries Here? Really?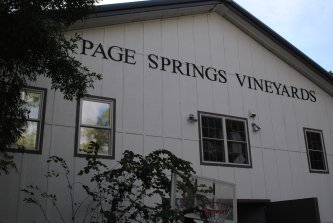 Travelling down Cornville Road, past construction and excavation companies, discovering wineries in Arizona would seem to be the last thing a visitor might find. But keep driving and be on the look-out for "Casey's Corner" gas station; that's the landmark for where to turn onto Page Springs Road to the first of the three Verde Valley Arizona wineries. Travel about three miles and turn left to Page Springs Cellars.
Rows of grape vines grow along the sloping desert hillside. The tasting room building, which is a metal structure, is accessed by driving down a small hill into an ample dirt parking lot. Walking towards the tasting room, there's a glimpse of more grape vines.
Co-owner Eric Glomski calls his winery and vineyard a "Rhone House" and the red grapes that he works with are primarily Syrah, Petite Sirah, Grenache and Mourvedre. White grapes include Viognier, Rousanne and Marsanne. The philosophy behind Page Springs Cellars is to build wines to drink sooner rather than later with a focus on quality winemaking using traditional methods as much as possible. The tasting fee is $10.00 per flight. Try the 2010 Vino de la Familia, a full-bodied, dark red wine that can stand up to any occasion. If you're hungry, try the tasting room menu (the Bruschetta Plate is fabulous!).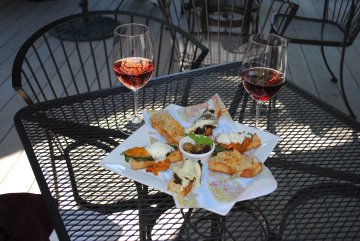 Tables and chairs on the outdoor deck overlook the vineyards making Page Springs one of the most popular wineries in Verde Valley Arizona. It's a perfect place to relax and enjoy the food along with a glass of wine. Take your glass or enjoy a bottle on the deck that overlooks rushing waters of the well-known Oak Creek, located just a short stroll through the vineyards. This is a place to enjoy excellent wines, delectable food and to take in the ambience of beautiful Verde Valley Arizona and Oak Creek.
The Arizona Winery Focusing (Nearly) Exclusively on Arizona Grapes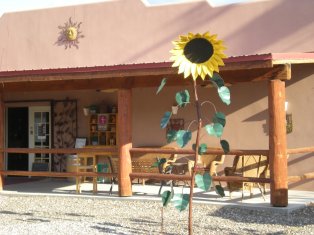 Travel about a half-mile down the road from Page Springs Cellars and turn right to Oak Creek Vineyards.
The adobe-style dwelling that houses the tasting room sits among 10 acres of gentle slopes and grape vines. Vineyard owner Deb Wahl calls Oak Creek Vineyards and Winery, "The Valley's Best Kept Secret."
Grapes for the wines are grown in the vineyard or are purchased from wineries in Arizona located in the southern part of the state, making it one of the only Arizona vineyards to use Arizona grapes nearly exclusively.
The front patio leading to the entrance of the tasting room is set with chairs to take in the vineyard views or to sip a glass of wine and perhaps enjoy a selection of cheeses, olives and cured meats from the deli case; all very tranquil and soothing to the senses. Inside, the modern and spacious wood décor of the tasting room is pleasant and inviting with plenty of room to taste wines or to browse the interesting selection of wine-related gifts.
Tastings cost $5.00 for four tastings of wine (you choose the four you wish to taste). The Chardonnay is fermented in steel barrels so there is no heavy "oaky" taste. It is crisp with a nice citrus finish that has traces of banana and pears. This wine would be a nice accompaniment to fish or poultry. The Fume Blanc is grassy and refreshing while crisp and dry. It would pair well with a seafood appetizer.
Wine Tasting in Arizona Never Tasted so Good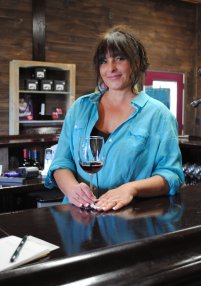 The last stop on Page Springs Road is Javelina Leap Vineyard & Winery located directly next door to Oak Creek Vineyards and Winery. Veteran entrepreneur and owner/winemaker Rod Snapp believes that "Arizona Never Tasted so Good" when it comes to his award winning wines; he may be on to something.
There's creative energy that can be sensed the minute you pull into the parking lot of this Verde Valley Arizona winery. From the metal Javelinas dotting the property to the whimsical front entrance to the tasting room; this boutique winery can stand on its own. It was started "from scratch" with out-of-pocket funds, growing grapes in small vineyard blocks which are pruned and harvested by hand. There is a lot of passion here as evidenced from the quality of these barrel aged wines.
Entering the tasting room, one feels as if they're in a local, western saloon. The rich dark wood bar is inviting; the tin ceilings and crystal chandelier all add to the ambience. A tasting costs $8.00 for four tastings.
Co-owner and assistant winemaker Cynthia Snapp is also an artist. Her creative background, along with her husband's wine making expertise equals a Verde Valley Arizona winemaking experience that combines art and science, resulting in unique, handcrafted, pure varietal wines made in small quantities. Try the Merlot; it is complex, smooth and full bodied.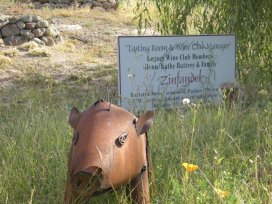 Photography, sculptures and pottery are among the many pieces of artwork displayed (and available for sale) in the tasting room, all from local area Verde Valley Arizona artisans as well as employees of Javelina Leap. It's a testament to the commitment from the Snapps to be one of the wineries in Arizona that stays true to the land, its history and the local culture. It also adds to the ambience and unique flavor of this winery. Visitors can taste the wines and check out the local artisans at the same time!
Grapes Grow Here and the Wine Flows Here!
The Verde Valley Wine Consortium lists many more wineries and tasting rooms in the Verde Valley area with more starting up every year. They are all diverse and have their own particular specialties, much like the diverse nature that makes up the state of Arizona. Grapes grow here and the wine flows here! Enjoy the experience and don't hesitate to make a day trip or a weekend visit to Arizona Verde Valley wine country!
Read the full review of these wineries and learn more about wine touring in the Southwest at Southwest Wine Guide >>
---