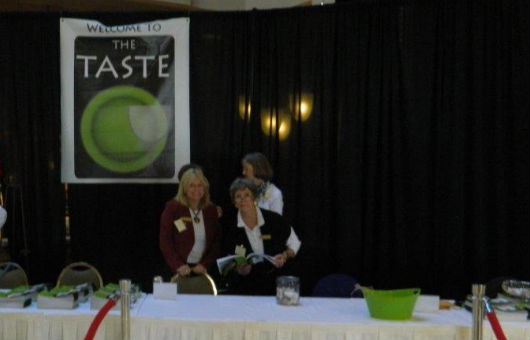 [The TASTE Greeting Table]
Wine festivals are popping up all over America and many of them are for charities. One such event in our Colorado community is a shining example for those who would like to start a similar endeavor in theirs.
As I drove through the blustery spring weather, I was excited about the possibilities that the night might afford. My wife had volunteered to cover THE TASTE, but she was taken out of town to support her older daughter who is the guitarist for a girl's blue grass band. Thus, the torch passed to me. THE TASTE is a 20-year event that benefits Larimer County Food Bank.
I must admit experiencing a bit of anxiety as I held my jacket close while waiting for the front door to the Hilton to open. This organization had caught my attention and I was eager to meet the people behind the scenes and experience the passion that held this group together for a score of years.
The lobby was blocked off with a green sign that said "THE TASTE," and beneath was a table of smiling and chatty women. A man in a blue shirt with a kind face would greet each party with a smile but what he really wanted to see was the pink or blue wrist bands that allowed entrance into the grand occasion.
At the check-in table, PR Chair Lauren Mingus greeted me with a firm handshake and cheery smile. Together we made our way through the crowd to find Amy Pezzani.
Amy has been the Executive Director of the Larimer County Food Bank for the past 10 years. Being enamored with service in this realm, she had a passion to use the skills she developed as a VISTA volunteer and working in a similar position as she does now, with the Food Bank in Springfield, Mo.
As Amy spoke about her days in the office or as she speaks to clients in one of the two outlets in Larimer County, her eyes lit up and her voice expressed the passion her heart feels. "It is such a blessing to see and hear the gratitude that our clients feel in receiving help," she said as her voice trailed off a bit. I noticed her eyes widen as she remembered people's faces and events.
"Knowing that these people will eat, although they're in desperate situations is so rewarding. Nearly all of the 14,000 people who we distribute to every month, work. Many jobs in the area don't pay high wages. What we distribute is over 40 percent produce and we want to move toward 50 percent. This part of the grocery bill is the most expensive."
The vision Amy and the 1,800 Food Bank volunteers have is to provide healthy food and not just cheap food. The statistic she told me next boggled my mind.
"Eighty percent—a full 80 percent of the food that we distribute is recovered. In other words, it is going to the dump, while 20 percent is donated," she said.
Then I understood more of why the volunteers are so proud to be a part of this organization. The Food Bank model takes food that is going to be thrown out, due to expiration dates or damaged packaging but is still good and then gives it to people that are not making ends meet.
"We feed 70,000 meals to children over the course of a year and give away thousands of backpacks to those of school age. 50 percent of the people we serve are children and seniors," Amy said.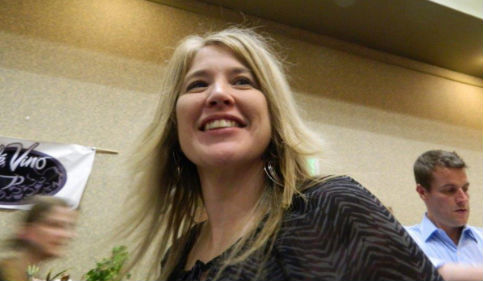 [Amy Pessani Executive Director TASTE]
Amy's exuberance is contagious for this worthy and honorable cause.
Next, I was joined by the restaurant chair, a delightful lady who has taken the helm where it concerns the restaurants represented at this memorable occasion. Shauna bubbled as she explained her purpose at THE TASTE "This year we have 27 restaurants, all locally owned," she said.
The music began to insist on my attention while the lure of exquisite smells propelled my feet. A tower of wine glasses was guarded by a young lad and lassie who, I would find out, were devoted volunteers at the Food Bank. Their instant smile and eagerness in expressing their willingness to help others was truly gratifying. They were twins and their mother said there were several parent-and-child teams who volunteer.

[Twin Volunteers, Music, and a Silent Auction]
Throughout the evening I spoke to volunteers of all ages, from the 16-year-old twins to the 70-year-old couple that had served in different capacities. I spoke to those that poured their wines and brews or that served the food that they graciously spent their time that day preparing and now served a thankful and grateful crowd of about 800 people.
As I entered the main room that housed the band playing a mixture of Jazz, Blues and Funk, I noticed the stage was lined with tables that displayed silent auction items. I was sampling a citrus-tasting Joel Gott Sauvignon Blanc, when Shauna tugged my sleeve and asked if I'd like to be present as she honored this year's award for the Best Table at The TASTE for 2103. With that she handed the plaque to the representatives of Café Vino. An incredible tapas that included a bacon-wrapped date with smoked Wisconsin bleu cheese and a balsamic reduction helped to propel them to notoriety.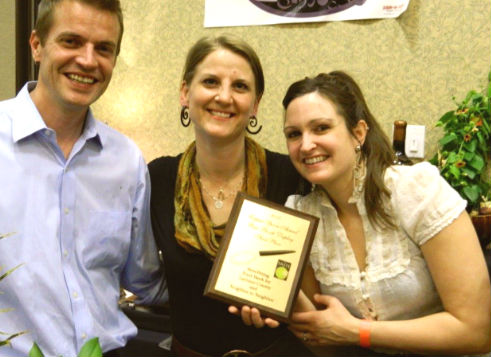 [Shauna presenting to Cafe Vino]
I picked up this year's booklet entitled simply, The TASTE 20th Anniversary 2013. In it were vendor recipes and coupons. Rick Arneson has been faithful to chair the printed material and other aspects for THE TASTE for 14 years!
THE TASTE is a profound expression of what can happen when people come together to serve others. Northern Colorado joins in appreciation and gratitude for all the people that create, plan and work to bring us THE TASTE, once a year to the community of Larimer County. Here's to 20 more years!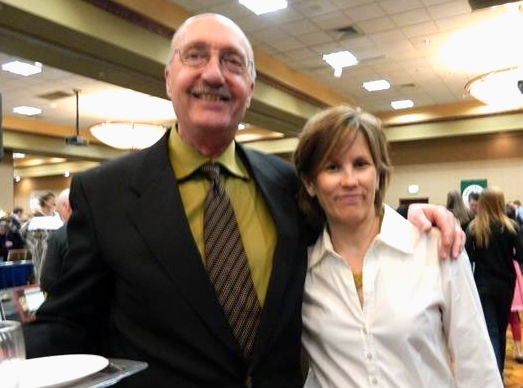 [Dick Print Chair]
Consider putting on a Wine Festival for a local charity in your community!
---