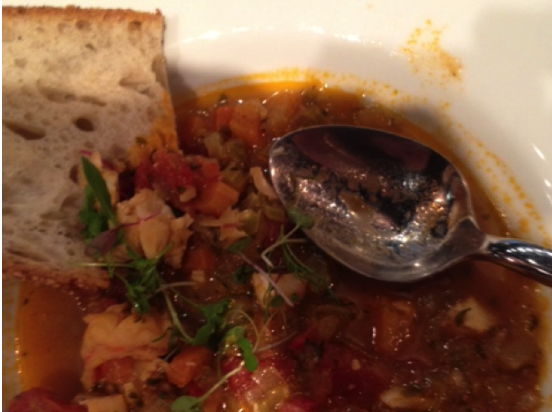 Recipe from FOOD & WINE'S Quick from Scratch Italian
Servings: 4
You can, and should, make this with whatever firm or moderately firm fish looks best in the market. For a delicious traditional addition to the soup, toast four slices of good country-style bread and rub each piece with the cut-side of a halved garlic clove. Put a piece of toast in the bottom of each bowl and ladle the soup over it.
Ingredients
2 pound large shrimp, shells removed and reserved
2 cups water
3 tablespoons olive oil
2 carrots, chopped
2 onions, chopped
1 fennel bulb, chopped
2 ribs celery, chopped
6 cloves garlic, minced
1/2 cup dry white wine
3 1/2 cups bottled clam juice
2 1/2 cups canned crushed tomatoes in thick puree (from a 28-ounce can)
1/4 teaspoon dried red-pepper flakes
5 tablespoons chopped fresh parsley
1/2 teaspoon dried thyme
1 teaspoon salt or more, depending on the saltiness of the clam juice
2 bay leaves
2 pounds moderately firm white fish fillets (use a mixture of 2 or 3 kinds), such as cod, halibut, ocean perch, orange roughy, pollack, red snapper, or tilapia, cut into 1-by-1-inch pieces
1/8 teaspoon fresh-ground black pepper
Put the shrimp shells and the water in a small pot; bring the water to a boil. Reduce the heat and simmer, covered, for 15 minutes. Strain the shrimp stock into a bowl. Discard the shells. In a large pot, heat the oil over moderate heat. Add the carrots, onions, fennel, celery, and garlic; cook, stirring occasionally, until the vegetables start to soften, about 5 minutes. Add the wine; cook until it almost evaporates, about 5 minutes. Stir in the shrimp stock, clam juice, tomatoes, red-pepper flakes, 4 tablespoons of the parsley, the thyme, salt, and bay leaves. Bring to a boil. Reduce the heat and simmer, partially covered, for 25 minutes. Taste for salt and, if needed, add more. Remove the bay leaves. Add the fish, shrimp, the remaining tablespoon parsley, and the pepper to the pot and bring to a simmer. Simmer until the fish and shrimp are just done, about 2 minutes.
---