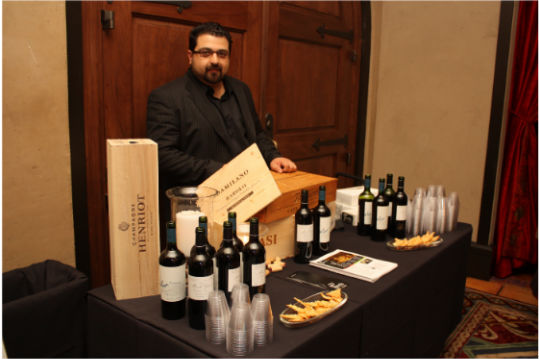 Super Bowl XLVII is set to take place in just a few days inside the Mercedes-Benz Superdome. A Super Bowl filled with firsts, a 17-year league veteran playing his last game and lots of speculation and wagers on the line, it's sure to be a game to watch, not to mention the sibling rivalry on the sidelines. And yes, of course the commercials should be good too.
The San Francisco 49ers will take on the Baltimore Ravens inside one of the most festive cities in the U.S.: New Orleans. With the Big Game comes the inevitable parties around the block—and what better time to celebrate a good glass (or bottle) of wine than over an intense game of pigskin with the Vince Lombardi trophy on the line.
I had the chance to speak with Edgar Poureshagh, sommelier and general manager of 3Twenty Wine Lounge, who has also been filmed for Bravo's Flipping Out, VH1's Basketball Wives and the Style Network's Tia & Tamera. Needless to say, Poureshagh is up to date on keeping wine and suggestions relevant in the entertainment world, and the Super Bowl game I wanted to play was a prime target for his knowledge and wit.
I decided to go for a word association game with Poureshagh to help describe the teams and the game, but more importantly, apply it to the wonderful world of wine offering suggestions for football lovers and non alike.
Here's how the game went:
Jayme Lamm (JL): The 49ers are known to be an explosive team, what's a wine that fits that description?
Edgar Poureshagh (EP): Turley 'Ueberroth' Zinfandel - He makes huge zinfandels, basically from all over California. He's great at letting the area express itself and make you think of something full of flavor – explosive if you will.
JL: You could kind of call this Super Bowl a rare appearance. You have two quarterbacks heading into their first ever Super Bowl - Colin Kaepernick for the 49ers and Joe Flacco for the Ravens. What about a wine that makes a rare appearance or surprises you?
EP: Petite Sirah, the grape. It's a pretty innocuous grape. Each producer tends to create a product that tastes like all the others. It's a consistently good grape but in the hands of certain people, it can be spectacular. Jaffurs is one of my favorites.
JL: The biggest debate seems to be which brother is the better coach. The Ravens have veteran leadership so some would say the 49ers are just a better-coached team all around. What about wine – is there such thing as a coach or good leader?
EP: David Ramey – he's been in the industry for the longest time and makes some of the most interesting wines coming out of Napa Valley. If there were an all-star coach in the wine industry, it'd probably be him.
JL: A wine that never quits?
EP: You're asking about a long finish, right? That's kind of interesting. The name Alvear (the producer), the wine is a sherry, the 1927 Solera. It has one of the longest finishes I've ever experienced – like two and a half minutes long. One sip gives you enough flavor to enjoy for a couple of minutes, which is rare because usually it's 30 to 40 seconds. This sweet dessert wine shocks people when they drink it. I'm kind of addicted to it.
JL: Probably my favorite question because I'm big into champagne, particularly Veuve Rose, but what's your recommended celebratory drink?
EP: Lets put it this way - I love French champagne. Of all wines, French champagne is the most revered. If I know I'm having a last meal, it'll probably be champagne. If I were having a Super Bowl party, I would be pouring American sparkling wine since it's an American sport, so maybe Domaine Carneros.
JL: Joe Flacco and the Ravens are known for airing it out. Go…
EP: A wine that decanting helps brings out the flavor would be Shafer – Hillside Select (a cabernet) – it's an amazing wine, but when you take the time to decant it and give it hours to open up, it becomes magnificent. It gives you so many details and power all at the same time – which you don't really see very often.
JL: I'm an Eagles fan, so I totally feel you…Clearly every game has an underdog – this year it's debatable, but seems to be Baltimore, at least according to Vegas where San Fran is favored by 3.5 points.
EP: I would say there's a lot that could be said about that. Santa Barbara County – that entire area is probably an underdog in the wine world. It never really generated the kind of appeal like Napa was able to, and over the last decade we're starting to see this underdog take on a new personality. Santa Barbara County is an underdog that has many cards in its favor and a great climate.
JL: After 17 years, Ray Lewis is retiring. Win or lose, this will be the bold and emotional linebacker's last game. For Baltimore and their fans, I guess it's kind of sad. Anyone in the wine world leaving soon?
EP: One of the most famous wine makers in our day, Jacques Lardière, is retiring. If you can get one of his last vintages, it's worth it.
JL: If you wanted to score big…a game winning touchdown or hail mary? A wine that's a showstopper, maybe?
EP: Promise is this little tiny parcel of a vineyard. The guy is a former entertainment exec who promised his wife they'd make wine at some point in their lives and he finally made good on that 'promise.' When you first drink it, it seems so gigantic, but if you decant it and let it breath, it will knock you out. At least it knocks me out. It's über expensive, so the athletes and board members of the winning team might be drinking this after the game.
JL: Any final predictions for the big game?
EP: I already told you – San Francisco!
The most important thing about the Super Bowl is not the game itself when it comes to wine. It's the camaraderie of friends, the sizzle of the girl, the spice of the buffalo sauce, and enjoying the moment in all of its glory or agony. Let the wine complement the day, not compete with it. There's a day to drink a $100 wine… and a day to enjoy a great $15 wine. Considering that most of your friends will be drinking your wine, find a few bottles of a wine that YOU love to drink, and enjoy the moment.
---