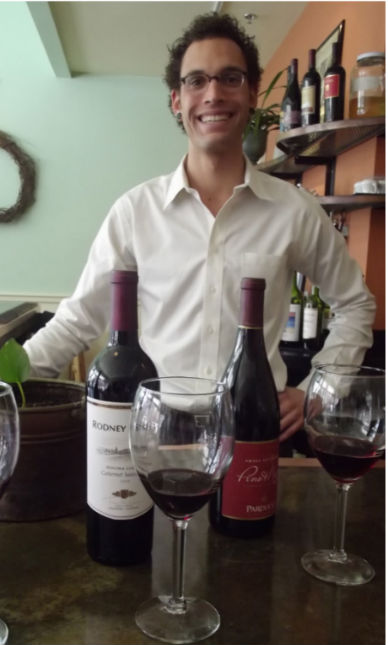 (Credit: Janine Buchal)
Please take your seat. Make sure your tray is in its full upright and locked position and fasten your seatbelts, as we are about to take off for our flight! Wine flights are as popular as the leg from New York to London. No, these are not airline flights you pay for and wine is served as the beverage of choice. Let me explain why they are a hot trend not going away anytime soon and what you can expect when you try one.
Take control--choose them all
Instead of relying on the server's pick or your favorite restaurant's "house wine," wine flights—a small-portioned, multi-glass sampling of several wines—offer a great option to taste the many choices available. Because wine flights offer you a chance to try before you buy, they are an attractive option. You will receive a two-ounces sample of a few wine varieties and can choose to imbibe further by ordering a glass of wine or a bottle to share from those you sampled personally. With wine prices at $7-10 a glass for a standard six-ounce pour, these flights can be economical and adventurous. You no longer have to go on the referral from someone else or just settle on what you may recognize as a familiar wine of choice.
Wine flights generally come as small tasting samples in individual wine glasses ready for your swirl, smell and sip and are often offered in themed selections, like Colorado-made wines, Italian favorites, German Rieslings or South American reds. Most wine-savvy restaurants offer a list of their flights. The purpose is to get you excited to explore wine and maybe try out your own ideas of food/wine pairing with the items on the menu. After all, extending your palate is not a bad option.
Easy on the pocket book
You can expand your horizons without dropping a lot of dough. Most flights range from three to five two-ounce samples and range in price from $12 to $20. Some restaurants may not offer an official flight list but if you ask the bar manager or sommelier to arrange a flight for you, they will happily oblige. Manager Chris Hopkins at Leaf Vegetarian in Boulder, Colo. arranged his favorite reds as a flight for me to sample (Two Rivers Syrah 2011, Rodney Strong Cab 2009, Pinot Noir 2011) and charged me about the equivalent of a glass of wine. Katelin Westfall, restaurant manager and third tier sommelier of the adjoining restaurant, Aji, can take the intimidation out of wine by offering other wine flights suitable to their Latin American cuisine.
Restaurant owners benefit from offering this type of tasting tester. Many restaurants see it as an inexpensive way to get wine enthusiasts to try a wine that may not otherwise get noticed amongst the large list of options or a wine that is not selling as well as others. Still others may want to showcase certain featured wines to give them more play. I once saw "Supple, Succulent and Round Reds" and "Jammy Zins" on a flight list. Wines that are offered by the glass are good for the restaurant to use on a wine flight so they can profit from opening the bottle without wasting it. Since wine flights are a novelty right now, it helps the restaurants get more people to try it than if it were only available by the bottle, for example. I personally enjoy the chance to sample wine that I may not want an entire glass of or have heard of the variety but wondered what it would pair well with. Wine flights are especially great when you are new to the world of wine, traveling or even on a budget.
Typically wine bars or "wine serious" restaurants—like Café Vino, in Ft. Collins, Colo.—are the best places to go for wine flights. Café Vino continually offers new selections based on texture themes and pays particular attention to featuring food-friendly wines, not the typical "porch pounder" for a reasonable value. They describe the wine by mouth feel and texture, rather than location or varietal. For instance: "Flight 1—Fresh, crisp and vivacious." Then you just read further to determine the specifics of wine variety and price as well. The flight I tried included Project Paso Chardonnay 2009 and Charles Smith Pinot Griogio and Rose, both 2011.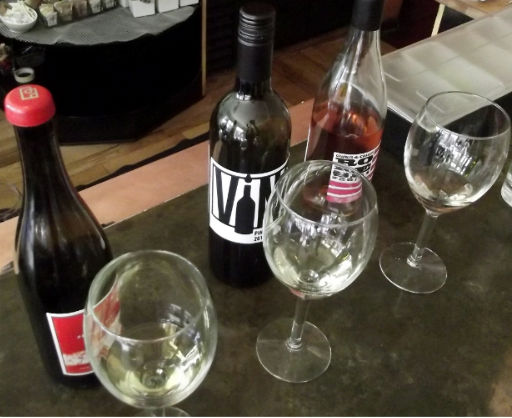 (Credit: Janine Buchal)
Wine flights are a fun and sassy way to explore wine without the pretentious confusion associated with long wine lists that read like a dictionary of foreign language. I find wine more enjoyable if I break it down a bit. With a wine flight, you can taste side by side and notice the supple nuances in oaked vs. un-oaked Chardonnay or the heat in a California Zinfandel compared to an old vine Italian Zinfandel. Regardless of your wine knowledge or preferences, choosing a wine flight to get on board with is a rewarding and fun experience.
---