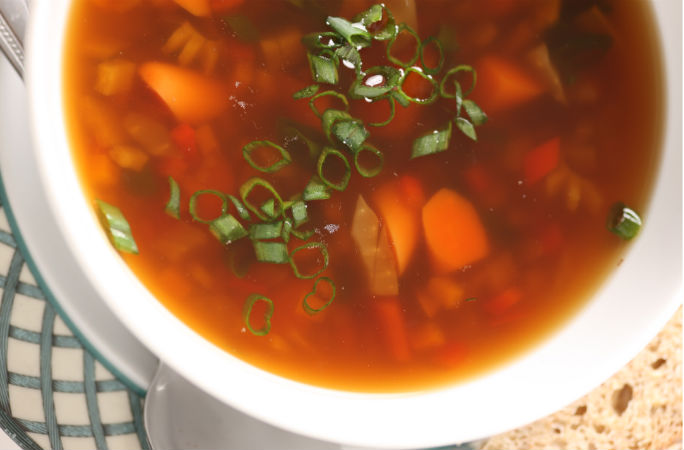 Harry's Pairing Note: Select a Sercial Madeira. Sercials are dry and brown like the soup, have nutty caramel flavors and aromas, and have the body to stand up to this flavorful soup.
Ingredients:
1 qt. brown stock of broth
¼ C. olive oil
½ C. onions, diced
½ C. carrots, diced
½ C. celery, diced
3 garlic cloves, sliced thin
½ C. Savoy cabbage, shredded
½ C. Russet potato, peeled and diced (For added nutrition, wash potatoes well and dice with skins on.)
½ C. lima beans
½ C. green beans, diced ½" length
Stale French bread, finely grated. Make sure there is no sugar in the bread.
Herbs: What do you like? Make it up as you go. Thyme, sage, tarragon, rosemary, oregano, coriander
To make the soup:
In a 3 qt. sauce pot:
1. Add the oil and heat. Use regular olive oil, not extra-virgin. Save the good stuff for the salads.
2. Cut all diced vegetables about the same size, then add onion, carrots and celery, sauté 3 minutes
3. Add garlic and sauté until the garlic gives off its aroma then add cabbage, potato, lima beans
4. Sprinkle salt and fresh ground black pepper over all. Stir and cook together for 1 minute longer.
5. Add broth, bring to simmer and cook until vegetables are still a bit firm.
6. Add beans and cook until crisp tender.
7. Bring to a rolling boil and drizzle in bread-crumbs.
8. Add herbs to taste, all finely chopped.
9. Adjust seasoning. Serve in hot bowls.
---