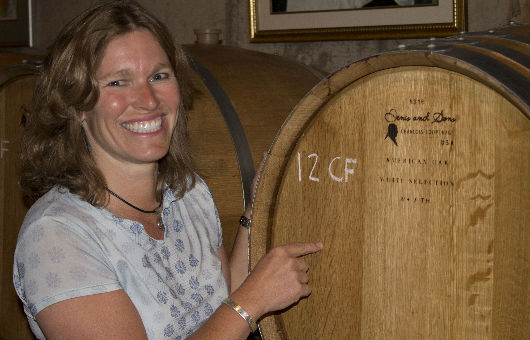 The fun thing about winemaking is the many variables to it and the thrill of creating flavors for every kind of taste preference, shares Michelle Cleveland, winemaker at Colorado's Creekside Cellars and self-professed red meat eater who enjoys a big Bordeaux and something to chew on. A Midwest farm girl, Cleveland was raised to appreciate the value of family, friends, food and wine, which led her down a career path involving agriculture, coffee and wine—all things coming from the land.
Cleveland loves the entire process of winemaking: from the dirt, to the grapes, to the bottle. She believes you've either got that love for the dirt or you don't. And Cleveland's got it. She loves working in the vineyard and knows first-hand the importance of experiencing and understanding the grape-growing process. Another belief: the importance of education and helping others along the way. Cleveland's acting on that belief by reaching out to those eager to learn at a class on enology and viticulture she's teaching at Metropolitan State University of Denver. She's a woman who enjoys bold reds, but doesn't want you to overlook the whites either. If you tell her you don't like whites because they're too sweet, she's likely to call you out on the mat behind that dislike and challenge you to look deeper because there's a full spectrum to wines and one doesn't reflect them all.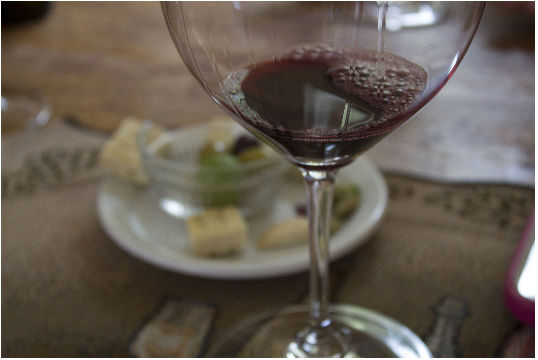 Cleveland understands the importance of balance, so when this busy winemaker and educator isn't working in the vineyard or winery, teaching a class or visiting with the patrons of Creekside Cellars in Evergreen, Colo., you'll likely find the outdoor enthusiasts enjoying the lure of the Rockies. After all, does it get any better than pursuing your dream career while enjoying the activities you love, all right outside the winery's doors? Meet Michelle Cleveland, Winemaker of Creekside Cellars.
RS: How did you become the winemaker for Creekside Cellars?
MICHELLE: I went to one of the Colorado Mountain Winefest Events over in Palisade and saw a friend of a friend who said, "Hey, there's a winery that's opening up in Evergreen." I've always loved wine and I've been all over and when I moved to Colorado I use to come up here to Evergreen to hike and bike in the mountains. I kept coming here and found out when Creekside Cellars was opening and I came in on opening day. I met Bill Donahue, the owner, and just over the years kept coming up here. Then one day I told him that I wanted to learn how to make wine and I wanted him to teach me how to make wine. I thought at that time, his wines were probably one of the better in the state. I liked his style, so I resigned from my job in 2005 and volunteered here.
RS: What were you doing when you resigned to go into winemaking?
MICHELLE: I was Director of Production and Distribution for DazBog Coffee Company in Denver at the corporate office. I'd kind of reached where I could go there, so I thought, I can either stay here or I can go for the gusto.
RS: Can I ask about your education/experience?
MICHELLE: I have an undergraduate degree in agriculture from the University of Illinois. This was my first experience and after I worked here for a year I enrolled in the graduate certificate program from UC Davis for Enology and Viticulture and went through all that online and did all of my hands on here. I am a firm believer in getting the education needed.
RS: How long have you been the winemaker?
MICHELLE: Since 2005 with a little help and around 2007/2008 is when this became my baby. You know, education to me is key and I think that's probably one of the downfalls for Colorado wine; not enough education about winemaking. It's important to me, so I'm constantly pushing for education. I'm on the Colorado Wine Industry Board, President of the Front Range Winery Association and I also teach at Metro. I'm willing to help anybody in the state if they want help, not that I have all the answers. I just want people who are really closed-minded about Colorado wines to be more open to them.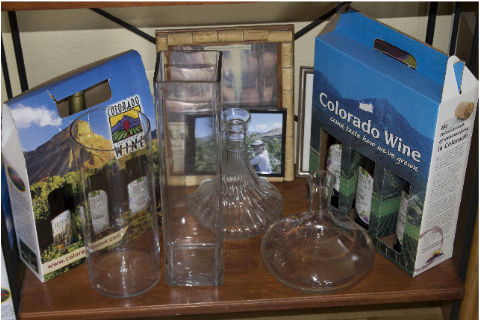 RS: Do you have a favorite grape varietal you like to work with?
MICHELLE: Cabernet Franc! This is the grape I promote as the Colorado Grape. It doesn't require as long of a growing season, so it ripens a lot earlier and is probably the most consistently made wine here in Colorado. And really, no one has taken claim to this grape, so I promote it as Colorado's Cabernet, which you'll see on my label. The label for my franc is my pride and joy.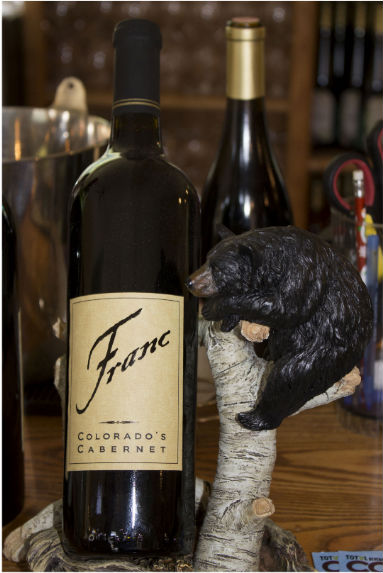 RS: What do you feel is the main factor women look for in wine?
MICHELLE: I'll tell you a good story… So, I'm helping this guy writing a book and we're having to taste a lot of wines and then do write ups on them and rate them. The men's results, as compared to the women, were completely different. We have way different palates and that was proof in this little tasting. So, I think women look for aromatics. Women are a little more patient and I think aromatics play to that which is why it's so important to me to have really good aromatics on our wine. If you can't smell, then you can't taste. If you can grab their attention right away with the aromatics, then you can sell them on the products.
RS: This was an old gas station, so what was the goal from the beginning here?
MICHELLE: Creekside Cellars started as a deli style restaurant and winery. Over the years it's matured and become more of a sit down, full service restaurant. We just fine tune it every year. The chef makes daily specials and she changes up the menu a couple times a year to make it more seasonal. We really believe that food and wine need to go together. You know, to have a winery is one thing, but in order to make it easier to sell the product, we have to have food with it. And because of that it allows us to sell about 99% of our wine from this location.
RS: Where do you get your grapes?
MICHELLE: We own a winery along with a 10-acre vineyard up in Palisade. In addition to that I buy from three other growers. So, that brings our production up to about 3,000 cases a year. The grapes are harvested there, shipped to me here on refrigerated trucks and everything is produced, processed and aged right here in Evergreen.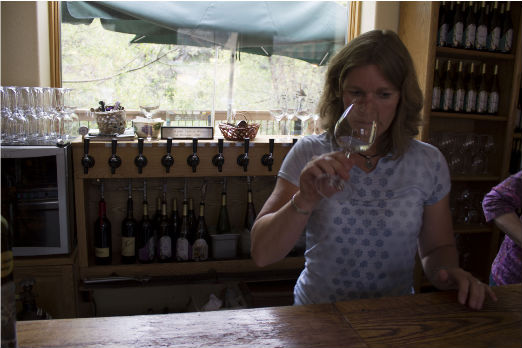 RS: Can you share a little about your winemaking process?
MICHELLE: Well, winemaking is a process. Everyone does it kind of different, so I'll give you a brief synopsis of what I do: red grapes come in, I de-stem them, then pump them into open top fermenters. I don't ferment the reds in the steel tanks. I start them in a smaller container where they cold soak from anywhere between 5-7 days and then I inoculate them, adding the yeast. They'll start fermentation in those bins. Then, when the sugar level reaches where I need it, I pump everything out of those containers into the press and I press off the skins and it goes into a steel tank where it sits in there for a day and settles out. Then I move it to another stainless steel tank, and then it goes into the barrel. What I'm trying to do is clean it up as much as I can prior to it hitting the barrel. It goes into the barrel and before Christmas it goes in and out of the barrels two times. We call that racking. Then I typically leave them alone until we're ready to bottle. There's one exception…I had this barrel custom made for us. It's a lot bigger, it's got a larger bung. When my red grapes come in I de-stem them and I pumped them directly into these larger barrels instead of the open top fermenter. They cold soaked in here, they fermented in here and when it got down to where I needed the sugar level I pumped everything out and I pressed it, rinsed out my barrel and pumped it back in. That batch literally saw oak from day one…my Robusto, it's kind of an experiment. In California they're pulling the heads off the barrels and doing that process. We thought, why not have them make us a custom barrel with a bigger bung hole so I can get my muss pump in it. So just a little experiment we were doing.
I'm not afraid to try anything. Do I bind and filter my wines? Absolutely. A lot of wineries don't do that, but I do. I like clean wine. I'm educated and I know what sediment is and a lot of customers don't, but if I can get the wine as clean as I can, I want it. It's all about appearance.
RS: Anything people might find interesting that they wouldn't know just by looking at the winery?
MICHELLE: Our bottling crew is local volunteers. There are a lot of retirees and locals that live around here and the community is real tight and they enjoy being a part of this process.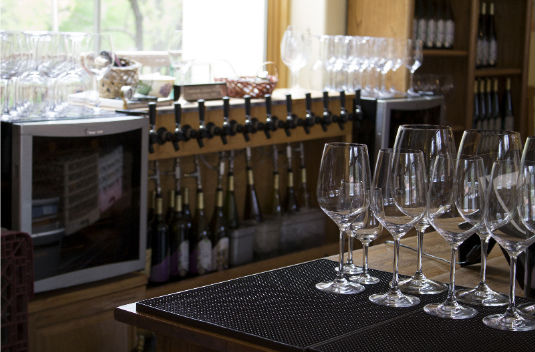 RS: Can you share what makes your wine club special?
MICHELLE: We're doing limited production wines that are only available to wine club members and not to the public for purchase. For instance, with my zinfandel, I only did a 30 gallon barrel of it, which is like 12 cases. It's a quarterly club, so you get three bottles four times a year. It's typically under $100 for all shipments and most people come here to pick them up. I wanted to take special grapes and create something different to give them a reason to join our club. We also have our own labels for the club wines. I always feel like the growers never get any credit, so my wine club labels focus on the grower, the winemaker and the relationship we have with one another. It's all about the stories.
RS: What is your favorite part of the winemaking process?
MICHELLE: The crush—the level of intensity; it's like you're in a constant state of euphoria. All this energy and you're working a lot, it's almost like you're on a grape high. I'm the first stop on the truck as it's coming over from Palisade, so I'm here at 5 in the morning unloading, setting everything up in the dark, and just that whole process. Customers love it. The other fun thing about crush for me is that my mom comes to help. She and my dad come in from Illinois and she comes out every year to help me with the crush. She comes out for like three weeks and gets up with me. It's an exciting time and the last time I have to use the press, Bill will always bring me these ribeye steaks that are big and thick and we eat ribeyes as that means, this it…the end of crush. There's all these fun things, but I love the crush.
RS: Are your wines met to be drunk right away or aged?
MICHELLE: What I say is we age our wines for a little bit longer than most Colorado wineries, I have a full spectrum that we'll taste through upstairs , I do have a lighter red that you can drink right away , now I'm not saying that you can't drink my heavier reds right away, but they have age potential. We like big reds, but since I've been on board I have backed off on the oak in regards to the toast level, so we rarely use any toasted oak which will obviously change the flavor and aging of the wine. I'm a big red meat eater so I really love the big Bordeaux and something to chew on. I love our high end red, the Robusto. That's the fun thing about wine making, there are so many variable for making it.
RS: Do you ever go up and work the vineyard in Palisades?
MICHELLE: I do. You know, I'll go out there about a half-dozen times in a season and there's always stuff to do. I love going out to the vineyard. I think that it's important for winemakers to do and to understand.
RS: Do you have a favorite wine and food pairing?
MICHELLE: The Cabernet Franc and ribeye steak. I love ribeye medium rare. My grandfather was a butcher and we ate really nice meats, so I love meat.
RS: If I were going to produce a movie about you and your adventures in winemaking, what should the title be and who would play you?
MICHELLE: Well, I love Julia Roberts because she's pretty and she's smart. What would I name a movie? Now that's harder… The wine board is making a documentary and they have titles for the winemakers they're interviewing and mine is, The New Guard, because I'm kind of the new one trying to make a big impact. That might work or A Girl and a Bung Hole.
To learn more about Michelle Cleveland and Creekside Cellars visit their website, like them on Facebook, and follow them on Twitter. Stop by and tell her WineTable sent you her way. Then join us on WineTable for more fantastic wine information and follow me, so together we'll continue to discover the wonderful stories of the women in wine and spirits.
Want to read more about women in wine? Check out our other articles in the Women & Wine series >>
---