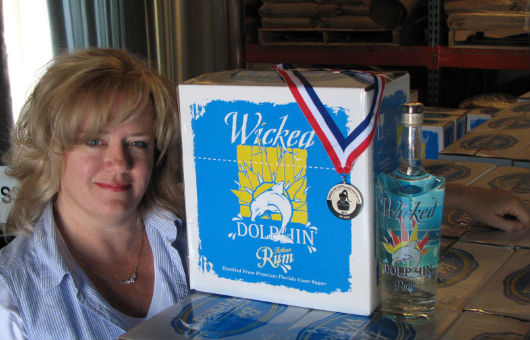 "Why is the Rum gone?" ~ Jack Sparrow
There is a tale of a wicked dolphin, where legend has it, a dolphin led a pirate's life like the great buccaneers of old: marauding, cavorting and drinking the finest rum he could capture. It is this spirit captured in Wicked Dolphin Artisan Rum, made in Cape Coral, Fla., that Cape Spirits Owner/President JoAnn Elardo is betting on. Odds appear favorable as she recently took home the Best of Category – Silver Medal from the American Distillers Institute for her white rum at the 2013 ADI conference held in Denver, Colo., the first week in April.
Elardo was a featured speaker during the ADI conference on the Women in Distilling panel where she shared wisdom on branding spirits. She offers sage advice based on a long career including running an international sporting goods manufacturer, distributor and retail store group until retiring at 45. This dynamic woman didn't stay retired long as she looked around her community, sipped on bad rum and discovered a passion to bring premium, crafted rum encompassing the people and agriculture of Florida to the area. As a founding member of the Florida Distillers Guild, she has contributed to a bill under review in the Florida Senate that would allow craft distilleries to sell spirits on-premise.
Meet Joann Elardo and enter into her world of spirits.
RS: How did the name Wicked Dolphin come about?
JOANN: I have a nice property right on the river and it sits on a point. I have two big dogs, a lab and a golden retriever, running around out there every day and one night I'm watching them and they're just playing with the dolphins. They're running back and forth, up and down the captain's walk and you can see the dolphins are playing with the dogs. About 8 p.m. one night we're watching him going up and down, up and down to the window and I'm thinking, what is he doing? We go to bed and our room overlooks the water, and all of a sudden you hear this swoosh, swoosh. It's the dolphin outside blowing air with other dolphins splashing around. I thought my husband was asleep and suddenly you hear the dog growling over by the window and my husband says, "That wicked dolphin is back." I was laughing, but I woke up in the morning going, "That's the name. Wicked Dolphin, that's the name."
RS: Why is branding your distillery important?
JOANN: For me this is a business. Some people like it as a hobby, but for me, we've got families we need to feed. We have employees and we've got to support them. Marketing your brand and getting your brand out there takes building a distillery and a brand business. You can build a brand and build it local, but we tend to think of a national or international brand, so that's something we're doing. I started thinking what product we have around that our city can be known for. I noticed the sugar fields around and I thought sugar, rum, all the ingredients are here in Florida, and rum is tropical. Florida should have its own rum. We wanted to develop a product that could use resources from our surrounding area and that's what we're doing. Wicked Dolphin rum is made from sugar cane [grown] 40 minutes from our home. We're working with the citrus farmers that are down here. We don't use much transportation, so we're proud of that.
RS: Does rum get better as it ages?
JOANN: Yes, but not in some cases. The wood can only give you so much flavor. And then after, it's just sitting in there and then it can go bad, if something happens to that barrel. So, you have to constantly be checking them, not daily, but monthly, quarterly; just to see what flavor you have. Being a good spirit blender or distiller, you're going to know when it's done and ready to be bottled. You know when you hit it full flavor.
RS: Do you have a signature rum?
JOANN: Right now we have our silver rum that just won an award. We'll have an amber rum and in fact, we are doing a spiced rum that will be out in about three months. Spiced rum is one of the best-sold rums as everybody likes a spiced rum. Rums have a good flavor with Coca-Cola and rum feels tropical, so it's just popular.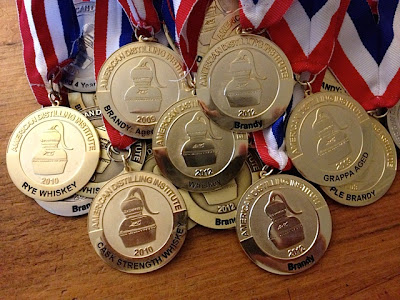 RS: Tell me about your award.
JOANN: It's the first time I've ever entered a competition. It's actually the most important one because this one is judged by your peers; actual industry professionals and master distillers. There are a lot of awards out there and you enter them so you can advertise with them and stuff, but this one is very special. It's our first and we went back to the drawing board and kept tasting and blending. I had our distiller, my nephew Dan, mad at me. He's like, "its real good Aunt Jo" and I'm like, "I know, but we're not there yet." We got it right though. This is a special win.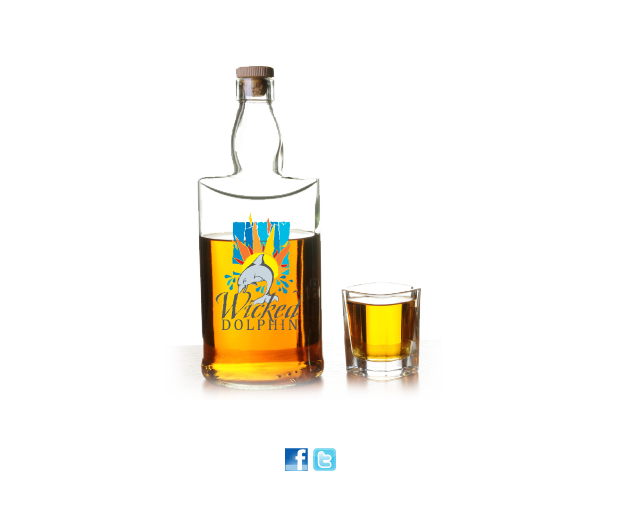 RS: Tell me about your bottle as it's got a great shape and look.
JOANN: I designed the bottle and I own the mold. In building a brand you take everything into consideration. We live in a tropical place, so the bartenders do a lot of shows at the beach and resorts, so they wanted a good fit in their hands. And some of the wait staff and smaller bartenders pour from the bottom, so we tapered it to be an easier pour. Then we did the raised writing for the grip because of the humidity. We did a lot of testing, too. We went to the retailers and said we're going to sit on your shelves, so how do you want to see us. It doesn't look like a rum bottle but that's what we wanted. We wanted something that people could take home and something a little different.
RS: Can you find Wicked Dolphin outside of Florida?
JOANN: Not right now. We've gotten a lot of interest outside the state, but we're going to start by focusing on Florida. But probably in about four months, you'll be able to buy from us directly. Or, you can come to Florida and pick up some to take home. This brand reflects the state. When you come to Florida, besides a couple good photos, oranges and honey, there's not a lot of products made here. We're allowed to put Florida rum on our bottle because everything in our rum comes from Florida.
RS: What advice would you share with another woman looking to get into spirits?
JOANN: If you're building a brand, you have to be serious and you have to know the consequences. When I started, there were a couple of things nobody was really upfront and told me about how it was going to be and I think it's very important. One of the things I was trying to get across during the panel and tell people is this is 24/7, it's working till you can't open your eyes.
RS: What have you found interesting since getting into the distillery business?
JOANN: I'm just starting to visit a lot of distilleries and it's very interesting how they tend to reflect a person's personality. It depends upon what they want to do, but you can see where it's going and you want to keep it fun as we're artisans, but there's a lot of work that goes into this. It's not just about running it through a still. There's a lot of time watching and measuring, pouring, weighting and cooking. It's interesting seeing everyone's personal take.
RS: Any future branding plans we might want to hear about?
JOANN: We have a friend, who's a famous chef from New Jersey that took some of our rum and created amazing rum cakes that are getting a lot of interest. Then, I've been making rum barbeque sauce for a while, so we're really growing Wicked Dolphin into a brand.
To learn more about JoAnn Elardo and Wicked Dolphin Artisan Rum visit their website or like them on Facebook. Then join us on WineTable, follow me and together we'll continue to discover the wonderful stories of the women sharing their passion for wine and spirits.
Want to read more about women in wine? Check out our other articles in the Women & Wine series >>
---