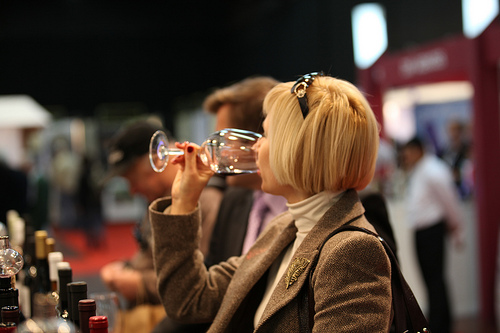 [Credit: StateofIsrael]
Wine over the decades has become a passion and lifestyle for many women, as we see women exploring the world of wine beyond consumerism. While women have become the main purchasers of wine in American households, they are taking more prominent positions within the industry as well. There are a few trends at work here: women are realizing the social aspects of wine and have become the main household purchaser of it. In a developing parallel, women are also embracing the science and hands-on nature of wine-crafting in ever greater numbers. Look closely enough and not only will you find women enjoying wine, but you'll find them shifting into careers that were once led mostly by men: winery owners, wine makers, sommeliers, chefs and more.
This series on women and wine will introduce you to some incredible women who have taken their passion for wine and turned it into a lifestyle and even a career. You'll meet women at various stages in their journey; some will have grown up with wine as part of the family tradition, while others will have discovered this passion later in life. You're going to hear their insights and stories of how they came to where they are today and what they see for women and wine in the future. If you're wondering why a series focused on women and wine, simply stated: women bring a vastly different perspective into the world of wine.
Women buy and drink the wine.
Women are becoming formidable partners in the decision on what's being bought and consumed in their households. According to The Beverage Information Group's 2011 Wine Handbook, women make up nearly 60 percent of the U.S. wine consumers. Other reports put our sex accounting for over 75 percent of wine sales in the United States. We also tend to drink for different reasons then men. Men tend to be more pragmatic—they want to share their knowledge and tend to be the market that leans toward the more expensive, collectable wine. Women on the other hand tend to be more social drinkers: we connect on a more emotional level with our wine and the reason we're sipping. Our purchasing perspectives are based more on the "who" and "why" were drinking than on the collecting of wine. That said both women and men can just as easily spend a little or a lot on their wine purchase depending on their personal goals.
Women are stepping into the industry, both to highlight and lead the way in the wine lifestyle and to make the wines.
While numbers suggest women are starting to make their mark in the wine world, we're still at the beginning of this journey. Out of the more than 3200 wineries in California, women lead only around 10 percent. Those numbers are set to improve as women step into the spotlight of the wine world and share their tastes, preferences and lifestyles. There are wines in the market today that are reaching out specifically to women and our interests: Mommy Juice Wines, The Middle Sister brands, Skinny Girl, Mad Housewife, Wild Women Winery, Little Black Dress and others. Women, such as Jessica Altieri of Wine Channel TV and Leslie S'Brocco of ThirstyGirl are combining wine and lifestyle guidance to reach the market of wine drinkers who might not yet understand the formal parts of wine, but know they enjoy wine. There are women winemakers, such as the Antinori sisters who are the first generation of women preparing to take the reins of one of the oldest family wineries in Italy.
There is a synergy in today's market between women and wine and this series hopes to bring that to you. I invite you to come along, starting next week as we get a personal look into the women that are paving the frontier for future Women in Wine. Join me here at WineTable, and if you know of someone whose story should be shared, please feel free to contact me.
Salut!
---