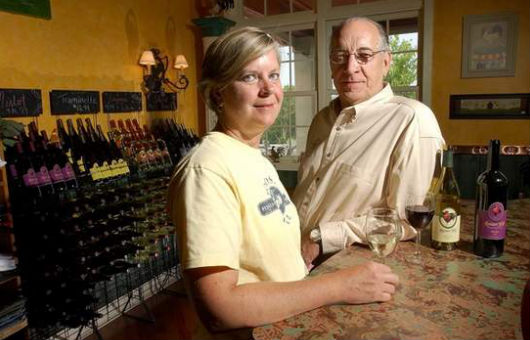 On Keuka Lake in New York's Finger Lakes Wine Country, sits Rooster Hill Vineyards, a winery that exudes the entrepreneurial spirit of its president, Amy Hoffman. Her heritage is sprinkled throughout the winery and can be felt in roaming amongst the named vineyards that give tribute to family who raised her to be the woman she is today. Hoffman is proud of the lessons shared—from her great grandfather's days of selling peanuts on New York City street corners to owning his own ginger ale bottling plant—and has taken that heritage of hard work to heart and transferred those passions to Rooster Hill Vineyards.
Visit the vineyards and you'll likely find Hoffman amongst her grapes covered in dirt trying to outsmart Mother Nature's surprises. She's proud of the 230 medals her wines have won and will tell you her estate winery is not smoke and mirrors, it's the real deal. Hoffman doesn't make special batches to enter contests, but rather makes a full batch and then—if it's special enough to enter a contest—will submit it. That's important to Hoffman; to know that if a bottle wins an award, that every bottle in that batch is award-worthy.
Meet Amy Hoffman as she shares her experience and thoughts as a woman in wine.
RS: What was your "A-Ha" moment when you knew wine was going to be your career?
AMY: Well, it didn't really happen that way for me. We fell in love with the Finger Lakes in 1994 when we rented a home for a week. We continued to return to the area for vacation and continued to think about living here. One year, on our way to the airport, my husband and I decided that we were going to live here and make it happen. At this point, I was working as a Sr. Exec in the computer industry but was bored with the corporate gig….meetings, budgets, travel etc. So, I decided to start my own consulting firm and quit the corporate job. I am an entrepreneur at heart and have had some business cooking since I was eight years old. So, we explored the area, put the MBA to work in analyzing what looked feasible and discovered a burgeoning wine region. I have to be honest, in 1994 I was somewhat impressed with wine quality and the more homework I did, I realized there was room for improvement and that is where we would enter the market by producing higher quality wines and really elevating the customer experience. It was important to me that we have the whole story—growing grapes, making wine in our own production area and of course, [opening] a beautiful tasting room. We strive for quality and a more intimate wine experience. We are not interested in busloads of people. We are interested in selling very nice wines to wine enthusiasts. After all, it is important for us that we truly enjoy working at our business and developing relationships with our loyal customers. So, I scaled back consulting and bought a 7-acre parcel of land that had old native grapes. We played with these a bit, learning etc. but eventually just ripped them out and bought an adjacent parcel of 27 acres next door. At this point, it was an all-out realization that we are going into the wine business. I like to say we built the business from "in the ground" on up. We literally learned to install drainage tile (5000 feet in our first 3 acre vineyard). We are hands-on people. We planted grapes, weeded them, tied them, put in posts, pulled wire, and all the other things you do. The first three acres were planted in 2002. We also hired an architect, designed the winery and tasting room and started construction in July 2002. The tasting room opened in May 2003. Initially, we bought grapes from local growers and sourced some from Long Island as our grapes would not be ready for at least three years. In 2004 we planted another 4 acres. This time we got smarter and hired people to put in drainage tile and had it laser planted. Some of the hand planted rows in the first vineyard are not really straight! (My doing!)
RS: Why the name Rooster Hill?
AMY: I chose the Rooster as our logo because I am half Italian and in Italy, the Rooster is a symbol of good luck and longevity.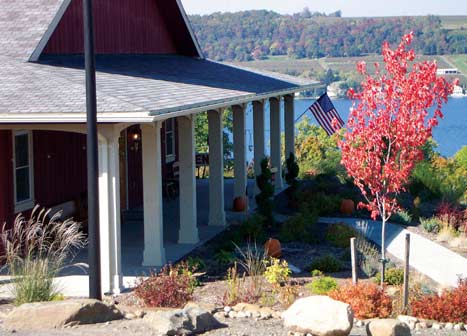 [Rooster Hill / Amy Hoffman]
RS: What is your favorite food and wine pairing?
AMY: I actually have two—I love a NY strip steak cooked on the grill with Montreal Steak seasoning with a nice full-bodied Cabernet Franc. And, a crisp Dry Riesling with a steamed Maine lobster dipped in butter.
RS: What makes the wines of the Finger Lakes special?
AMY: There are three things in my mind that make our wines special. First, our wines represent the place they are grown which makes them unique: the terroir (soil) that was deposited by the glaciers many years ago. The climate, being cooler, really preserves the acids in the wine and encourages the flavors to develop more slowly so that they show more complexity. And finally, they are lower in alcohol which makes the wines very food-friendly and much more enjoyable.
RS: What do you feel women bring to the table in an industry that is dominated mostly by men?
AMY: I think we bring the same thing no matter where we work. Women are free to evaluate and problem solve without having to live up to some stereotype. I am a coach trying to give my team the resources to allow them to do their job. I do not micromanage. I hire very bright, talented people and encourage them to do their job. There are times I have to push them to get them to achieve greater things, but that is what coaches and leaders do all the time. Encourage, motivate, support etc. I really enjoy working with my staff and have always had that no matter where I worked.
RS: What is one piece of advice for women who want to pursue a wine career?
AMY: You have to be willing to learn and do it all. You have to be able to interact with men in the vineyard, a wide range of customers and employees. You have to truly enjoy working very hard, and being personable.
RS: Do you have a favorite toast you like to share?
AMY: "May our house be too small to hold all our family and friends."
RS: Can you share something about Rooster Hill or yourself that most people would not know?
AMY: I have a secret desire to be a standup comic. And, I play ice hockey! And I like cigars!
RS: What do you feel is the number one factor women look for in a wine?
AMY: Women tend to make most of the buying decisions and I think they want a very good, quality product at a fair price. They look for an attractive package and want to connect with the wine and know the story. I find, at least here, women are very loyal once they find something they really like.
RS: What woman from history or current, rather real or fictional, would you compare yourself too?
AMY: I liked to think I'm a hard worker, but I still want to have fun and not take myself too seriously. I guess I've got some Hilary Clinton and Ellen DeGeneres in me.
RS: How do you and Dave balance owning/running Rooster Hill together?
AMY: We are pretty clear on the division of duties; I work mostly on marketing/sales, production and the vineyards. Dave's operations and finance. He somehow manages to pay all the bills and make us some profit. He works his magic in that area, but will also come out in the vineyard. We consult with each other regularly too.
RS: You wear many hats at Rooster Hill, which role do you enjoy the most?
AMY: Being in my vineyard on my tractor. I love being outdoors and the challenge of growing raw material. Watching the grapes grow through the stages of the seasons is really cool and I enjoy the battles against Mother Nature and seeing if I can outwit her. I'm happiest on my John Deer tractor in the fresh air and sunshine.
To learn more about Amy and Rooster Hill Vineyards visit their website or follow them on Facebook. You can also join us here at WineTable and then follow me for more adventures with the women of wine.
Want to read more about women in wine? Check out our other articles in the Women & Wine series >>
---