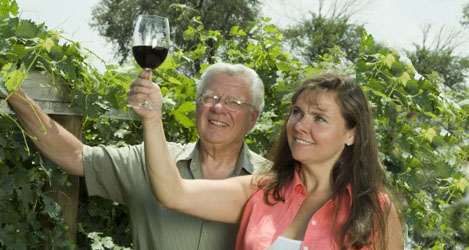 Commerce City, Colo., isn't exactly a hub of tourist activity where you'd expect to find a winery, but In the midst of this industrial community sits an oasis welcoming wine lovers to pull up a chair and visit with the winemaker's family while experiencing award-winning Colorado wines. Julie Balistreri, "The Winemaker's Daughter," along with her father, John, share their passion for making fruit-forward wines in the traditional methods that her Great Grandfather and Great Uncle taught her dad when he was just a young boy. Balistreri doesn't remember a time when there wasn't a barrel or two laying around the house to be shared amongst family and friends, so when circumstances called for a change, it was only natural to turn her father's hobby into the next chapter in the family business. From truck farmers, growing and selling vegetables, to running a cut flower business, to owning the winery…this is a family with a rich tradition of working together.
Balistreri is mother of four and assists in the winemaking. She also runs the day-to-day business—talking with the grape growers, working in the wine lab, organizing events and more. While the winemaker and the winemaker's daughter tend to grab the spotlight, a visit to Balistreri Vineyards wouldn't be complete without meeting the winemaker's wife, Birdie, whom on any given day you'll likely catch visiting with guests in the tasting room, along with various children and grandchildren pitching in to help around the winery.
Balistreri beamed as she showed me around the winery, explaining why making the wines like her father has always made them is so important to her. So, without further explanation, let's hear from the winemaker's daughter herself.
RS: I have to ask, as I was surprised to find a winery in this location. Why Commerce City?
JULIE: Yes, it's a bizarre location for a winery, but the reason we're here is because my dad's family has been here since the early 1900s. As my dad would say, they use to be truck farmers. The family use to grow vegetables on the land around the winery. Then in 1965 my mom and dad started growing cut flowers so, we were big cut flower growers. We use to truck 10,000 flowers out of here daily and when most of that market went to South America, we had to find something else to do. My father's been making wine since he was a little boy, so in 1998 we got licensed to make wine commercially and that was the first year we started the winery. I had gone up to school at CSU and then quit to come home and help my parents out with the flower business. Which, in turn, is what got me into the wine business.
RS: Would you call that the "A-Ha" moment when you knew wine was going to be your career?
JULIE: Basically, it was a way of surviving and helping my family; there's just myself, my mom and my dad who started the winery. We got through all the paperwork and everything to get licensed and we produced only 22 barrels that first year back in 1998. Then we built our little building in 1999 and released our first bottle in February of 2000. We had both business for quite a while, keeping the cut flower business until 2006. Then we tore down the rest of our green houses and focused on the winery. We gradually increased our production of wine every year as the business grew. You know, we didn't really have any budget to advertise or anything; it was all word of mouth and such. Our first wine started winning international competitions and I think that really helped us. We knew the few customers we had really liked our wine, and we knew that we liked our wine, but I think that when you have a little back up from sending them off to an international competition—where they're tasting them blind and don't know where those wines come from, and early on we won some very nice medals—it helped us realize that we make some decent wines. We were excited when we won a double gold in San Francisco on our Syrah as it was competing against 30-something Syrahs from around the world and ours won double gold. At least the judges liked them.
RS: What has been the best lesson learned working with your family in the winery?
JULIE: I think it's always a challenge between myself and my mom and dad. You know, my mom's not really involved in the wine making, but there's my dad and myself. I think what's really great about my dad is, he keeps everything really grounded and I think that he and I see eye to eye really well. So, I don't think I've had to learn any lessons per se. But the way he makes his wine has helped me realize that it's so important to continue on making wine traditionally and naturally the way we always make them.
RS: What makes Balistreri wine special?
JULIE: We make everything completely natural. Every batch we make goes through a certified lab to make sure there's no sulfates in the wine, so it's a very, very natural approach. We make wine the way my father's always made his homemade wines, only we do it on a commercial level. We have over 280 barrels around here and we produce about 60,000 bottles a year. So, we're not tiny, but we're not huge for a Colorado winery either.
RS: I don't see steel tanks. Is that due to your winemaking process?
JULIE: Yes, that's exactly why you don't see anything like steel tanks. Everything goes from the primary fermentation vat directly into the oak barrel and stays in the oak barrel usually for a minimum of 12 months. Then when the grapes get ripe in the fall we start bottling to free up the barrels for the new crush that's coming in.
RS: Without steel tanks, how are your white wines made?
JULIE: So, our white wines are made very differently; they're called orange wine. If you Google orange wine on the Internet, there are winemakers around the world that make white wines the way my father does. They are white grapes that you crush and leave them on the skins just like you would a red wine. Normally, what they do with white wine is they crush white grapes and they press off the juice and they only ferment the juice. Whereas, we leave the juice on the skins and it picks up that honey color from the grape skins of the grape. Our whites also are very full bodied. It's like if you closed your eyes you'd be drinking a red wine instead of a white and that's because there's a lot of body in the middle of the palette. They're not crisp and clean like most white; they've got the body of a red wine and they also have the tannin structure that is going to hit you at the end like a red wine. They are really different, really unique.
RS: I love your bottles and labels. Can you elaborate on them for us?
JULIE: Instead of showing tampered-proof bottles for the feds using tin, we use dipped wax. It used to be if you had a dirt cellar, they would wax the top to keep mold from getting into the corks. Now, that's not why we use wax, but we hand dip or I should say, my guys hand dip over 60,000 bottles a year and it looks awesome while serving a purpose. What's unique about the labeling is the label itself. We put a hand stamped barrel number on the back of each bottle. We buy our grapes from several different growers on the western slope, but, instead of blending, say, all our cabernet sauvignon together in one batch and blending the grower together, our wines are single-vineyard. Instead of making one Balistreri cabernet sauvignon, we have three that are vineyard designated and they're very different from each other because they'll pick up the terroir from where they're grown. They may be two miles away from the other guy up on the western slope, but one cab taste different than the other cab, as they really pick up the flavors in the terroir where they're from. Wineries all over do that, the single vineyard wines, but these are definitely very true to the vineyards of Colorado where they came from, and we like to give that guy who grew the grapes a little recognition. For example, Lovies Vineyard is this older couple and their last name is Loveland so they call their vineyard Lovies Vineyard and that's what we put on the back of the bottle with the barrel number, so you always can match the wines you enjoy with the vineyard the grapes came from.
RS: Do you have a favorite food and wine pairing?
JULIE: No, I don't really. If you have a really well-made natural wine it should be food-friendly. I think we find that in most of our wines, and we drink other wines as well as our own, but I think you should drink wine that you like and eat the food that you like and most of the time you're going to find that because you like both of those, it's going to pair up nicely. If you like things, it's going to go together for your palate.
RS: Do you have a special toast you use around the tasting room?
JULIE: We use "salut," but we also say "Cent Anni," which means 100 years to you. It's a Sicilian quote.
RS: If I were going to produce a movie about the family's journey into the winery, what would the title be?
JULIE: Oh my goodness. My title around here is the Winemaker's Daughter and everyone always says that sounds like a movie. I say yeah, it's a real saga. That might be usable.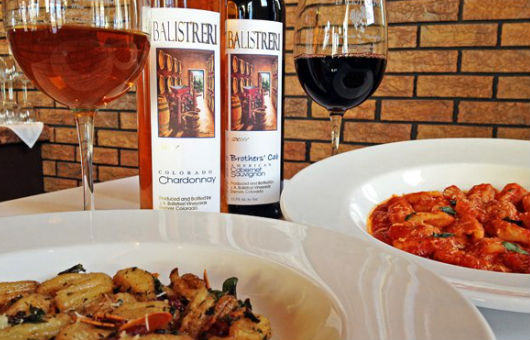 RS: Care to share about the events area at the winery?
JULIE: Our new building is about a year old and my dad designed it. For a wedding we can seat 250 inside, but we can do larger things when we can get outside. We do an Italian wine-and-movie night and we usually have around 300 people or more for that. We set up tents, and serve pizza and gelato. It's like dinner and a movie. We also have jazz concerts and our Annual Harvest Party where we release all our new wines. We've had 14 weddings so far this year and each one has been extremely different. We can host an event afterhours or during depending on the size of the group and we're open seven days a week from 11am to 5pm. Our kitchen facility is open daily for lunches with antipasti and small plates too.
RS: What would be something most people might not know about Balistreri Vineyards?
JULIE: We have a barrel exchange going on with Stranahan's Colorado Whiskey. How this works is, he got two of our Little Feet merlot barrels after we bottled the wine and he took the barrels down there and ages whiskey in them. Then, when I get them back, I think of something fun that we could put back in them and then it will be a special wine release. The last one we did was a Port. They took our 2008 Cherry barrel and aged his special Maroon Bell Whiskey and did a special release too. So, we have this little barrel exchange going on with Stranahan's.
To learn more about Julie Balistreri and Balistreri Vineyards visit their website, like them on Facebook, and follow them on Twitter. The join us on WineTable for more fantastic wine information and follow me, so together we'll continue to discover the wonderful stories of the women in wine and spirits.
Want to read more about women in wine? Check out our other articles in the Women & Wine series >>
---