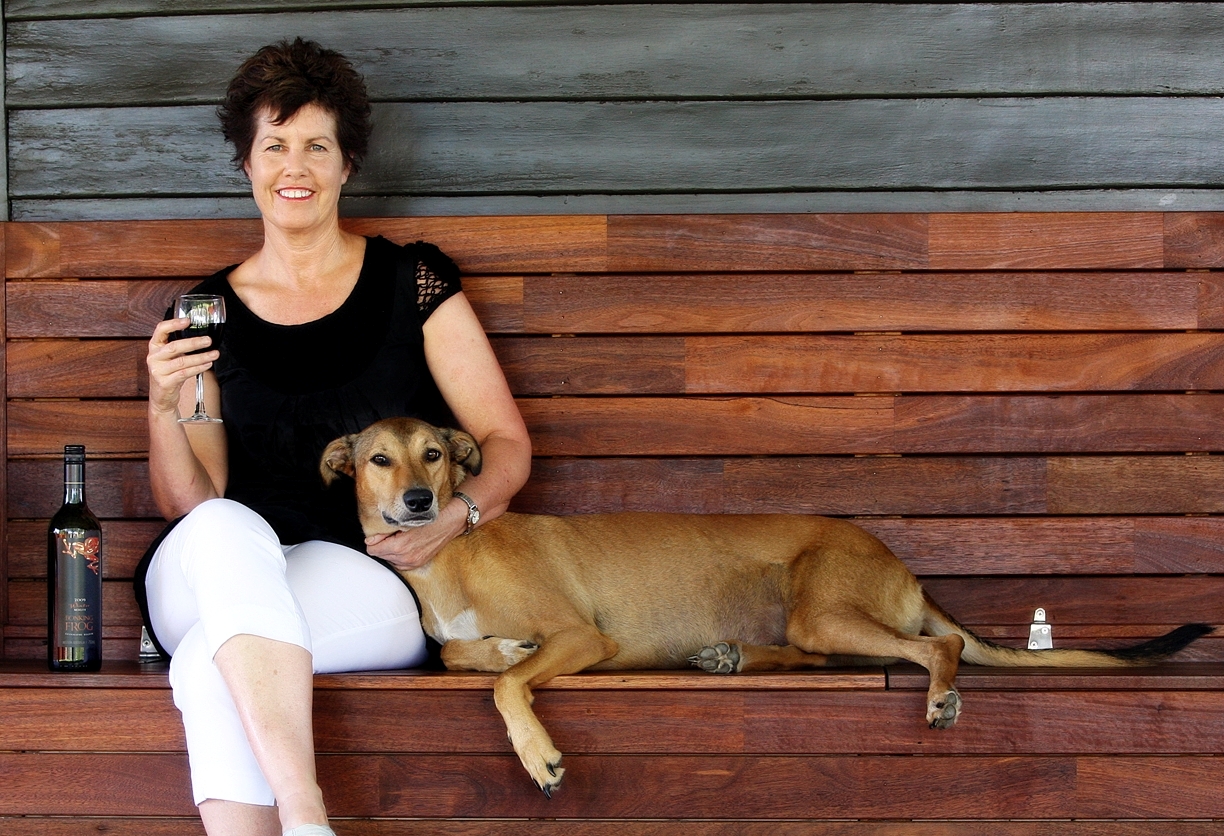 Mention frogs and wine in Bunbury, Australia, and the locals will most likely send you to the cellar door of Bonking Frog Wines. You'll be greeted by Julie and Phil Hutton as they share their love, laughter and passion for all things merlot and frogs. Hutton was a townie, according to her husband, when they married, working in admin with a strata management business. Her jump to grape grower came when her children were 4 and 10 and she and Phil planted their vineyard focusing on merlot in the Geographe Wine Region in Western Australia, just two hours south of Perth.
Hutton will tell you she's blessed to live in this wonderful up and coming wine region. Her vineyard is ideally placed along the Preston River within range of the sweeping ocean breezes. She believes the vines, like the spirit of the region's residents, thrive in the warm sunshine and relish the cooling afternoon breezes that roll in from the ocean. When asked about the frog connection to her wine, she'll smile and tell you that the frogs belie their fragile nature to survive the harsh Australian climate with gusto, just as her family does. Land, water, rain, sun—these frogs' spirited determination is the inspiration for the wine's name, label and the couple's objective. And if it's true that frogs are a good indicator of the health of a natural environment, then Hutton and her husband must be doing something right in their vineyards—you'll most likely find those adventurous little guys in the bathroom, the buckets and even their boots in the morning.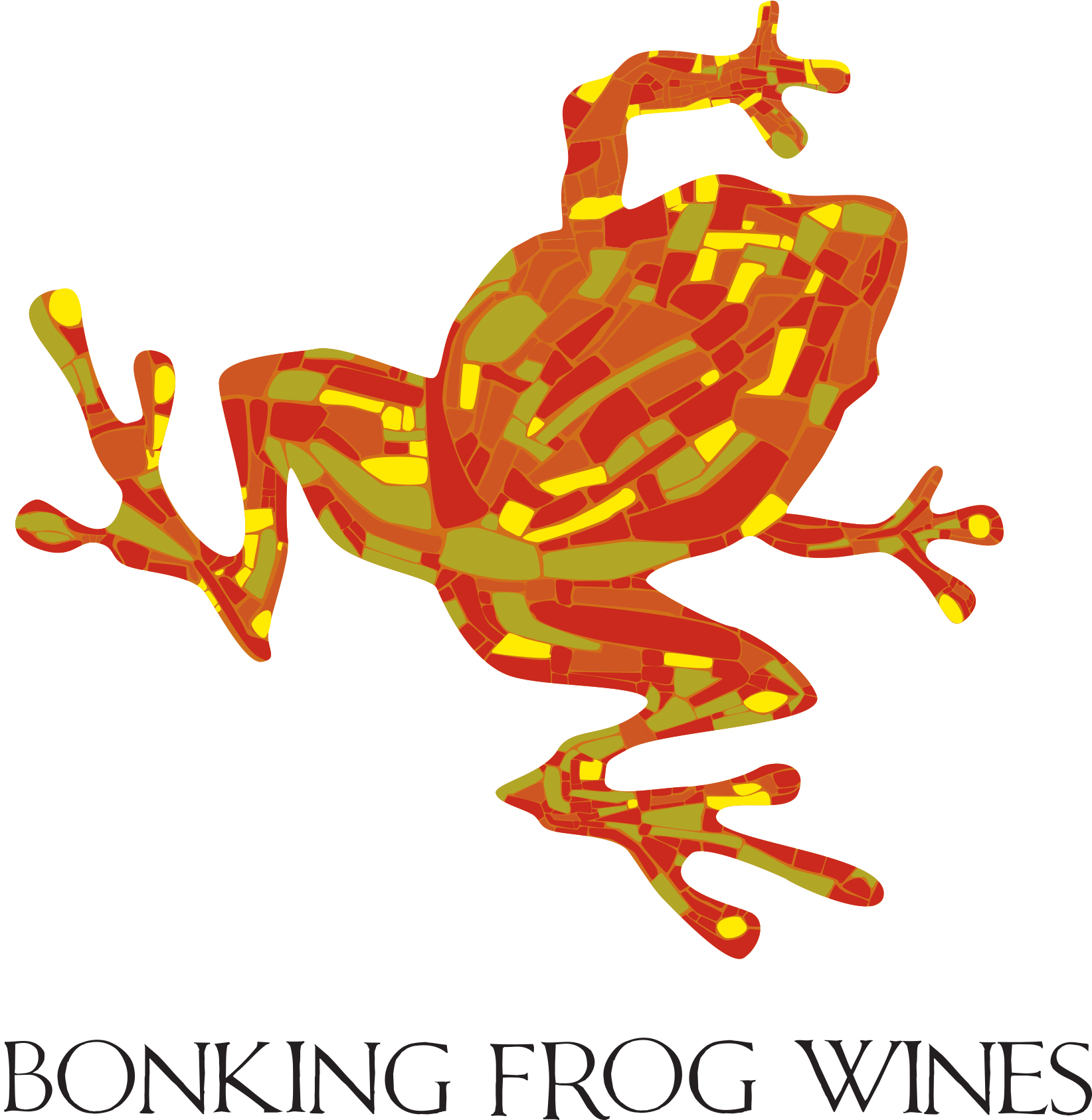 Try Julie's recipe for Chocolate Zucchini Merlot Cake >>
Without further ado, meet Julie Hutton and learn why they named their winery Bonking Frog, why they specialize in merlot and how they beat the odds to start this little gem.
RS: What was you're "A-Ha" moment when you knew wine was going to be your career?
JULIE: It was more an "O-oh" moment for me because I was dragged into the wine industry kicking and screaming by my husband Phil. I enjoyed being a grape grower, but was very unsure about entering the market with our own wine label. It was at a difficult time in the industry when an oversupply meant many growers were unable to sell their fruit. Although our prices per ton had dropped we were still selling all the fruit we produced. Phil could see the only way to really survive was to value add to the product we were producing.
We were making a small quantity of wine and friends were giving us great feedback (but I figured it's free of course they're like it!). Phil convinced me to enter our 2005 Merlot into the regional wine show in 2007 to see what the judges said. I was so worried at the presentation dinner that the judges would say it was faulty (after all, we made it in a farm shed) but the wine received a silver medal, with one judge giving it a gold medal score. We received fabulous feedback on the quality of our Merlot that night and I thought O-oh there will be no stopping Phil now!
RS: Why the focus on one grape?
JULIE: Simple – we were grape growers not wine producers when we planted our vineyard. Back in the early to mid-1990's there was a shortage of red wine grapes, I wanted to grow a variety that would sell well. I figured Merlot could stand alone or be blended. We also did a lot of research into what variety would grow well in our soil, location, and environment. Merlot came out on top. We also thought even back then that specialising was an advantage in the industry - work out what you wanted to produce and do it well and hopefully better than anyone else.
RS: Why the name "Bonking Frog" Wine?
JULIE: We decided to name our label after a particularly noisy frog that lives on our property. His real name is the Western Banjo Frog (aka the bonking frog), he's only one of many frogs here but his call, a loud BONK, can be heard over all the others. We decided to succeed in the wine industry we needed to follow his lead and stand out from the crowd.
RS: What are the strengths the two of you bring to your partnership?
JULIE: Both - determination, good work ethic, and pride in what we do; if we're going to do something we'll do it as well as we possibly can – no half measures! We both usually think we are right. And we both quite like to think we are in charge. Phil is more of a risk taker than me, he's the optimist I'm generally the pessimist. Phil can do anything he turns his mind too, and make or modify anything. His trade and engineering background makes him a stickler for accuracy, he is precise. I'm creative, easily distracted. I get caught up with making things look good, but don't always ask the hard questions – how much time will it take or cost! I can be an A grade worrier – though getting better as I age. J
RS: What is your favourite food and wine pairing?
JULIE: I have to choose just one! Ok… Merlot and chocolate.
RS: What wine or region do you wish more people tried?
JULIE: Merlot! It's the only variety we grow, we are passionate about it. Yet it can be such an undervalued wine – damn anyone silly enough to listen to that Wine Wally Miles in Sideways! Merlot, grown with care in the vineyard and managed well in the winery, can produce wines of great body and complexity. Merlot has a reputation of being a difficult variety to manage in the vineyard – it is often subject to overcropping which will produce thin wines with little depth. It can often suffer from poor fruit set and is prone to sunburn yet too much shade and it will develop green herbaceous characteristics which will dominate the wine. Leave it on the vine to ripen too long and the resulting wine will be flat and jammy. These difficulties often contribute to some ordinary merlot wines. But done well –WOO HOO, it's fabulous!
RS: Did either of you have any formal wine education or was this a passion project for the two of you?
JULIE: We both studied viticulture before we planted the vineyard. When we started making wine we talked to a lot of people in the industry, friends, and read books on making wine. When we decided to make wine it was a forgone conclusion we would aim to make the best possible wines we could – we don't do half measures. I'm not sure if this is classed as a passion or just pedantic controlling tendencies coming to the fore?
In 2008 we went to a contract wine maker Bruce Dukes of Naturaliste Vintners, this has been a great move allowing to make Merlot in four different wine styles. This move has allowed us to improve the quality of our wines, increase our range and allow us the necessary time to open our cellar door.
RS: What do you feel women bring to the table in an industry that's been mostly dominated by men?
JULIE: Patience – ability to see both sides of a discussion or argument. Ability to make a decision without being caught up in the need to be "right." I've met very few female Wine Wallys, I think we are less interested in impressing people with our knowledge than men. Doesn't mean we know less, we just don't feel the need to tell people what they should think.
RS: What would be your one piece of advice for women wanting to pursue a career in the wine industry?
JULIE: Be brave, stick your neck out, find your own opportunities and own what you want to do. Took me a long time to realize this myself!
RS: Why choose wine from a boutique winery verses the big guys?
JULIE: For the story! Wine should come from "somewhere"….. it should be grown and made with love and fun. Purchase a wine from a boutique winery and you will get their life story, their soul, presented to you in a bottle.
RS: Corks vs. Screw caps - which do you prefer & why?
JULIE: Absolutely Caps – we don't believe we can accept the margin for error/faults that cork represented to us. We used cork for our vintages from 2003 to 2007 but found the failure rate unacceptable – from slightly flat wines with minimal oxidisation, to wines that were just plainly 'off' due to cork failure. If someone tries our wine (under cap) and doesn't like it we can simply accept they don't like that style but under cork you never know if the wine is drinking as you intended or is it slightly oxidised or tainted, or all out flat and unattractive. I know the jury is still out as to how wines will age under cap... time will tell. But I cannot perceive of a scenario that would make us return to cork.
RS: Can you share something about the winery or yourselves that most people would never guess?
JULIE: We planted our vineyard after winning money in Lotto – we are likely to be the only people in the world who turned their lottery win into a way to work harder. J
RS: What do you feel is the number one factor women look for in a wine?
JULIE: Approachability! Is that even a word? I believe we are visual creatures more so than men, we want our wines to attract us and speak to us – we are attracted by colour, style, emotions. Taste is paramount goes without saying – if we don't like the taste then we won't come back to it – BUT I doubt we'd even pick up a bottle that didn't attract us in some way first.
RS: What couple from history or current, rather real or fictional, would you compare you and Phil too?
JULIE: Phil's answer – Bond and Moneypenny.
RS: If I were producing a movie about the winery, what should the title be?
JULIE: Suggested by one of our Facebook friends after I asked for help "One Short Hop" – which made me think of Rocky Horror Picture Show – "A step to the right." Both appeal to me followed closely by CROAK. J
RS: A toast you'd like to share from Down Under?
JULIE: Cheers Big Ears.
Learn more about Bonking Frog Wine at their website. Follow them on Facebook & Pinterest. I especially enjoy their fb posts featuring the various frogs! A little wine and laughter make Bonking Frog Wine a nice choice for merlot. They have limited availability in the States, but you can contact them directly to stock up. Join us at WineTable today. Then follow me and together we'll continue to discover the fabulous stories of the women in the wine industry.
Want to read more about women in wine? Check out our other articles in the Women & Wine series>>
---