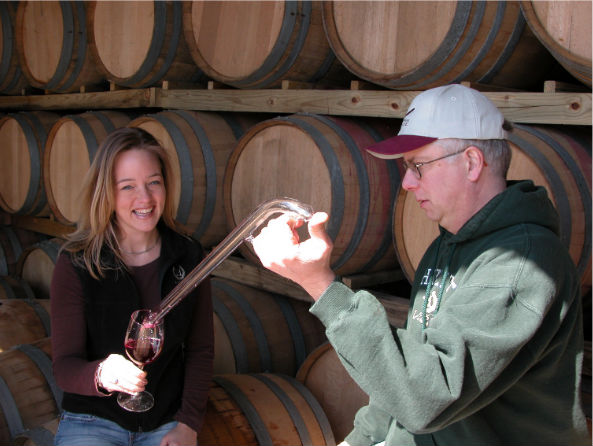 The Finger Lake Wine Region in New York boasts a microclimate the locals believe lends to the quality wines that are found throughout the region. Leigh (Hazlitt) Triner shares that belief but also feels it's the estate vineyards and the families who blend generations of viticulture with today's world that gives the area an edge. Triner, along with her brother Doug, are the sixth generation of Hazlitt's growing grapes and orchard fruit on the land their family purchased back in 1852. While the winery was established in 1985 by her parents Jerry and Elaine Hazlitt, Leigh, then 10, grew up learning from scratch every step in the process from the vineyards to the bottle. Triner spent her youth working part-time tending bar in the family business and remembers people asking her to get her parents or someone else because she was just a kid. Yet, the young Hazlitt knew her way around the family horseshoe-shaped bar in the tasting room and in those days, being a family business meant she could serve customers.
She earned a degree from Cornell University in hotel management planning to venture into the corporate world, but after a while, she found herself wondering where the next adventure would take her. In 1999, the Hazlitt life answered the call, or more precisely Triner answered her mother's call and she went home to Seneca Lake never looking back. Today, if you don't find Triner in her role as CO-CEO, you'll likely find her chasing around sons Dylan (3) and Nathan (6) or popping open a bottle of champagne with husband Greg (who also works at the winery) and toasting the everyday simple things of life.
Meet Leigh (Hazlitt) Triner of Hazlitt 1852 Vineyards & Winery; a woman who's about family, wine and authenticity.
RS: What was you're "A-Ha" moment when you knew joining the family wine business was going to be your career?
LEIGH: I wasn't entirely sure I wanted to go back into the wine business, but there was a conversation over the phone with my mom where she said "I've had it." She did all of the bookwork/paperwork and the winery kept growing and it got to the point where it took her all day as she was doing everything by hand. As much as our accountant tried to teach her how to computerize things, she was really struggling with the computerization and didn't want to hire anyone to do all that stuff. She asked, "Would you want to come back as I could really use your help?" I went, "well, you hit me at the right time."
RS: What has been the best lesson you've learned from watching your parent's create and run the winery?
LEIGH: I remember being a kid thinking, who's going to come and try wine? That was a silly and strange concept to me. The biggest lesson I learned from them was taking total strangers that walked into the winery and never have them leaving as strangers. They left as friends. They had this neat personality and they worked together great to develop loyal customers. I remember in the very beginning my parents gave out almonds with our tastings and people would gobble them up, and they realized that was really expensive, but my parents always gave out more than they received. I remember thinking "dad you just gave someone a whole case of wine for doing a simple favor for you when a bottle would suffice." I never really understood why he was so giving, but as I've gotten older in life, I get it. It's something I definitely learned from them…Just be hospitable and gracious and that's the best way.
RS: You're CO-CEO with your older brother Doug, how's working with your brother daily?
LEIGH: I think he genuinely likes and respects me and I genuinely like and respect him. He oversees the vineyard, production, wholesale and manufacturing and I oversee the financial, HR, retail and sort of the day-to-day people management. We have two locations now and one is an hour away in Naples (the Red Cat Cellar) so were very busy and we almost have to go out of our way to be at the same location on the same day. Sure, every once in a while like most siblings we fight, but our parents brought us up to be very forgiving. We're both forgiving people who don't hold grudges. That really helps us get through just about anything. In general I'm the conservative one and he's the risk taker.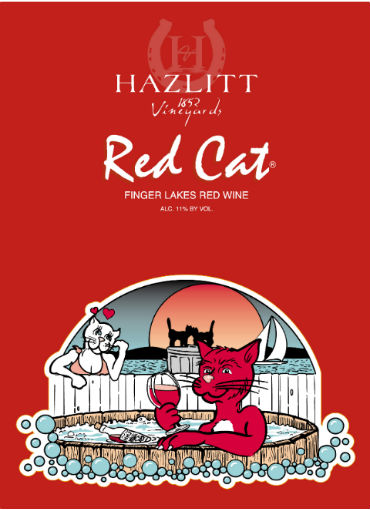 RS: There's a fantastic story behind the Red Cat Cellar brand and the hot tub party where your older brother's helped "launch it"…Where were you during that party?
LEIGH: You picked up on an interesting thing, which is that my brothers are 11 and 12 years older than me, so I was the afterthought. So, when they were in their teens building and living all these crazy stories, I was too young to be a part of them. Now occasionally I might be at the start of these parties, but before dark I was always brought home. Later on as I got into my teenage years, I started getting into my own stories, carrying things on after they were gone. But society has changed so much too. It used to be a free for all when they were partying, and now everything is like taboo. The red cat story is what it is, but it's funny how we have to tell it now. Sometimes today, people can be offended by what use to just be everyday fun.
RS: Do you have a favorite amongst your wines?
LEIGH: I can narrow it down to two. Our Sauvignon Blanc is something that we've only been doing for 4 years. It's phenomenal. It's so fruity and tropical. Then our unoaked chardonnay is another one that is really exciting as it's only our second year doing it. My brother and I have a fun little rivalry going on; he loves our French oak barrel fermented chardonnay and I love our unoaked chardonnay, so we're going to have a Doug and a Leigh chardonnay next to each other this year and see which one sells better.
RS: What role do you feel social media has played in building the Red Cat Cellar brand?
LEIGH: It's helped with visibility and sales. It's grown as a brand because our Red Cat followers are loyal to us and to the wine. They're really proud and love to tell the story of red cat and show the brand around and on social media they can share pictures and stories of their own. We've noticed that site, more than our Hazlitt site has really gone viral. It's exciting.
RS: What do you feel women bring to the table in the wine industry compared to men?
LEIGH: One of the things I notice, that's one of my strengths, is the attention to detail. Here, it's mostly me and men, and I just feel like women have more attention to detail and we handle problem solving a bit better. But, I think ultimately you need men and women to make the best decision. Women and men tend to make different decisions and I think for us, having a woman and man making the decision is awesome.
RS: What would be your one piece of advice for a women wanting to pursue a career in the industry?
LEIGH: I think people come into the wine business thinking its fun, and yes, it is fun, but to be successful in the business, a women would need to know to have some type of knowledge of all facets of the business. I suppose if you're going into the basics of wine where you're going to buy already-made bottles and throw your label on them, then the retail might be enough, but if you're coming into a real winery that does everything from beginning to end then you need to have knowledge of vineyards, manufacturing, retail, wholesale, finance, management. I think people think they know how to run a business, but they don't realize how much goes into running a winery. You've got to be willing to put on some carharts and go out in the vineyard and learn what it takes to bring in good grapes, then you've got to be able to go into the tank room and get cold and wet and see how the wine's made. Then to see how to get your wines on the market, you've got to go play with the distributors, which is a whole other ball game.
RS: Can you share something about Hazlitt 1852 or yourself that most people would never guess?
LEIGH: I live near the winery and have two horses. A lot of times I'll get dressed for work in a skirt and then throw on my tall muck boots and walk out to the horse barn to feed my horses. People get a good laugh if they happen to see me in my business suit and tall muck boots.
RS: What do you feel is the number one factor women look for in a wine?
LEIGH: Authenticity. Because men will go with any gimmick. You put a scantily clad women on the bottle and they're like "oh cool." But women, if they don't feel there's authenticity behind the brand, and it's just trying to market to women in some cheap way with no story behind it, then women are not going to buy that brand.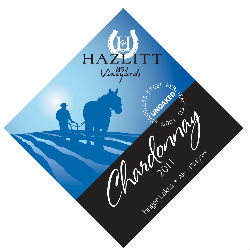 RS: I'm producing a movie about Hazlitt 1852 Vineyards, what should the title be?
LEIGH: I think what would sum it up best and we use it sometimes as a tagline is Great Wines, Great Times.
RS: What do you feel makes Hazlitt 1852 Vineyards a "must see" in the Finger Lakes Region?
LEIGH: Well, not a lot of people know this, but there's a difference between people that open up a tasting room and buy bulk wine from somewhere and throw their label on it. I think were a must-see because the "1852" is when my family started growing grapes on this land and it has been with us, now going on the 7th generation. We're an Estate winery, so we employ a ton of vineyard people and obviously we make all the wine, sell all the wine and wholesale our wine. We're really an authentic winery. We also hear a lot that we're the fun place. The bar is a horseshoe style so a lot of our customers make friends with each other because the bar is set up such that people can talk to each other across the bar. We serve really yummy popcorn that goes with all the high quality wines we offer and there's something for everyone. We're also proud that we're consistently winning gold medals.
RS: Can you share a favorite pairing?
LEIGH: Our Red Cat Slushy recipe is incredibly popular and on our site. Red Cat is also great in a glass with vanilla cream or actually pouring it over the ice cream. It may sound weird, but it's just amazing. Another pairing I've recently discovered is Yancy's fancy toasted onion cheese with Red Cat. It's the most amazing pairing. I force my tasting room people to keep it in stock and tell people about it because it really is one of those pairings that makes you go "wow, holy smokes."
RS: At the end of the day, do you hope your children will be the 7th generation taking over the winery one day?
LEIGH: I really do hope that they take over the winery someday. Of course, I'm not looking forward to all the estate planning between my brother's four and my two. My parents were crazed with the three of us!
To learn more about Leigh (Hazlitt) Triner visit the Hazlitt 1852 Vineyards & Winery or Red Cat Cellar websites, like them on Facebook or follow them on Twitter. Then join us on WineTable, follow me and together we'll continue to discover the wonderful stories of the women sharing their passion for wine.
Want to read more about women in wine? Check out our other articles in the Women & Wine series >>
---