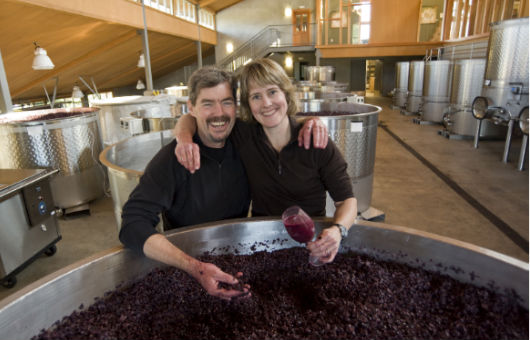 [Lynn and Ron Penner-Ash / Courtesy Andrea Johnson Photography]
There is a winery nestled in the Chehalem Valley of Oregon surrounded by breathtaking views that encompass the passion of its co-founder and winemaker, Lynn Penner-Ash. Every inch of Penner-Ash Wine Cellars—from the vineyards to the winery—was conceived with the notion of reflecting the values and spirit of Penner-Ash and her husband Ron: elegant and earthy, structured and thoughtful, transparent and connected.
Speaking with Penner-Ash, you quickly grasp her commitment to the land, the grapes and Oregon itself. Touted by Forbes as a trail-blazing Oregon winemaker--and one of the first women in the profession--Penner-Ash is a 30-year veteran of the wine industry. She started her journey on the crush at Domaine Chandon, moving onto enologist at Stag's Leap Wine Cellars, then to winemaker in 1988—becoming president and chief operating officer from 1993 to 2002—for Rex Hill Winery. That's when her side project, Penner-Ash Wine Cellars, called for her full attention. Starting with 125 cases of Pinot Noir produced in 1998, Penner-Ash now produces closer to 9,000 cases a year consisting of Pinot Noir, Syrah, Viognier and Riesling.
Penner-Ash isn't one to toot her own horn, but one can't talk about Penner-Ash without calling attention to the amazing winery built into the hillside in 2005. The 16,000 square-foot building was designed not only to facilitate, but also enhance the winemaking experience by employing human ergonomics with the requirements of the wine itself. Visitors are wowed by the stunning natural beauty on the exterior to the private dining room with a vaulted ceiling adjacent to an enormous floor-to-ceiling fireplace where the tasting room overlooks the rest of the winery's three levels. This is a place welcoming all of your senses to come in and stay awhile.
Meet Lynn Penner-Ash as she shares her passion for Oregon, sustainability, wine and family.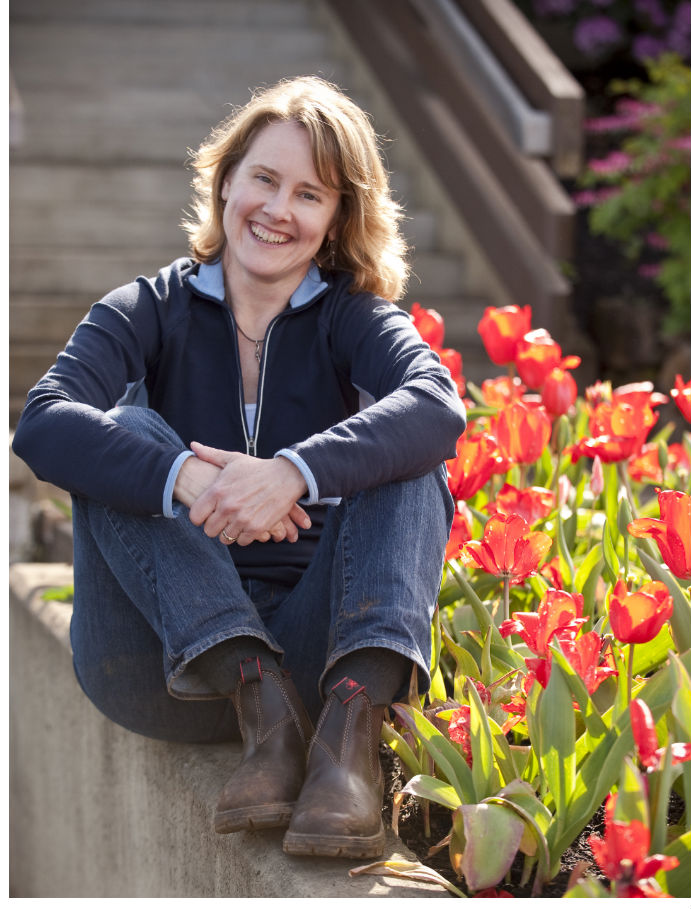 RS: What was your "A-Ha" moment when you knew wine was going to be your career?
LYNN: I think that was probably my very first job in the industry working at Domaine Chandon. I'd been studying botany at UC-Davis and kind of wondering what I was going to do with that actual degree; realizing it wasn't what I'd thought it was going to be and what the actual job opportunities looked like. I'd gotten a job in Napa, keep in mind that I'm just barely 21, working the graveyard shift at Domaine Chandon and the grapes are rolling in. The sun sets, you're standing on the crush set, you're spending all night working on these grapes and the smells are fantastic, and suddenly I thought, this is kind of botany in a way and I could actually do this. I'd say that's when it hit me and there were so many opportunities at the time opened up to me. I didn't have any real career goal to be in wine, but then realized there were actually careers in wine.
RS: What do you feel makes Oregon wines special?
LYNN: Well, in Oregon we have a completely different focus than what I was working with in the Napa Valley. It's a much cooler climate up in Oregon. Our growing season is very different than what it was in the Napa Valley. We focus on the grapes that do well here, which is the pinots: pinot noir, pinot grigio, chardonnay, so we really have very specific grape varieties we're working with and I have to say my passion and focus would be those grapes.
RS: I was going to ask if you had a favorite varietal, but you just answered that.
LYNN: Well, it's a little more than just that… I think, not only is pinot grown here, but I find pinot fascinating to make. It's a much more challenging grape than some of the other grapes, and that could also be where I'm at in my career. You know when I was down in Napa, I was basically the assistant winemaker/enologist and they say, go do this or go do that and you just do it, where, up here, you're calling the shots. You have to really think it through and come up with a rationalization of why you're doing what you're doing. It's a well-known fact that Pinot Noir doesn't like to be manipulated. You can't overdo things with it and add too much to the wine or make a mistake and punch down too much because this grape really, really reflects what you've just done to it. You have to be very thoughtful to what you're doing for it to come out right.
RS: What is your favorite part in the winemaking process?
LYNN: I think for me, my absolute favorite time is when the staff has all gone home and you're racking or have just racked the newly pressed wine to a barrel because it gives you that moment by yourself downstairs to reflect upon that you've just created something. You only get one opportunity per year to create this and you got it. You get to sit there and you get to taste that newly pressed wine that's in the barrel. It's like a year's worth of work is coming together. Well, I shouldn't say a year's worth of work, but a year of growing season and this is where we get to start crafting the next wine. Sometimes you taste those barrels and you get shivers.
RS: You have a gravity flow winery, can you explain what that means?
LYNN: What we've done with our design here, is to actually use the north slope of the hillside. The news is we didn't have to move a lot of earth to build our facility and second, it allows the wine to flow naturally downhill. What we do is bring the grapes in after they're harvested by hand, then they're lifted up by a forklift unto a big table where we sort them and they fall from that sorting table down through a de-stemmer. Then the grapes fall down through a shoot and into their primary fermentation tank where they remain. When done fermenting, we then open up the valve and allow the new fresh wine to flow down to the barrels. There's no mechanical movement of the fruit; it's all done by flow downhill and that comes back to my original point of pinot noir being quite sensitive to handling and manipulation, so we try to be as hands off in our movement of that fruit. We're gently sheparding it along, rather than pumping or pushing it along. It's really fantastic because little things that you don't really realize are happening, too. The energy used here is really much less than most because we're not pumping, we're not running machinery; we're just allowing the fruit, then wine, to flow naturally downhill. So there is benefit not only to the wine aspect, but we also get the energy aspect involved.
RS: So, sustainability is important to the winery too?
LYNN: Totally. We did a lot of footwork trying to decide where we purchased things, even down to the exterior wood siding or where the slate came from. Everything came from the local area so, we weren't paying transportation fees and carbon footprint fees and all the different fees or imprinting on the carbon footprint by hauling things in from like, France. For instance, the slate, rather than coming from the east coast, our slate came from a quarry north of us here in Washington State. We tried to select our equipment and exterior/interior materials locally. You know Oregon is really well known for it's sustainably efforts and the fact is we grow great wines here, but we also grow great foods here. We like to point out that the best food pairings for the wine are the fruits or vegetables that are growing right out your front door. It's great as we can source a lot of our fruit and meat products right around us, here in Oregon. Why outsource for what you have around you whenever possible?
RS: Forbes magazine refers to you as a trailblazer; one of the first Oregon female winemakers. Care to share your thoughts on that?
LYNN: Well, I always like to emphasize that while it is unique in the interest coming now, we all know in the industry, especially 30 years ago, things were predominately male. I remember as a young woman in Napa being extremely frustrated by my inability to advance beyond a certain point. It seemed like I was a very qualified and competent employee up to a certain limit, and it seemed when you wanted to break out of that limit, very few women were able to actually achieve the elevation to a winemaker. We were great being the enologist, wine lab technician, or the assistant winemaker, but, to get to that next level was extremely difficult back then. Coming up to Oregon was a unique opportunity because I was literally hired away from Napa Valley to come up here and do just that. So, yes, I was, if not the first, one of the first professionally hired women to be up here in Oregon. That was an achievement but, more importantly, I always like to emphasis that I truly just want to be known as a great winemaker, not a great woman winemaker. For me, I don't want that to be the only thing people remember, I want them to remember the wine.
RS: Speaking to your wines… Wine & Spirits named Penner Ash wines one of the most popular in American restaurants for 2013, what do you think contributes to that popularity?
LYNN: Well, I'd like to say it's the consistency of our product and the quality that were putting out there. We also have a fantastic direct outreach to our customers and we have probably one of the more visited wineries. People get to enjoy our hospitality, and our team works very hard on educating people as they come out so, I think that expands out into the market place too. You travel to Oregon, you have a great time, you taste great wines and you remember them and go home and order them on a restaurant wine list. We kind of feel by this cross education: working with our staff and everyone to promote and present a very great experience for people, that it will keep us in mind.
RS: Does social media play a role in the winery's popularity?
LYNN: I'd like to think so, but I've got to admit that I struggle with that only because it's a time commitment that I just can't keep up with. We're working to remedy that; we actually just hired someone for that role and today is her first day to help us with our social media outreach and promote that aspect of the business. We do get some great write-ups and some wonderful postings about our wine. I want to repost or tweet it and I get buried in something else like having to get glass ordered for our bottling and then too much time has gone by and it's not really relevant, so we are working on that. We realize it's becoming a bigger issue, especially with the younger population, but it's a huge commitment to keep up with it all. I also feel as I was raised in a different age that for me, when I tweet something or I want to put up a Facebook posting I feel it has to be something that's very important. I feel like I need to make a personal statement and maybe I put too much of my own thoughts to this. So, I'm not the right person to do this as we don't toot our own horns very well, which is why we've hired someone...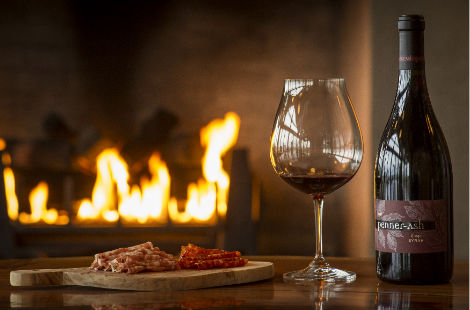 RS: Do you have a favorite food and wine pairing?
LYNN: For us, it comes down to the beautiful lambs we have out in the dairy area. You see them grazing on the hillside, sometimes you can actually see them grazing at the vineyards. I find with pinot noir, there's no finer match than a really tasty lamb dish and it can be really so simple; an herb crusted lamb chop with pinot noir is so easy, so simple and yet so incredibly perfect together. We have a friend who's a chef that's a lot of fun as she'll sit down to dinner with us and start coming up with recipes, so we're actually going to start offering recipes paired with each of the wines as they're released so people can get an idea of what we feel is a great partnership.
RS: Do you feel women bring anything different to the table in the industry?
LYNN: I always find that a difficult or diplomatically charged question. I can't really say, as I've never experienced it from a guy's side, so I tend to avoid that question. I feel women are more challenged, but that can be said for any profession.
RS: How do you and Ron blend the roles of working together and running the winery together along with family life?
LYNN: Actually, Ron took time off for many years to be home with the kids at least part time. He formed that relationship with the kids early on and then as we grew our business, we realized that we had to trade off. So, we were saying, you go on the road this month and next month I'll go. There consistently was a parent at home at all times. Harvest has always been a challenge. There would be times when he would come in really early and I'd get the kids off to school and then come in and work late while he'd go home to make sure they had dinner or got to soccer games or whatever it was. There was a lot of juggling over the past 18 years that took place, but we're launching our last kiddo off to college this fall and we're planning to travel together for the first time! You know you spend so many years travelling where you go into these great towns and places and think do I really want to go in here alone or stay by myself? We're so looking forward to being able to go together on the road and enjoy each other's company while doing business.
RS: What would be your one piece of advice for a woman wanting to pursue a career in the wine industry?
LYNN: You have to be a "ROCKSTAR." I mean, that I know and I can say that with all honestly. Women who come into the industry that are tentative and not really willing to reach out and touch the stars and go for it aren't going to do as well because you really do need to stand out in a crowd. I've had many interns as we typically have anywhere from a third of our crew to over half of our crew are women, so we're very supportive of women and I just watch the dynamics of some of these women on our team and the timid ones who aren't really sure and don't want to get their hands dirty are sucked dry.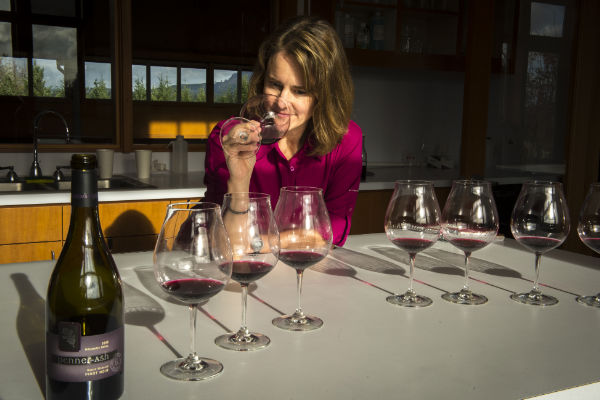 [Lynn Penner-Ash and some of the wine she's crafted / Courtesy Andrea Johnson Photography]
RS: If you were not sipping on wine, what would be your next drink choice?
LYNN: I love gin. We source micro distilleries all the time and buy it from them. It's one of my favorite other than wine drinks!
RS: Can you share something about yourself or the winery that people would never guess?
LYNN: I think one of the things I'm really proud of is the plants we've surrounded the winery with. People come out that are familiar with plants notice that a lot of our landscaping is edible. I just love that aspect of the winery and the sustainability throughout. We've tried to encourage the sustainability in our garden because if you're going to be watering something, then put into something that's going to come out. So, we have added chard, tomatoes and beets on our landscaping. We have blueberries and cherries; we've really incorporated into our landscaping so it's not monoculture by any means. Food can be beautiful.
RS: What do you feel is one of the main factors a woman looks for when choosing a wine?
LYNN: That's a good question. You know, I've participated on boards that look at labels, so I'd probably say women tend to be drawn to the nicer, prettier labels based on that. I'd also like to say that women gravitate most to the aromatics of the wine because they're so in tune to the aromatics. So if you've got something with a wine that really captures them from the sensory point, it's really going to get them.
RS: if I were going to produce a movie about the making of Penner Ash Vineyards, what should the title be?
LYNN: Passion, Place and Personality.
To learn more about this dynamic winemaker and Penner-Ash Wine Cellars visit their website or like them on Facebook. Then join us on WineTable, follow me and together we'll continue to discover the wonderful storied of the women in wine and spirits.
Want to read more about women in wine? Check out our other articles in the Women & Wine series >>
All photos courtesy of Andrea Johnson Photography
---