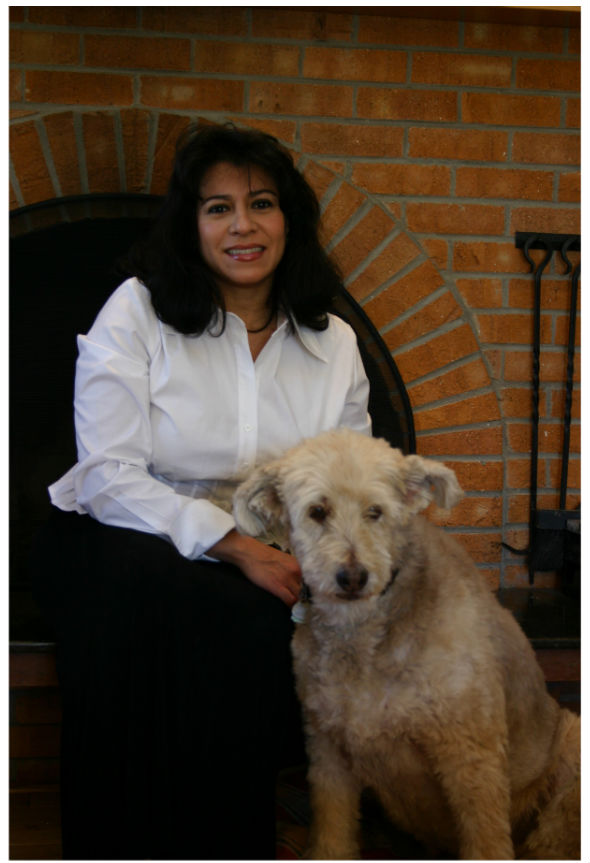 Combining great wine, fine art, special dogs, and worthy causes is what Cru Vin Dogs Wine is all about. Its founder, 30-year wine industry veteran Mary Snellgrove would know. She launched the brand in 2006 with artist-husband Jay Snellgrove and partner Bill Foss. Combining talent and knowledge they've created a wine brand with a purpose—wine that gives back. For dog lovers, sipping on a glass of wine can mean lending a hand to those beloved furry friends.
Snellgrove never planned to enter the wine industry. She wasn't raised in a wine drinking family and she'd certainly never entertained the idea of a career in wine, but her fascination with the industry began in the 80s. Wine houses like Martini & Rossi Asti Spumante were marketing their sweet sparkling wines and in 1982, she found herself trading in her diet Coke for the world of wine. Her discerning palate and passion for fine wine led her through several positions until fulfilling her dream of creating a wine brand. Snellgrove has traveled extensively to wine-producing countries over the years and has had the opportunity to interact with some of the finest wineries and wine people in the world.
Without Further ado, meet Mary Snellgrove as she shares her journey into the wine industry, her unique food pairings and how Cru Vin Dogs Wine gives back through their PAW Program.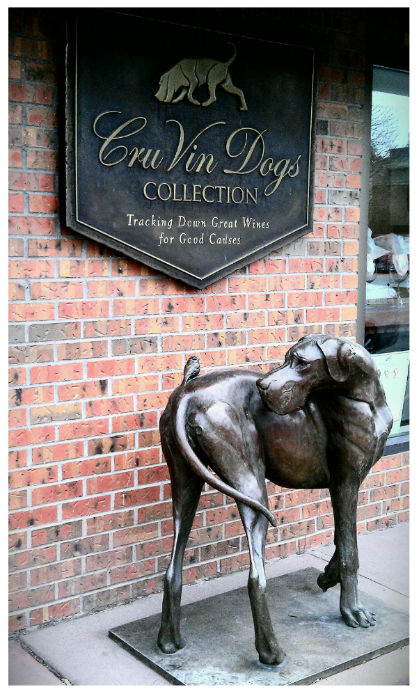 RS: What was your "A-Ha" moment when you knew your career would be in the wine industry?
MARY: I've been in the wine industry since I was 19. I had come out on a ski vacation to Vail in February with some girlfriends from Chicago, where I was born and raised. Chicago was going through an amazing cold spell and when we got to Colorado, it was a sunny 60 degrees. I was like, I'm moving here. It took me a week. I got here, not knowing anyone and thought, "Oh no, now I need a job." So, I looked through the paper and there was a listing at a wine wholesale company for an administrative assistant. I applied in person and got it. I didn't know anything about wines. I just got thrown into this.
RS: How did you go from an Administrative Assistant to President/Partner in a wine company?
MARY: I met Bill Foss at my first position and when he decided to leave and open a wine wholesale company in 1985, they asked me to go work for them. I continued to work in the office learning everything about the administrative side. I'd told myself I never wanted to be a sales person, but, I decided to ask the sales people to let me ride along with them for a day, so I could see what a day was like for them and learn how to better assist them in the office. One of the sales people at the time said, "I'm going to be touring Europe for a month, can you take care of my accounts?" I started helping call on her accounts and then the company started receiving phone calls saying they'd like to continue to work with me. It went from there and I kept growing and getting promoted to sales, sales manager, regional sales manager and then VP of sales within that company.
RS: How was Cru Vin Dogs Wine born?
MARY: When that company sold in 2004, Bill Foss and I decided to partner up because wine, at that point, was in our blood. We wanted to create a brand that was a combination of our passions, plus give back. Jay, my husband, was mostly drawing pictures of children and families at the time, but then suddenly started getting more requests for drawing dogs because dogs don't last as long as kids and our dogs are part of our families too. That's how the idea of focusing on dogs and doing portraits of real dogs with actual stories and then giving back to dog associations happened. We wanted to start off with a couple organizations—one with dogs helping humans and one helping dogs as we wanted to hit all aspects. We partnered up with Canine Companions for Independence, which breeds and trains assistance dogs for the disabled, the Morris Animal Foundation, which funds canine cancer research, and we also partnered with The Allie Foundation as we'd adopted a few puppies from them and had a personal connection there.
RS: Do you give a percentage of sales to your charities?
MARY: Yes, 10 percent of all proceeds are going back to the charities. People ask if that is off of profit and the answer is no, it's straight off the top. We wanted people to understand that we truly do believe in these organizations, so in the beginning, we gave each charity $10,000 ($30,000 total) to show good will that we were really vested in their organizations before a bottle of wine was even sold.
RS: That's quite the show of good faith.
MARY: We don't just write a check to these organizations either. We do their events/seminars, they send us reports and we really learn about each organization, so we know what we're talking about as well. Plus, we try to include and feature them in all the events that we have.
RS: Do you have a favorite wine?
MARY: Over the years we've carried over 4,000 different wines and I guess being female and a Gemini, it changes for me.
RS: That's fair. How about defining what a good wine means to you?
MARY: What I classify as a good bottle of wine is who I'm drinking it with, what I'm having it with and the moment. To me that bottle of wine that could have been just okay somewhere else has become very memorable to me based on those reasons. Wine is a story business.
RS: Can you share a favorite food and wine pairing?
MARY: People will laugh when I say this, but one of the combinations I love that we've tried on a lot of people is breakfast burritos paired with our sauvignon blanc because it taste like grapefruit in a glass. Our first year as the official wine sponsor for the Cherry Creek Art festival was full of early mornings, so we decided to buy a bunch of breakfast burritos, pair it with our wine and went around telling the exhibitors to come by our tent. People thought we were crazy, but you will not believe how many people came back to us saying that was the best thing they'd ever had. The next year there was a line at 7:30 in the morning and we were out within five minutes. This is so popular that I started calling this my breakfast line.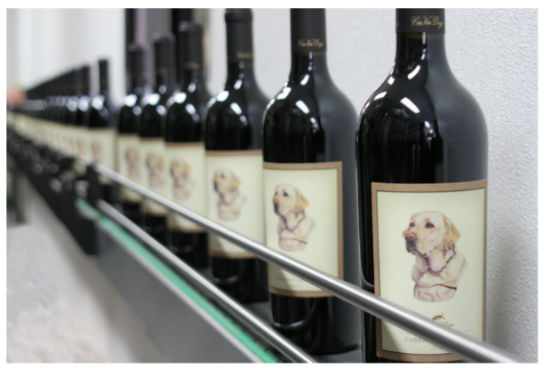 RS: If Cru Vin Dogs were to create a bottle based on a popular dog, real or cartoon, who would be on the label?
MARY: I have a soft spot for Snoopy. He was the dog in cartoons that you'd watch because he was so smart and independent. I admired that and it doesn't hurt that we do a lot with Jean Schultz. Knowing her and hearing stories about her husband Charles just cracks me up.
RS: Say we produced a movie on your foray into Cru Vin Dogs Wine, what should the title be?
MARY: "Dog Tails in the Wine Industry."
RS: Who would play you?
MARY: Well I know who my husband would love to play me….Salma Hayak, the Spanish connection and bustiness…
RS: So, who would you love to play him?
MARY: When Clint Eastwood was younger there were a lot of similarities with the way they looked. But, who would I want to actually play him…gosh, well I have a thing for Ryan Gosling, but he's too young… Let's stay with a young Eastwood.
RS: Where do you stand with the cork vs. screw caps?
MARY: We use the screw caps for our younger wines, that aren't made to lie down for 10+ years. We do love how fresh they keep the wine and that they're not tainted; you're never going to get a corked wine. That said, for ones that we age and lay down, we do use cork.
RS: Is there a grape that your winemaker leans towards?
MARY: Tony Wasowicz (our domestic winemaker) tends to use more syrah grapes. It's hearty, versatile and easy to work with. Although, the Pinot Noir he just made, a 2007 vintage was his first ever working with that grape and he loved it because it is such a tempermental grape. I think he might say the Pinot Noir grapes now. I think he really nailed his second Pinot Noir.
RS: What does bottle shock mean to you?
MARY: The movie Bottleshock. I was privileged to taste the 1976 chardonnay that was featured when we were representing Chateau Montelena back in the 80s. It's a very personal thing for me knowing the Barretts and having tasted and sold the wine. Jean Arnold who was the representative of the winery at the time, she was one of the first suppliers I ever worked with and I looked up to her as she showed me what women can be in this industry.
RS: What would be your best advice for women looking to go into a career in the wine industry?
MARY: The toughest thing I always tell people is that I can teach you wine knowledge, but you have to have that salesmanship in you to start. That's not something you can teach everyone. You have to be very tough-skinned, tenacious, persistent and most importantly for women is to know your stuff, because sometimes you'll have to prove yourself twice as hard in this industry. And never see limitations.
[Photo: Husband Jay Snellgrove with one of the labels he designed / Credit: Cru Vin Dogs]
RS: How do you blend working with your husband daily?
MARY: I don't interfere in the art/packaging side and since I've been doing this for 30 years on the wine end, he doesn't interfere with that. The first years were challenging as we had to learn to work together because our personalities are very different. It's great because he brings me down a bit and I bring him up. We've also learned to not talk business 24/7. It's an ongoing work in progress as it's a passion for both of us so it's hard to shut it off. We kind of live; breath and sleep work, and we're always trying to come up with how we make it better. It's wonderful now as I really look forward to working with him daily and appreciate what he brings to the table.
RS: Do you prefer bubbles, red or white?
MARY: I love champagne and can hear a cork from miles away. To me champagne is one of the finer things in life and another favorite food combination of mine is champagne and GOOD French fries.
RS: What do you feel women bring to the table in an industry that's been predominately male?
MARY: I find women usually manage people better. We tend to look at all sides; we are more emotional, understanding and nurturing. We want to see people succeed and I think were great multi-taskers. I personally think women generally have better palates than males too.
RS: Do you think women winemakers can hold their own?
MARY: There are so many more women in this industry than when I started. I'd say it's almost half and half and I love it. Women winemakers are making some of the best wines out there. It's just so great to see.
Mary Snellgrove wrapped up our interview sharing a few bottles signed and dated by friends to remember those special wine stories in her life. I was impressed with the intensity of commitment she and her partners have to their charities and to the quality of their wines. She'd just gotten back from a trip to Napa with her winemaker and after sampling and swirling, had shared that future offerings will soon be coming from the Napa region as they move from Sonoma.
Read more about Cru Vin Dogs Wine and the work they're supporting by visiting their website and following them on Facebook. Check out their labels featuring original, limited-edition illustrations by artist Jay P. Snellgrove. Each honors a real dog that has a special story-a reminder of how empty this world would be without the unconditional love and devotion of "man's best friend."
Join us at WineTable and connect with me, and together we'll experience some fantastic wine and meet some fantastic women in wine. Want to read more about women in wine? Check out our other articles in the Women & Wine Series. >>
---