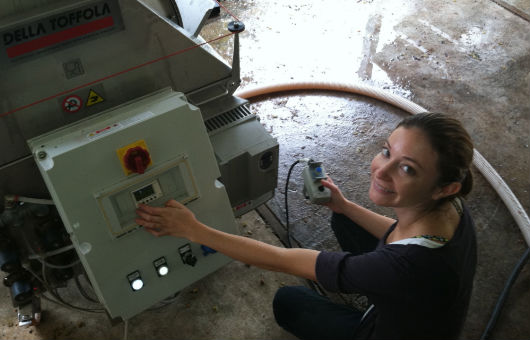 A photographer sets out to capture a moment in time through their lens, just as a winemaker sets out to capture a season in time bursting with flavors from a harvest. The goal of both is to create a lasting impression in time to be enjoyed. Rachel Stinson, of Stinson Vineyards understands this better than most. The former photographer paired her talents with her father to become a winemaker alongside him at the family-run boutique vineyard located in the scenic foothills of Virginia's Blue Ridge Mountains. Travel just a few hours outside of Washington, D.C. and you'll find the historic Piedmont House at Stinson Vineyards where, local legend has it, General "Stonewall" Jackson stayed during his Valley Campaign of 1862. The father/daughter winemaking duo creates French style wines in their repurposed garage, combining modern architecture and equipment with traditional winemaking techniques.
This week, International Wine Review named Stinson Vineyard's 2012 Rosé one of the Top 20 in their Annual Rosé Report. It's a big accomplishment for a family that has spent the last several years revitalizing the vineyard originally planted over 40 years ago by Gabriele Rausee. Considered by many to be the wine forefather of the Commonwealth of Virginia, Rausee's vineyard changed hands numerous times in the past decades and the vines were neglected. The Stinson clan set out to restore the soil to its former glory. They ripped the old vines out and planted new vines and rows closely spaced in the French method. Working for the first few years with carefully with sourced local growers, Stinson and her father produced their first harvest wine in 2010 and are excited for what the future holds for winemaking with their own grapes.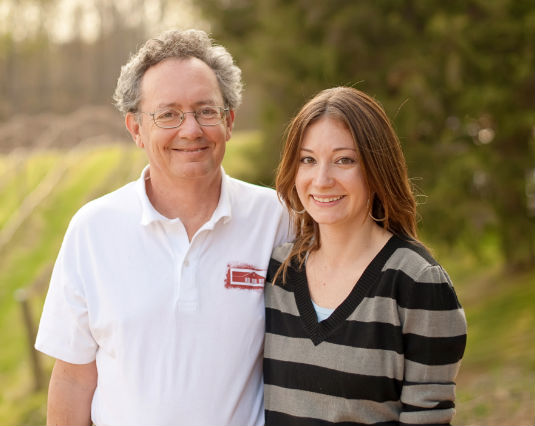 Stinson is among the new, younger generation of female winemakers learning to honor the traditional methods along with blending new methods to keep moving the wine industry forward. I recently had the chance to interview her about the quirks of being a female winemaker, working alongside her parents and their focus on French style wines.
RS: What was your "A-Ha" moment when you knew wine was going to be your career?
RACHEL: It was probably the first time I was visiting Virginia and was thinking of moving here. I was getting a sense of the area and what it had to offer in terms of wine and vineyards. It's just such a beautiful place. I was seeing some of the local wineries and it just felt like more and more, I wanted to work here. My father had already bought the existing property and it was supposed to be more of a retirement property for my parents. Of course he found one with an old vineyard and my thought was that he thought it would give him something to do on the side—but he's always been a businessman so he doesn't think small. He's always thinking larger scale and asked me to come down and help him make wine.
RS: What's the best advice or part of working with your dad on a daily basis at the winery?
RACHEL: It definitely can be challenging working with your family just because you know them so well and nobody holds back. But, it's really been a good experience. I think that I've learned a lot from working with him and he's learned a lot from working with me. We can appreciate each other on a whole other level now.
RS: Can you share what your background was prior to getting into wine making?
RACHEL: I actually majored in photography when it was right at the switch over from film to digital. So, I always tell people we would shoot film and then we would scan it in. It was a little more darkroom work and then I moved to New York City after I graduated and worked in a couple different photography jobs. I was a photo editor for a magazine and then I worked for a photography agency that did shoot production. That's what I was doing when my dad asked me to join him.
RS: So, then you discovered wine was in your blood?
RACHEL: I guess so. I never really knew it was or could be a career option, but I enjoy it.
RS: What is your favorite part in the wine making process?
RACHEL: My favorite part is probably harvest, even though it is physically challenging and can be a very stressful time. It's also very exciting because you never know what you're going to end up with. You are not sure what kind of shape the grapes are going to be in and just getting the raw materials and being able to see what you can make with them is really exciting.
RS: Can you share the reason you tend to focus on French style wines?
RACHEL: Oh, we're just Francophiles. We love the French culture. In terms of the wine, we feel like their methods are a little less interfering, more minimal. We really do prefer using French oak as we think it respects the wine a little bit more than American oak and we use a lot of French methods.
RS: Is there a grape varietal that you prefer to work with?
RACHEL: Right now we are really loving tannat. I think that's a good up and coming varietal in Virginia. There's very high acidity and it's a great grape even in some of the difficult harvest years.
RS: What do you feel makes Virginia wines special?
RACHEL: I think that Virginia wine growing is kind of a challenge and I think it's kind of cool that it's a challenge. You never know what you're going to get during any given harvest. You don't know what the weather conditions are going to be like. So, some years you're going to have to do a lot more work in the winery and it just depends on whatever comes in at harvest. I like the challenge that every year is different.
RS: What do you feel women bring to the table in this industry?
RACHEL: I think women always bring something to the table in any industry, but in terms of winemaking, I want to say we don't nessacarily bring something different than men as a whole. There's a lot of really talented winemakers on both sides, but I think that women can potentially bring more attention to detail. I've read some studies that say women tend to have better palettes, so maybe a little of that?
RS: What would be your number one piece of advice to another woman wanting to become a winemaker?
RACHEL: I would just say get as much hands on experience as you can. And at as many different places and wine growing regions as possible. And know that you're going to be doing a lot of heavy lifting. (She laughs softly.)
RS: You mean it's not all glamorous, romantic and easy like in a movie?
RACHEL: Yeah, I think that's the biggest handicap in this industry for women; the actual physical heavy lifting is something that is a challenge for me because I'm not a very big person. So, you have to figure out how to work in the winery and what's going to work for you.
RS: What do you feel is one of the main factors a woman looks for in a wine?
RACHEL: That's a good question. If it's a question of the bottle when it's on the shelf, than I think it has a lot to do with the packaging. We do try to keep our labels very simple and straightforward. In terms of a wine, in my mind there's two different kinds of wine; ones that are supposed to be drank in the near future and ones that are met to be aged. So, if you're looking for something to drink now, you would want to think about pairings and we always try to put pairings and food notes on the back of our labels for people help them know what the wine would go with. In terms of aging, I'm looking for a big red that has nice oak to it, not overbearing, but is a little bit stronger than you would like, as that's going to blow off as it ages.
RS: Why is being environmentally sustainable important to you as a winery?
RACHEL: It's very important to us. On a small scale we want to be doing everything we can to keep the land and the vineyard healthy instead of depleting it. We really do try to put a lot of nutrients and natural sprays into our grapes, as we think it makes them healthier in the long run. When we first got our site, the old vineyards, we did some soil tests and every single space we tested was just completely different. Who knows what kind of crazy sprays were sprayed on those grapes. So, we are very mindful of what we're putting on our grapes. You know, Virginia isn't the ideal climate for grapes so you have to spray and try to balance it with the minimum spaying you can do and still keep your grapes healthy.
RS: If I were going to produce a movie about your adventures in winemaking and the winery, what should the title be?
RACHEL: We always like to joke because I'm a big reality TV show junkie, so we joke that we would call our TV show Real Winery Owners of Albemarie County, you know, like the Bravo TV shows. This is kind of a funny area and everybody knows each other and is real open. And it's funny to see how everyone interacts with each other.
RS: Is there anything about yourself or the vineyard that people might be surprised to know?
RACHEL: I think one thing that people don't always realize is that my mom is the vineyard manager. She's pretty soft spoken, so people don't really realize her role in it, but she has really always been an amazing gardener. She's got a great green thumb and she's doing an amazing job with our vines. It really is a family vineyard.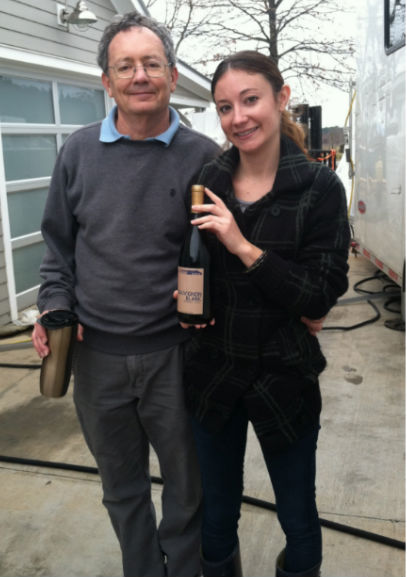 RS: Are there any upcoming wine events where people can find you pouring that we should share?
RACHEL: Yes, We'll be pouring at the Wine Festival at Thomas Jefferson's Monticello on May 11th! It's a great event and might be of interest to out-of-towners.
Alright readers, you've heard about the event from Rachel, now head out to try her wine and be sure to tell her you heard about the event right here on WineTable's Women & Wine Series. Tell her Robin sent you (wink, wink). To learn more about Rachel Stinson and Stinson Vineyards visit their website, like them on Facebook, or follow them on Twitter. Then join us on WineTable, follow meand together we'll continue to discover the wonderful stories of the women sharing their passion for wine and spirits.
Want to read more about women in wine? Check out our other articles in the Women & Wine series >>
---