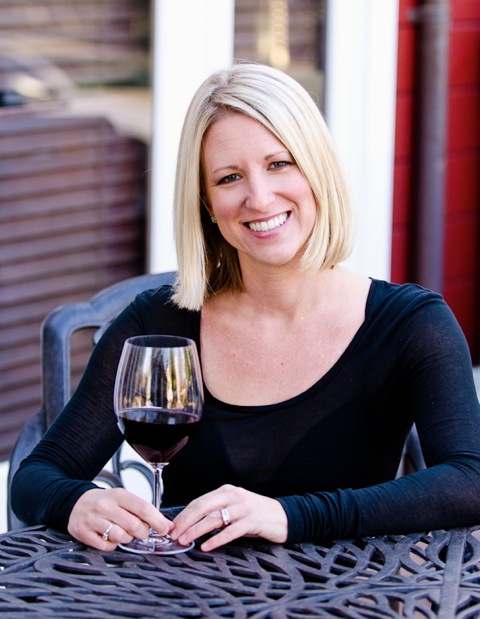 Women are positioning themselves in greater and greater numbers for wine industry careers that only a few years ago were still quite dominated—in many cases, almost solely—by men. One such role is that of a Sommelier and while women still are in the minority in this field, women such as Rachel Voorhees are breaking the barriers to share their passion for wine with the world. Voorhees, a Court of Masters Certified Sommelier based out of the San Francisco Bay Area is a case in point. This wife, mother and daughter credits her passion and palette for wine from her father, an avid wine collector since her childhood, and her love of the kitchen from her mother and grandmother, who taught her everything tastes better when it comes from mom's table.
Voorhees juggles the roles of Certified Sommelier,wine writer, wife and mother of two with grace and elegance—and a good dose of family support for her obsession of finding the perfect wine and food pairing. Voorhees is happiest when she's helping someone build their own wine cellar, hosting a wine tasting or sharing a tip on her personal website. Without further ado, meet Rachel Voorhees as she shares thoughts on being a woman in the wine industry.
RS: What was your "A-Ha" moment when you knew your career was going to be involved around wine?
RACHEL: My father has been a wine collector since I was 2 years old, so wine has always been an important part of my life. I remember laying bricks with him when he built his big beautiful underground wine cellar when I was just 9. So, I think I always knew I wanted to become a sommelier. Once I started writing a wine column for Momtastic, I realized just how much I already knew about wine but also realized that I was thirsty to learn more. There was a moment when I was tasting a phenomenal wine and taking notes and the wine changed so much over the period of the dinner that I was like, this is what I want to do. I knew I needed to sign up and take courses as my next step.
RS: Do you need to take courses to become a Certified Sommelier?
RACHEL: I know some people study on their own and do their own tastings, but I decided to take courses at The International Culinary Center, which has the only program approved by the Court of Master Sommeliers. The program combines lecture with intensive tastings, food pairings and practice of service techniques and is taught by a Master Sommelier. I knew with having children (they were 4 and 2 at the time), I needed the more structured environment for myself.
RS: What advice would you give another women looking to start a career in the wine industry?
RACHEL: The wine industry tends to be mostly dominated by men and I'm in the wine industry as a sommelier and wine writer for BevMo! and all parenting, plus I go to a lot of wine industry events. I guess my advice for women is to stay true to yourself and don't let the male presence dominate you.
RS: Do you have a favorite wine pairing?
RACHEL: Well that's my passion, so I have a lot. I want to give you my "go-to" favorites for different wines. I love a tawny port with chocolate. For white… my friends laugh, but I love a good Riesling with Thai food. Love champagne and heavy cream cheeses from France; I like that the champagne and bubbles kind of cleanse your mouth with the creamier, thicker cheese. A burgundy goes great with beef bourguignon. I like salmon with a Pinot Noir. I've also been experimenting with Greek food and wines, which I think are becoming more popular. I like to do regional pairings.
RS: How about your favorite region?
RACHEL: I grew up drinking Bordeaux and Burgundy with my dad, but I'm onto Italian wines. Since becoming a sommelier, I'm kind of obsessed with Borella's to buy and cellar. I like all different wines as they're all unique, so it's hard to pick something that's my favorite.
RS: If I were producing a movie about your life as a sommelier, what should the title be?
RACHEL: Oh, god, I don't know. My life is so crazy… I'm a wife, mother of small kids, I work for a non –profit. I'm tasting wine all the time. I think something crazy and wild like "Girl Gone Wine."
RS: Where do you see yourself in 5 years from now?
RACHEL: I would like to continue to develop the core of my personal sommelier tasting business with parties and helping people build their own cellars. My ultimate goal would be to have a food and wine network show. I think maintaining my writing and continuing to build my own brand. I love attending events and living and working in wine country makes this great work.
RS: At the end of the day, what do your kids say mommy does?
RACHEL: They say mommy drinks wine. I get a lot of wine shipped to me and it's all over the place; the kitchen, my desk, all around so, I actually called my daughter's kindergarten teacher to tell her this is what I do because if my daughter goes to school telling her that I drank 6 glasses of wine last night, I want her to know I didn't really drink 6 full glasses of wine. It's sweet though because my daughter says she's going to write about wine when she grows up too.
To learn more about Rachel Voorhees visit her website, like her Facebook page or follow her on Twitter. Then join us on WineTable, follow me and together we'll continue to discover the fabulous stories of the women sharing their passion for wine.
Want to read more about women in wine? Check out our other articles in the Women & Wine series >>
---