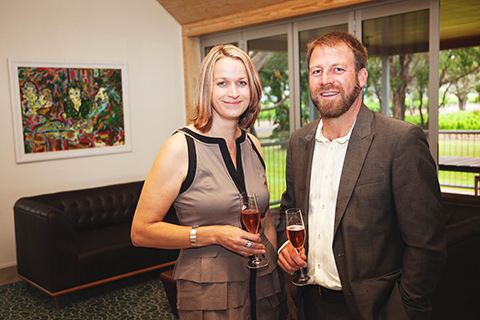 "Food without wine is a corpse; wine without food is a ghost; united and well matched they are as body and soul, living partners." -Andre Simon (1877-1970)
A childhood infused with laughter and love around the table led Cloudy Bay New Zealand's Stephanie McIntyre into the world of wine and food. McIntyre, a certified Sommelier, has an extensive background in the hospitality industry. She has worked in high-end restaurants and specialty wine retailers that have taken her from her hometown of Vancouver, Canada, to the wine region of Marlborough, New Zealand.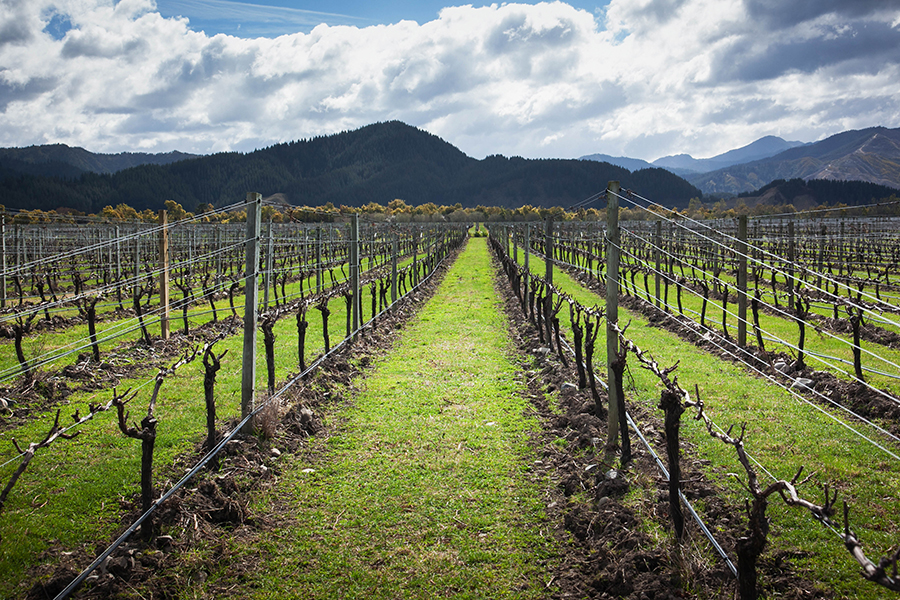 After moving to New Zealand in 2005, a meeting with a proprietor of a New Zealand winery sent her on a quest across the country to personally discover the unique wines of New Zealand. Settling in Marlborough, McIntyre has been assisting premium wine companies showcasing the vibrant wines of the region she now calls home. The winery that first caught her eye was Cloudy Bay, so when the opportunity to join their team arose, it was a natural pairing for the eager sommelier, who became the winery's Events & Wine Communication Manager. McIntyre is responsible for ensuring an optimum experience for guests of Cloudy Bay Vineyards while striving to raise the standard. She works closely with the Cellar Door (Cloudy Bay's tasting room) manager, organizing food and wine pairings, or sharing upcoming events, such as Pinot Cloudy Bay 2013, an event in its 14th year hosted at Cloudy Bay's Estate Vineyard where trade representatives, wine media and Pinot lovers gather to taste and compare 18 of the most exquisite examples of the style from around the world.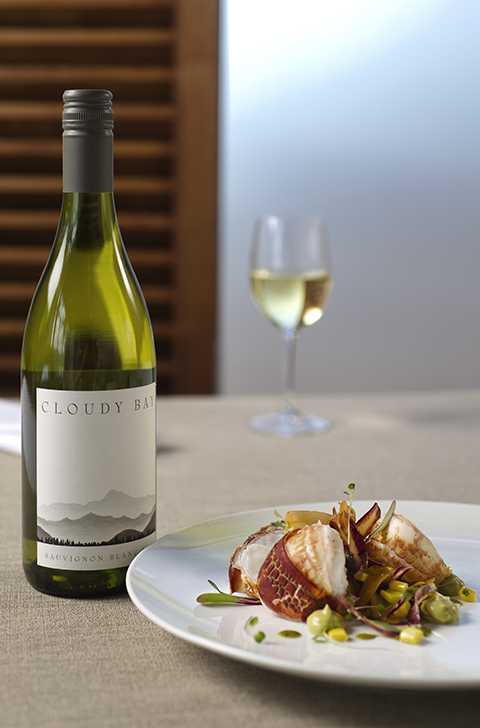 Beyond wine, McIntyre is a passionate cook who enjoys travelling with her husband Jay. Without further ado, meet Cloudy Bay's Stephanie McIntyre as she shares a bit of herself, the region and her favorite event to date so far at Cloudy Bay New Zealand.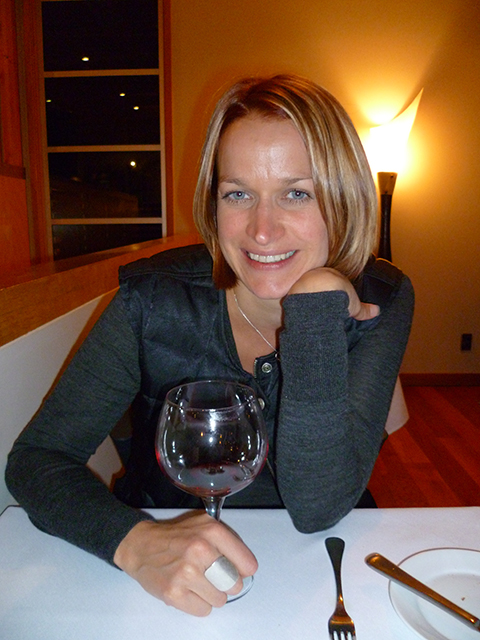 RS: What was your "A-Ha" moment when you knew your career was going to be involved around wine?
STEPHANIE: I can't really peg one but I think it was inevitable really. My family loved food and wine and some of my strongest memories growing up are happiness around the table. My brother and I loved going out for dinner with our parents and shocking the server when we asked for a blue rare steak. As I grew older and my palate refined, I was fascinated by the diversity of flavor that wine offered and how it could lift a good meal to a whole other dimension. My goal in life became finding the best wine my pay check could possibly afford and enjoying it with great friends.
RS: What made you decide to become a Certified Sommelier and how did you go about earning that certification?
STEPHANIE: I loved the hospitality industry and knew I wanted a career in it. I considered going down the chef path but felt a stronger pull towards the wine side. I was reasonably young when I made this decision and knew I needed more education to back up the blonde hair. The International Sommelier Guild has a global reputation and I was lucky to find its programs being taught at a local culinary college. I received enough strong references and was accepted into the program. Interestingly, one of my final papers was "why is Marlborough a unique winegrowing region?"
RS: What advice would you give another women looking to start a career in the wine industry?
STEPHANIE: Work hard and believe in yourself. I'd give the same advice to a man.
RS: What is your favorite food & wine pairing?
STEPHANIE: It is near impossible to select just wine. The best part of my job is discovering the next best pairing! If I had to choose, it would be based on memories more than anything…. Steamed Dungeness crab with garlic butter and white Burgundy.
RS: Do you have a favorite wine amongst the Cloudy Bay family of wines?
STEPHANIE: I am lucky to represent such a delicious range of wines. I have an extra soft spot for our Te Koko. It is sauvignon blanc with a twist… and is incredibly food friendly. I call it a thinker wine. The more you contemplate it, the more flavors and aromas you discover. It has stupendous length and complexity but is balanced by a good spine of acid.
RS: What do you feel makes your wine region special?
STEPHANIE: The people. Marlborough has a unique and special climate with diverse soil types offering a 'healthy' diet to our vines but it would be nothing without the dedicated people within the wine industry. Marlborough is a lifestyle. People who come to Marlborough and decide to stay are so proud of our place and we are excited to share our small patch of dirt with the world. Producing such a small percent of the wine of the world, we are a group who share resources and ideas. It is a big family and I love being a part of it.
RS: If I were producing a movie about your life and role at Cloudy Bay, what should the title be?
STEPHANIE: This is a very difficult question. One movie for both work and life…. Hmmm. Pleasures of Life. I strive for enjoyment in all we do – whether at work or at play.
RS: What role do you find social media has played for Cloudy Bay?
STEPHANIE: Cloudy Bay is dedicated to producing great wines and has earned many loyal fans over the last two decades. The next generation of wine consumers are spoilt for choice and wooed by marketing campaigns. Social media is a platform that speaks to this generation and allows us to share our story in our own way. No flashing lights but plenty of beautiful and honest images, stories of the team, and links to our comprehensive tasting note videos.
RS: How important a role is sustainability to Cloudy Bay?
STEPHANIE: Very. We believe in doing everything we can to make the best wine possible which includes looking after the land and considering cause and effect.
RS: What do you feel makes Cloudy Bay a must visit for those traveling to your region?
STEPHANIE: We have a great team at our tasting room who love sharing their knowledge of Cloudy Bay, our wine and the region. They also have a selection of exclusive cellar door wines up their sleeve. Additionally, we have created a unique tasting menu for guests that feature our tapas & wine flight. We designed wine flight holders that carry 3 glasses of wine each matched to a perfect bite. It is great experience—especially when enjoyed in our outdoor wine lounge gazing at the Richmond Ranges, the iconic hills that grace our wine label.
RS: What have you noticed in your role that tends to be the main factor women are looking for in a wine?
STEPHANIE: Women are quite wine savvy. We have more taste buds then men, so once we start to challenge our palate things get exciting. I love talking to women about sparkling wine. It is seen as a drink for celebrations but women are keen to learning about its food pairing ability.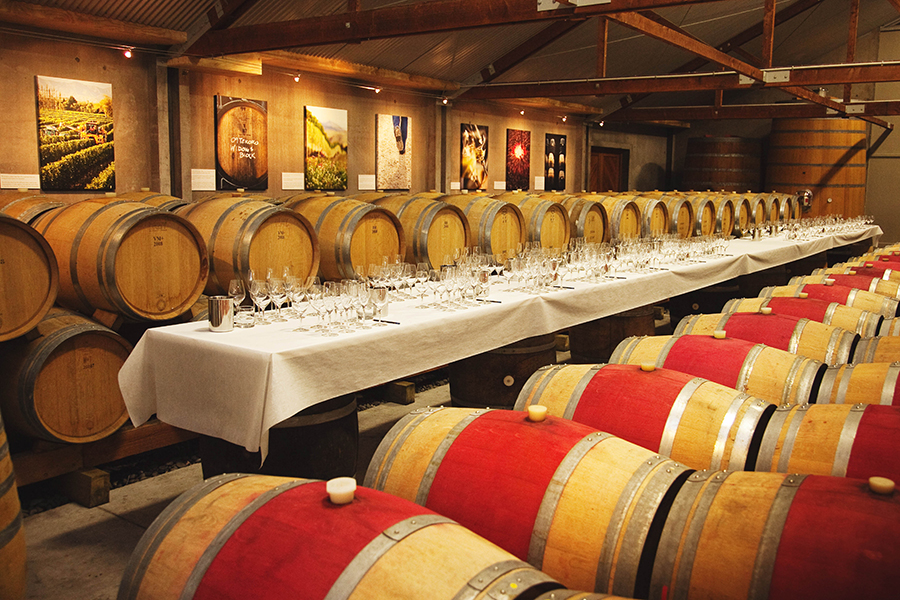 RS: What has been the largest or most enjoyable event you've been involved with for Cloudy Bay?
STEPHANIE: Probably our most recent Forage Cloudy Bay event. It was my third and I felt like we had lifted the bar on all 7 years previous. Forage is a celebration of food and wine and gently pushes our guests out of their comfort zone. Sixteen invited guests are challenged with exploring the plentiful Marlborough region and bringing back a selection of foraged produce to our chef. It is an exploration of great flavors and has a wonderful feeling of camaraderie. This year's guests went spear fishing, snorkeling, clam digging and deer hunting to name just a few. This year's event culminated in a 10-course meal by celebrity New Zealand Chef Simon Gault. The creative wine pairings, of course, were the highlight!
To learn more about Stephanie McIntyre and Cloudy Bay New Zealand visit their website, like them on Facebook, follow them on Twitter or check out their videos over on YouTube. Then join us on WineTable for more fantastic wine information and follow me, so together we'll continue to discover the wonderful stories of the women in wine and spirits.
Want to read more about women in wine? Check out our other articles in the Women & Wine series >>
---