with Toasted Garlic-Red Wine Vinaigrette and Manchego Cheese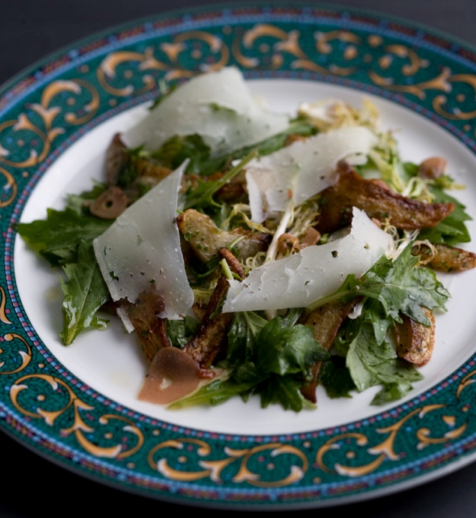 Recipe courtesy of David Walford, Chef at Splendido
Suggested Pairings: Clos du Bois Chardonnay or Willamette Valley Riesling.
David says: At the restaurant, we roast the artichokes in our oak wood-burning oven (about 650o) for a great roasted-toasty-smoky flavor. You can do this in a home oven set at 475o with great results, too. Better yet, fire up the old Weber and cook the artichokes in it with the lid and a few oak chips thrown on the coals. Check out our interview with David >>
TOASTED GARLIC-RED WINE VINAIGRETTE*
2 CUPS EXTRA-VIRGIN OLIVE OIL
1 CUP THINLY SLICED GARLIC CLOVES
8-10 ANCHOVIES, RINSED AND FINELY CHOPPED
3/4 CUP RED WINE VINEGAR
1/2 TEASPOON RED PEPPER FLAKES
1/2 TABLESPOON GROUND BLACK PEPPER
Use 1/2 cup of the olive oil to lightly brown the sliced garlic in a pan over medium-low heat, watching it carefully to avoid overbrowning the garlic, which would make it bitter. Drain the slices to stop the cooking, reserving the oil in 1 container and the toasted garlic in another. Allow both to cool.
In a mixing bowl, combine the cooled garlic and oil to the remaining ingredients. Whisk well and then set aside.
THE SALAD
6 LARGE ARTICHOKES, TRIMMED AND EACH CUT INTO 6 SLICES†
EXTRA-VIRGIN OLIVE OIL, AS NEEDED
SALT AND GROUND BLACK PEPPER, TO TASTE
1/2 CUP LOOSELY PACKED MIZUNA
1/2 CUP LOOSELY PACKED FRISÉE (TENDER WHITE AND YELLOW LEAVES ONLY)
MANCHEGO CHEESE, SHAVED, TO TASTE GRAY SEA SALT, TO TASTE CRACKED BLACK PEPPER, TO TASTE
Preheat oven to 475 degrees.
Toss the artichoke slices with olive oil, salt and pepper and place in a single layer on a sheet pan. Roast in the 475-degree oven until the center of the artichoke is tender and golden brown (15-20 minutes).
In a large salad bowl, toss the warm artichoke slices with the mizuna, frisée and toasted garlic vinaigrette.
Place a serving of salad on each plate and finish to taste with the Manchego cheese, gray sea salt and cracked black pepper.
SERVES 6
*This dressing encompasses one of my favorite flavors: toasted garlic! This would also be good on a fillet of fish, so enjoy the extra dressing this recipe yields.
†The artichoke should be trimmed with the stem on. Remove the tough outer leaves, shave off the outside of the stem and remove the fibrous interior. It will resemble a bell when you are done. You can keep it in water with lemon juice for a few hours before slicing and cooking.
---