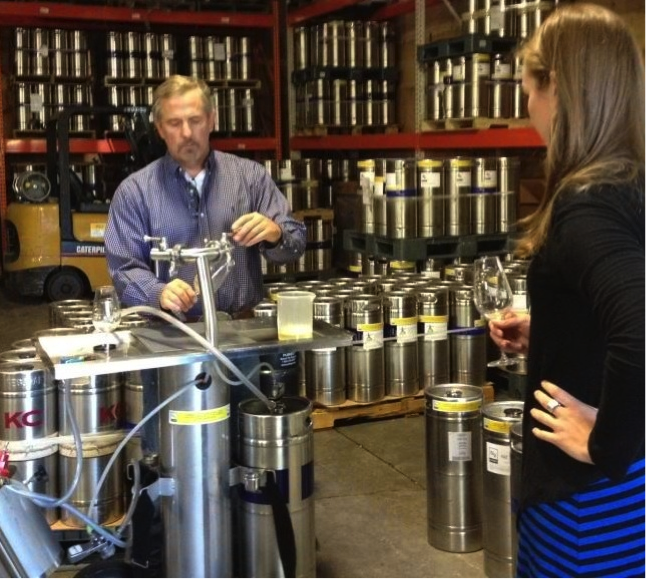 [Jim Neal, owner of N2 wines, pours wine from kegs from his winery in Yountville, CA.]
First impressions are everything, and wine on tap is still on a first impression basis for many. As an emerging market –one battling the stigma of 1970s bad wine kegging practices and poorly boxed white zinfandel, no less—wine on tap is still on the upward climb to become embraced as a wine drinking norm. Because it is still on a first-impression basis, it is critically important that everyone has great experience with wine on tap their first time…and every time thereafter. Notwithstanding good intentions, that doesn't always happen, and it is usually due to one or another of a few common serving mishaps. Here are a few of the examples of wine on tap service that could explain any less-than-ideal tasting experiences. Establishments that serve wine on tap would do well to learn from these.
The wines weren't kegged properly at the winery. A number one "no-no" with wine on tap is kegs that are filled improperly by siphoning the wine from the barrel into the keg instead of filling through a closed system. This exposes the wine to oxygen, and even though it might taste lovely upon initial kegging, it will begin to change inside and make for a poor wine on tap experience down the road. Wines need to be kegged in a sterile environment through a closed washing and sanitizing system, like those offered by IDD Processing and Packaging.



Younger, lighter wines fare best in kegs. Oaky whites or super big reds don't fare as well on tap because they really do need the aging benefits of the bottle. Younger, lighter wines that don't need a significant amount of barrel aging, however, show beautifully on tap. If you're serving, make sure to describe the character of the wines to your customers. If you're on the flip side of the bar, ask questions about the style of wines you are seeing on tap and don't be afraid to have a taste or two before deciding on your glass. That's the beauty of wine on tap: there's so much more to go around!
The keg lines aren't being kept clean. Gasp! It seems obvious that this shouldn't be an issue, right? Too many times, this detail falls through the cracks. When the keg lines are not kept clean, wine will pick up residue and affect the wine as it is dispensed into the glass. If tubing used from the keg to the tap is oxygen permeable, it will cause air to leak in and oxidize the wine. Valpar's Barriermaster Flavourlock tubing is the best type for wine on tap.
Red wines are heating up: While whites always feel the love and attention of the refrigerator, it is just as important for reds to be temperature controlled. Wine stored near a heat or electrical source can absorb extra degrees and make it lose some of its flavorful aromas. Serving at 65 degrees more or less for reds and 50-55oF for whites is best. No one likes a glass of hot wine, whether via bottle or tap, so it's worth the extra cash for bars and restaurants to get a dual-temperature controlled environment to keep the red wines showing just as lovely as the whites.
Wines are being dispensed with inopportune gas levels. Gases such as nitrogen and argon are gentle on wines yet still give enough pressure to dispense it through a keg. A little trick that works best, however, is a 75 percent nitrogen/25 percent Co2 mix. This mix helps maintain the Co2 found in wine after fermentation. Without the right mix, the wine will deteriorate slightly in the keg, losing the freshness and aromatic nuances that were in the wine at the time of packaging.
The wrong steel is being used. 304 stainless steel must be used throughout all parts of the equipment line. Using this type of stainless steel won't cause any corroding of the metal or funkiness with the wines. This generally isn't a problem anymore, as industry standards are now using 304 steel for wine, but we were seeing bars and restaurants pushing wine through their already-installed beer taps, which caused issues. Micromatic and Burgstahler Machine Works in Saint Helena, Calif. both have excellent wine on tap systems.

Kegging delicious, premium wines is the easy part. Getting the wine from the keg into the glass where wine on tap meets its biggest challenge. With a little extra attention paid to these points, the quality of wine on tap will continue to scale and be seen more widely as the preferred by-the-glass choice.
Thanks to Jim Neal, owner of N2 wines who contributed to this article
Have some other tips on serving wine on tap? Share them with us!
---