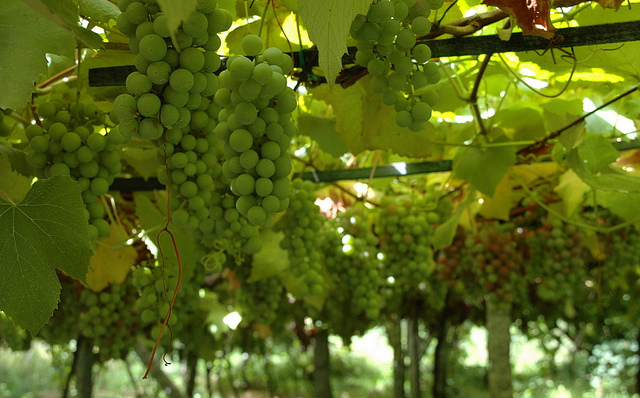 [Albariño grapes in Spain / Asier Sarasua]
Alvarinho in Portugal or Albariño, as it is known in Spain, is a white wine grape that is grown in northwestern Spain and/or northeastern Portugal for varietal white wines. Legend has it that the grapes were brought to the region by Burgundian monks from the Abbey of Cluny monks at the invitation of Alfonso VII, Emperor of All Spain, in the 12th century. The name means "white from the Rhine," alluding to this. Another possibility is that it is an ancient wild grape native to the area, but there has yet to be sufficient DNA exploration to fully confirm its origin.
Alvarinho is a robust and fertile grape that ripens fairly early and produces in quantity. Its thick green skins protect the grape from heat and humidity, though its presence, along with large pips or seeds can cause bitterness in the final product if not carefully screened. It produces well, but often needs to be trellised to support the vines and to allow for better ripening.
The two most famous wine regions associated with this grape are Vinho Verde in Portugal and Rias Baixas in Spain. Both are coastal and near-coastal regions that feature warmth and plentiful sun balanced by humidity from the sea.
Vinho Verde, a region in northeastern Portugal encompasses the province of Minho. An area filled with many small farms and vineyards, it specializes in the Vinho Verde style of wine, which literally means "green wine." Named for the region, this style, often with just a touch of effervescence added, has become a popular summer white. With very low alcohol (between 9-11%ABV), wonderful fruit and floral aromas and citrus and apple flavors, this is an excellent wine to drink cold on a hot day or to pair with light seafood dishes.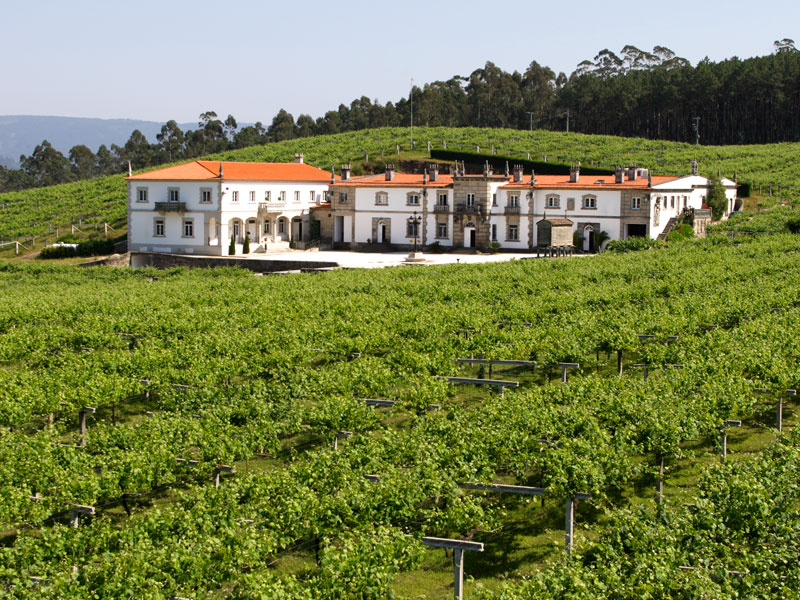 [Bodegas Granbazan / public domain]
Rias Baxis, which sits along the northwestern coast of Spain and is formed by five great river valleys leading in from the Atlantic Ocean. Albariño does well here, with its thick skin and ability to handle Atlantic weather. This is the area where Albariño first became popular as a dry white grape in the 1970s. Due to weather and granite soil conditions, the Albariño grape tends to be higher in alcohol and often has a mineral or marine element to the flavor that contrasts the fruit and floral aromas and makes it an excellent match for seafood.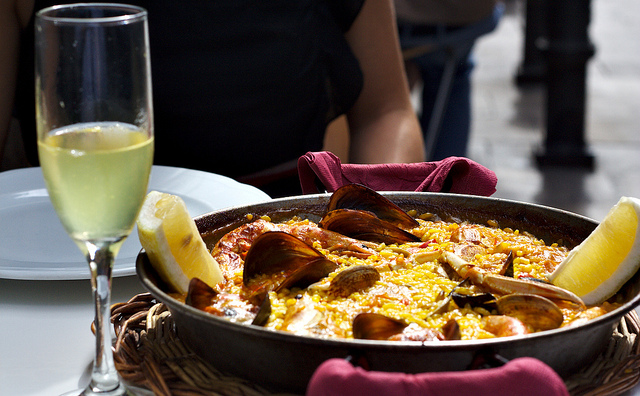 [Paella and a nice Albariño / preston.rhea]
The Albariño grape yields an intensely fragrant wine, reminiscent of citrus and white peach. It offers crisp refreshing flavors of green apple and citrus, making it a perfect match for seafood and grilled white meats. This is a summer wine, refreshing and crisp that matches with food and refreshes on a hot day. Lively acidity and a medium-to-full body makes this a great wine to stand up to the spices and variety of a traditional tapas meal or an elaborate paella.
Name: Albariño
Species: vitis vinifera
Origin: Spain/Portugal
Color: White wine (white grape)
Other names: Albarina, Alvarin Blanco, Alvarinha, Alvarinho, Azal Blanco, Galego and Galeguinho
Notable Regions: Portugal, Spain, United States, Uraguay
Common Food Pairings: seafood and summer picnic food, lighter white meats
---